9/5/2011
Previous Episode
http://www.india-forums.com/forum_posts.asp?TID=1677729
Next Episode
http://www.india-forums.com/forum_posts.asp?TID=1680229
As Akruti tries to get in touch with Ayush, he is in the middle of a road with heavy traffic, and he can not hear her properly, and when she tries to speak loudly, she is afraid others will hear, so she closes the door of her room, and then reminds him of their appointment with her cousin, Daksh, and tells him the venue, where they will meet,. Ayush tells her that he will be there.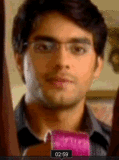 Daksh is in his room, and Naina comes to ask him, if he told the girl whom he loves that he is in love with her, and he says no. She is glad that he did not. She tells him, that even though the card he prepared was nice, it would be better if he could give her something special, which she can remember for life. Then she tells her how Mr Chopra gave his grand mothers bangle as his gift to his fiancee. He looks at her and dreams, and Naina leaves as she has other work to attend. When she is gone, he opens his wardrobe, and takes out the pink bangles he had bought for her when they had gone to Karjat, and decides to present them to her as soon as possible.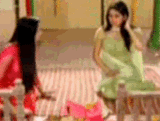 Rohini is tutoring Madhura in the religious texts which her mother in law recites at the pooja, and when she can not memorize it, she gives her to book to read, but just then the mother in law comes and they start the pooja. Madhura recites the stanzas, and then the mother asks her to recite more, but since she does not know, her elder sister finds an excuse that she has to prepare the breakfast, and sends her away.
Abhi goes to Naina's office, and makes an overture proposal, which she misunderstands as a part of the love story of Ayee and Baba and she laughs. She passes some comments on the dialog, and does not take him seriously. Abhi is a bit hurt, but does not show it.
Akruti and Daksh are waiting in the restaurant, for Ayush, and after waiting for sometime, finding that he is not yet come, Akruti calls him, and in the office he is busy
with his work, and brushes aside her call, and tells her that he can meet her cousin some other time. He can not sacrifice his business deals, just to suit her cousin. He tells her that the arrangement is between them, and her cousin has nothing to do with it. Akruti does not like what she hears, but keeps quiet, as she feels she is in love with him, as she has not been with other boys before, and this is her first experience of love, and she trust this boy blindly. Daksh notices the attitude of Ayush, and tells her that he is not a fit boy for her, and tells her that she should not meet him, until he has had a chance to see him personally.
At home Vibha and Shyamal are talking, and the latter tells her how she met Madhuri who has been told to make her daughter keep a fast for eleven consecutive Mondays, to get a good husband. Naina happens to be there, and asks them what it is for, and then she too joins them, and she tells the idea is good, but does not know how efficacious it will be. She tells her that she too will keep this fast, and Abhi tells them why she needs to fast, when a husband is there waiting for her. Naina tells him not to be presumptuous. Kaka who is sitting and listening to them, says, not to trust Abhi, as his mother is the real mistress in their house, and he will not be able to do anything against her wishes. He calls him, the 'tail' that wags behind his mother.
Ayush has called Akruti and tells her to come and have tea with him, and she tells him that her cousin has told her not to meet him. Ayush feels insulted, and says things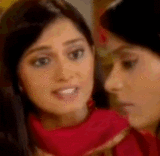 about her cousin, which she does not like to hear. She is in a dilemma. In the office, she is walking up and down, figuring whether to meet him or not. Naina comes to find out what bothers her, but Akruti is rude to her, and implies that she has filled the mind of Daksh with stories against Ayush, and that is why he has decided against him, without even meeting him. She does not give any other details. When Naina protests and tells her that she had nothing to do with it, Akruti can not believe it. She has made up her mind. She tells her that she wants to go out, and Naina, tells her to do some work when she is out, and she refuses, as what she has to do is more important. It comes out that she is going to meet Ayush. Naina tells her that one should keep love and work in separate compartments. Akruti gives her a rude answer, and tells her Ayush is more important than the work she does for Naina. She is stunned.
In the preview of the next episode, we see Madhura is coming in sobbing, and they want to know what happened. She tells them that Daksh has rejected her, and Rohini gets a knock out blow, yet she is still standing on her feet, and may be thinking of some other scheme.


Edited by walquest2000 - 10 May 2011 at 4:09am