Shareen: Hey guys!...It's the 9th of May today!
Sara: Yeah i know mother's day has just passed by...
Fatty: And it's monday again..back to work
Shareen: So what is it about this day that makes it different from the other days?
Sara: *scratches head*
Fatty: Sara *shouts* Useless !
Sara: Fattyy deee * shouts* don't u dare call me that
Shareen: You two! *shouts* dont fight for once at least!!
..Some1's reaching a milestone today
..*hint* * hint*
Sara: I know my Harshad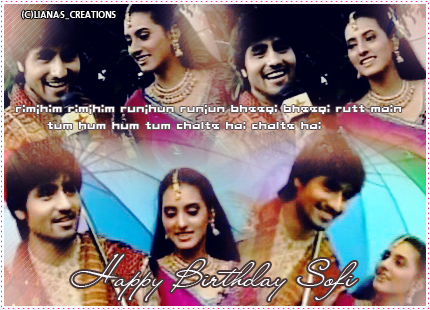 Shareen: Sara kabhi toh HC ke siva kuch aur bhi socha liya kar
..
Sara: I do ! KSG
, Shaheer sheik
, Shahid kapoor
Fatty : *hits on sara's head*
its Sofi!
Shareen : Yes fatty! ..Meri genius
..It is abt SOFI!
Sara: Who sofi?
Shareen:
Seems like Sara has got the ghajini memory wali attack again! I'd warned her not to watch the movie SO many times!
Sara : let me re-collect *sits in corner* !
Fatty: We'll help her recall for the nth number of time!
..Sofi- Shez one of the sweetest ladkis me have met on IF..
Shareen: My syrup
Sara: Sweet ladki? Syrup? OMG calories!!
Fatty: *glares at sara*

Sara: sara runs back & sits in corner
Shareen:argh .. Never mind..She's funny,she's amazing..She's someone who always lifts our mood up
..She's someone you can trust everything with(other than food =)) ) She's someone who'd put up with you and even ur nonsense * looks at sara*
...Her name means wisdom and there couldnt have been a name more apt than this!.
.She's wise..She's sensible...No pretences no facades..Just simply,loving and Genuine!.
In short she's everything that makes a person Real! And all that u cudve asked for in a friend!
Fatty: And her talent!...where should me start from..Her sigs make me go crazy
...She's so helpful!..always me went to her for 'favourz' wid thread and not even for once did she say no..always helped selflessly!..She's my jaan n i love her to bits..
Shareen: And and and and she's my GORGEOUS better half..
Fatty:
Gosh before shar gets lost in her dream world,Sarzie PLS SAY THAT U REMEMBER NOW!!
Sara : Behen logs basss !
now i get it
.woh motiii sofi ! The most intelligent young women i hv ever met
..not to mention kind-hearted,happy,hillarious, loving & absolutely beautiful
... She's turning 16!..
OMG! Now she'll get even sexier than Sheila,munni and dhanno!
Shareen: Shukar! Sigh! ...yes she certainly will give a tough competition to all of them!
...which makes it such a BIG day!..Btw..Badi jaldi yaad aa gaya issbar tujhe sara
Sara : Shareen & Fatty dee : i was acting this time
..i didn't wanna speak about that motii u see
..*runs*
Shareen: OMG!
..Nautanki!
Bekar mein itni mehnat karwayi
Fatty: Ladki chodungi nahi tujhe
*runs after sarzie wid a broom*
Shareen: There they go again
..While they continue their bhagam bhag let us take a look at the wishes
..in the form of a lovely VM made by parisa
..Yes Sofi!..Made by ur fav vm maker
Disclaimer: This video may cause some people to enter into a state of shock
..So take necessary precautions before you HEAR some of us out,Literally!
..Sofi,make sure your speakers volume is up!
And now!..Here comes another surprise!...An VM on PH on ur fav song,just for u!...And guess who's made this?...Sam HT!...I know how much this will mean to u!...No getting emotional ok!
Sam didnt just surprise u wid this but us as well!...How?
Dat's whole another story !
For now hope u enjoy the VM HT!...And sam,u r the bestest!