I m sure I couldn't have made such a wonderful thread Sur...I know how its gonna be and m so excited to see it!!!!!
REEE
dont know when I will be able to edit...either today, monday or wednesday! mwahhh
Happy B'day nautankiii..love ya!
Edited
many many happy returns of the day doll
love u so much jana!!!! I really dont know believe me...I think I have told u just everything
u know u r so precious to me doll...our talks, chats, drooling, wishing good luck to eachother, sleepiness, sim ki shadi k sapne
, noor ki car everything is coming to my mind right now! have shared each and everything with u...thanks for being in my life doll...sach puch toh I had planned to write so many things but dil nahi lag raha...u dont worry doll, everything will be fine! m always with u even if we talk or not! m waiting for my vacation badly so we can talk aaram se! and by god, we are gonna meet one day for sure!!! I have a feeling!! anyways, love u so much nautankiii
and sorry I could make only two siggies coz my finals are going on:(( Happy B'day once again! love u so much my nautanki..always keep smiling..m not used to see u like this..so it makes me feel low as well!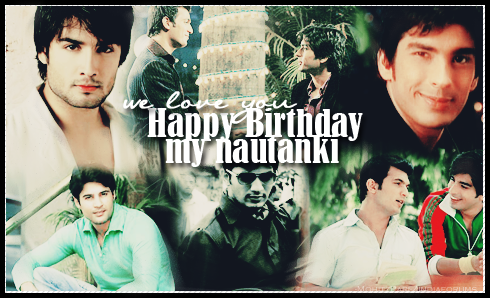 Edited by -MohitzPari- - 09 May 2011 at 8:37pm