Originally posted by Indradhanush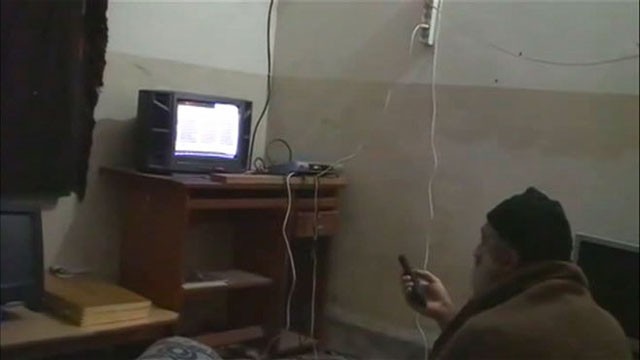 Notwithstanding the clain of $1 million mansion, this pic where OBL is watching himself has bare minimum facilities, untidy wires, very old TV set (used in 80s), his bedding also (in another pic) looks shabby worn out, it seems he was living a life of exile or house arrest?
If this is a mansion then I have a palace back home lol.
There is lot of politics going on. I doubt people have ever visited Pakistan let alone Abottabad. Such houses are very common in big cities (and NW Pakistan) and tall walls and wires is nothing out of ordinary. Also the town is being portrayed as some Nazi town with Hitler's forces roaming around and eyeing people lol. It is just like any other city. It has a military academy there not ISI or Army headquarer.
All this is basically being done to get more out of Pakistan. In the end nothing is going to change from the US side let me assure you. They know the history of the region (Mujahdis to Terrorists), they know that government cant protect such a person, they know initial intelligence for this operation came from ISI, they are getting access to karachi port, they are getting land routes, bases, air field, drone tolerance, intelligence, operatives getting caught. So they are getting a lot for american's "tax money" lol. Feel free to pull out.
The chageable factor here is Pakistan. With 30,000 people deal, 3000 securiy men dead, army conducting operations and getting stretched, suicide attacks on musharraf, shaukat aziz, politicans and military people and yet calls of "do more" and accusations of support and harboring. Pakistanis are beginning to doubt this. When will this end? Will it ever end? This is why Imran Khan is getting lot of hype back home.
I expect this politics to die down as it might end up with negative effect and do more may end up with do less
First EU said that cooperation will continue
Then China said don't put pressure
Then US senators said be easy
Today White House said we dont have any proof
Things are beginning to fall in place lol.


Edited by K-A-L - 08 May 2011 at 10:26am