Really really sorry for not coming back at the previous DOTW...
Originally posted by Alizzay..


Originally posted by Alizzay..

Could it be that the person is not actually in love but it could just be an infatuation?




They say "Love conquers all" if that is true then how come we have sooo many cases of unrequited love? Why don't all lovers get to be with their beloved? Is it ONLY the circumstances / fate / destiny that is to blame?




Lets take KAM for example ..

(OK please don't jump on me for saying this '
)

Hammad loves Imaan truly and deeply ' but Imaan doesn't reciprocate .. sure she feels bad for the condition he is in.. but that's just sympathy .. which any good natured human being would feel for another fellow being's suffering ..




Is it fair to force someone to love you back, by constantly pursuing them? Imaan did say in her letter to Hammad, that Mohabbat mein zid nahi hoti' but then again, everything's fair in love and war !! or is it?










On the other hand, Love knows no bounds .. it cannot be controlled' you don't think when in love .. it's not conditional ' Hammad is doing just that ' one cannot really control such a strong overwhelming feeling ' so he is right in his own way ' his intentions are pure .. but yet he fails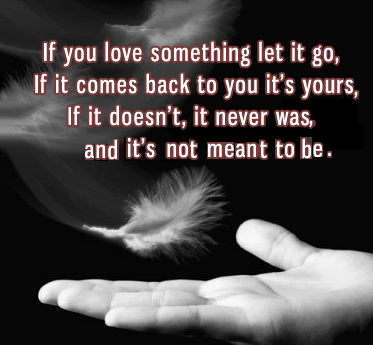 So my question is --- Is unrequited love real? Could it be true love? Does true love exist or is it just a myth?
Ok, pehle toh, im glad to be back!
now...
I believe in Love, but NOT LOVE AT FIRST SIGHT!!!
I Think its Shit!
[Sincerely no offence to people who believe in it... But here i am to explain, on how fake it is, and i'll convince u my way!
]
Love at frst sight CANNOT exist, one of the major reasons why im not a HUGE KAM fan!
Its just LURE, ATTRACTION, LUST if u think its love at frst sight, obviously HOW can u manage 2 stay wid a person, unless u know how he/she is!
and you CANT CANT force ur love to love you as payback, BUT, i think a human can fall in LOVE wid any other human, required you really want to manage to love!
True LOVE exists! BUT, doesnt mean u have to have a boyfriend before marriage, true love is there, and religiously we knoe its true and not a myth! Prophet [S] LOVED his wives, particularly Khadija, And GOD has ORDERED us to LOVE our spouse and a wedding does not prosper without Love!
BUT! if u get attracted to a person, DOESNT mean ur so called LOVE will be reciprocated! isnt necessary, but as they say, JODIS ARE MADE IN HEAVEN, so God has probably chosen someone for each of us, but we cant say this with full confidence!
On the other hand, Love has no bounds and cant be controlled, is just Bullshit for me too!
Because, well, it doesnt happen, unless u are mentally instable!
You can CRY over it, be sad, stop loving but u cant go 2 uncontrollable heights, like agar tum meri nhi hui toh kisiki nhi hosakti types!
, cz THIS means ur mentally INSTABLE!
All in all, Unrequited Love COULD BE TRUE, [cant say definitely, cz i havent fallen in Love!
and hopefully wont fall, before i get married :P
], could b true, but reciprocation to it ALWAYS isnt necessary, i sometimes feel if u dont get the Love back, means ur Love isnt true either, so go ahead, find a new partner!
True Love isnt a myth FOR SURE!
There you go!
Im sure i confuzed EVERYONE reading this,... cz well, i myself know how confuzing i can be at times!!!