Salman: Wanted to bring macho man back on screen
Last updated on: May 5, 2011 15:07 IST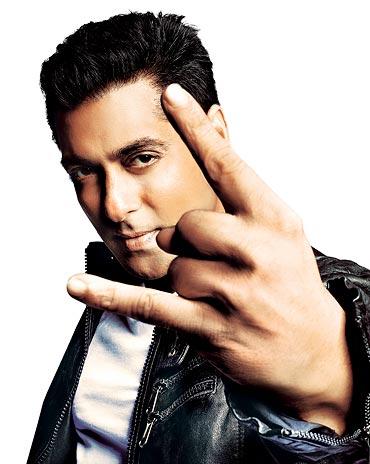 Sonil Dedhia
in Mumbai
He is the most Wanted man in Bollywood. TheDabangg star Salman Khan is Ready with a new treat for his fans.
When Sonil Dedhia met the actor in Mumbai's Filmcity, Salman was in a good mood. He was cocky and caustic when he attempted a joke, but with the self-assuredness of a veteran who's seen it all.
The bad boy with a golden heart, as he's come to be known in the industry, spoke about his films, his equation with his heroines, and finally, marriage.
Controversies and Salman Khan seem to go hand in hand.
Main kya karu (What can I do?). It just happens to me. People don't like to read boring stuff. Variety is the spice of life. People want to read spicy stuff.
Do you hold any grudges against the media?
I don't have any grudges against anyone. I have never avoided the media. I am ready to give all the answers (Laughs)
After Wanted and Dabangg, you are being called the Rajnikanth of Bollywood.
I don't want to be anyone. I just want to be Salman Khan.
Your movies -- Wanted, Ready and Bodyguard -- are remakes of South Indian films. Are you going to continue with this trend?
There have been so many instances where they (southern films) have copied our films. A lot of my father's films were being remade in the south. In the recent times, we have Dabangg and 3 Idiots, which are in the process of being remade.
I don't believe in making remakes of Hollywood films because those films have been seen across the world. The movies being made these days, have one gag from a French film, one action scene from an German film, and one character from an old film. This is usually the case unless a writer-director makes the film.
'I am very particular about my roles'
Last updated on: May 5, 2011 15:07 IST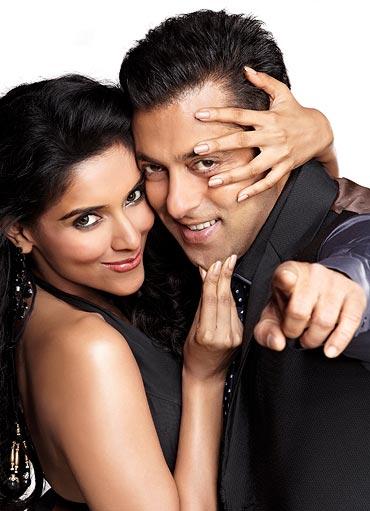 So is it a conscious effort from your side to bring the macho hero back in Bollywood?
Yes, because I had started missing them. When my father used to write, the heroes used to be the strong and central to the story, doing heroic things. I would go to the theatre and clap and whistle when I saw the hero on screen. The macho hero seems to have vanished.
Today's generation is missing the macho man and I wanted to bring him back on screen. I wanted to make sure people remember the hero when they leave the theatre. That's why I am doing such films.
Is there any success formula in the industry?
No. I am sure I would also go wrong if I stick to a particular formula. What happens is, when you start following a particular formula, you get carried away. In the end, you just become a caricature of yourself. I am very particular about my roles.
Don't you fear being typecast in the image of a larger-than-life hero?
What is wrong with that? I am enjoying it, everyone is enjoying it and I am sure you too are enjoying it (smiles).
What lessons have you learnt from your past?

When you believe in something, you have to put your foot down. There have been instances when I haven't done it. People think Salman Khan is using his power to do certain things but in the end, if things go wrong then it is Salman Khan who gets blamed.

You seem to be more involved in your projects than before.

Aisa kuch nahi hai (There's nothing of that sort). I guess the PR people are just trying to make up stories. (Smiles) When you get a kick on your ass, anyone will start working and do anything.

Having said that, times have changed. That's why I am not only involved as an actor but also take interest in the music, editing, lyrics etc. There have been times when my films were big disasters. But then I knew they would be disasters.

I did those films because I liked the script but then I could not put my foot down when it came to editing the film or shooting certain sequences.

Please continue.

My fans matter to me. I have become very choosy about my scripts. I don't work for money. Even if I don't get any remuneration, I am fine with it. Everything goes to my charity anyway. But I have to respect my fan who is paying for his movie ticket and going in with an expectation of watching good entertaining cinema.

When people like the promo of the film, half the battle is won. I don't want my fans to come out and say 'Bakwas picture hai' (The film was rubbish). One of the main reasons why I have reshot the songs in Ready is because I didn't want to let my fans down.
Image:
Asin and Salman Khan