Hello and Welcome... Once again its me! Aapki apni... Pyari Bee!!!
Hey Guys so seeing that the creations Gallery is needing a boost, I thought for the first ever COTW, lets keep it simple and hold a Siggy Competition!!!
So guys rules are simple and straight forward...
The Siggies can not be any larger that 600 Pixels in Width and 440 pixels in Height!
No Animations on the Siggies
You can Sumit upto 3 Siggies
They Must Feature Characters only from SSBN
any copywrite or logo that a member can be identified should NOT be featured on the Siggy!!!

You can find pictures in the...
The SSBN Picture Gallery
and for examples of Siggies why dont you check out the...
The SSBN Creation Gallery
Pls PM all entries to me, Bee aka Bee3Nazz by the deadline...
16th May 2011
Now Extended to :-
20th May
the Siggies will be up for Voting soon after
so guys, get your creative Juices flowing and show me your talent!!!
xXx Bee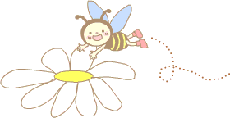 p.s dont worry i dont stinq


Edited by Bee3nazz - 16 May 2011 at 12:39pm