Written Update & Video Vampire Diaries Season2ep 21
The Sun Also Rises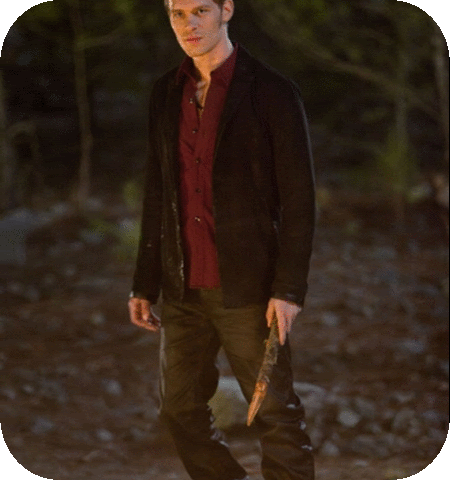 Caroline and Matt try to fend off Tyler the attacking werewolf, but the gate isn't holding. Matt shoots him with the rifle and Caroline super vampire speeds them away. Damon examines his werewolf bite and accepts it calmly. Katherine doesn't want him to leave angry, but he thinks she made her choice when she lured Jenna out for Klaus. Damon gave her vervane so she could resist but, yet again, Katherine made the choice that saved her skin. Damon wants to offer himself as a replacement sacrificial vampire, but Katherine thinks Klaus won't take him because his blood is impure. Coming to in the woods, Jenna doesn't remember what happened. She thinks Elena called her, but she now realizes it was Katherine. She remembers Klaus made her drink his blood. He brought them to the quarry. Elena reminds her how someone becomes a vampire. Jenna realizes Klaus killed her. Before she can process the fact she's a vampire, Greta arrives and traps Elena in a circle of fire. Greta opens a vein and offers her wrist to Jenna who only manages to resist for a minute and then drinks deeply. Greta traps them both. Elena tries to reassure Jenna that it will be OK, but as Jenna starts to turn neither of them thinks that's true. Bonnie and Jeremy look through the grimoires for something that will help keep Elena from becoming a vampire. Elijah explains the curse is broken in three stages: first the werewolf is killed, then the vampire, then the doppelganger. When Elena dies, Klaus's hybrid side will be activated. Elijah tells Stefan and Ric that he'll be vulnerable during the transformation. If Bonnie can deliver Klaus to the brink of death, Elijah will finish things himself. Damon calls Stefan and tells him they have Jenna and turned her. Jenna sits trapped in the circle of fire and tells Elena she's terrified but everything is heightened. Elena tells her she'll do whatever it takes to save her. Greta brings Jules to the quarry and traps her in her own circle of fire. She's slowed down Jules' transformation, so she's in a lot of pain. Caroline and Matt hide out at the Lockwood house. Matt reloads. He tells Caroline that he was on vervane and was spying to her mom. He says her mom hates vampires. She asks where it leaves them. "Stuck in this house, trying not to get mauled to death by our friend," he says. Damon starts to feel the effects of his bite, but answers the knock on his door. It's John Gilbert. He's not happy to learn Damon fed Elena his blood. Back in the quarry, Klaus hands the moonstone over to Greta. She drops it in the fire and begins chanting. Jules writhes in pain but manages to tell Elena she was just trying to help Tyler so he wasn't alone. Greta releases Jules from her circle of fire and she lunges at Klaus. He promptly rips her heart out in front of Elena and Jenna. Jeremy finds a section in the book on Emily Bennett's resuscitative spell that she hadn't quite finished. Rick drops by, with Elijah and Stefan upstairs. Ric tells Jeremy about Jenna. Bonnie wants to go take on Klaus herself, but they remind her of the effects of using that much power. Stefan says they're going to offer another vampire, one that Klaus wants more: Stefan. Back at the quarry, Klaus squeezes the blood from Jules' heart into the cauldron. Jenna remembers the day she agreed to be Elena and Jeremy's guardian. They argue over who failed who. Elena tells Jenna she should fight back and run when she gets the chance. Elena assures Jenna she'll be OK. Caroline and Matt wait for Tyler. Caroline worries her mom wants to kill her. They hear a noise at the door. Tyler is lying there naked and wounded. Bonnie does a spell to find Klaus. Elijah reminds Stefan they have to keep Bonnie hidden until the last minute so Klaus doesn't know she's coming. Stefan worries whether Elijah can be trusted. Elijah tells him over the year Klaus has hunted down their entire family and killed them. He swears he won't fail, he wants revenge. John brings the Gilbert journals to look for Emily's spell. Ric tells Damon Stefan's new plan. Damon's not a fan. Back at the quarry, Klaus turns to Jenna. Elena begs with him to let Jenna go. Klaus turns to see Stefan. John says there's a spell to bind two souls and if they used it on Elena, she wouldn't be able to turn. At the quarry, Stefan offers to take Jenna's place. Jenna hears and tells Elena. At the Lockwoods, Caroline tells Matt that Tyler is OK and sleeping. Matt tells her things have been great with her lately, but he's not sure he can get past "the whole vampire thing." Bonnie casts a spell on John. When Jeremy insists on going with her, she kisses him and apparently knocks him out. She doesn't let Ric leave either, Damon agrees. Klaus brings Stefan down to the circles and asks Elena to choose. Then he stakes Stefan to knock him out. He explains he has other plans for Stefan. Greta begins the next part of the spell. "It's Ok Elena, I know what I have to do," Jenna says. She races to Greta and bites her neck, but Klaus stakes her. Elena watches helplessly from inside the circle of fire and tells Jenna to turn off her emotions so she won't be scared. Elena screams as Klaus pins Jenna down and stakes her through the heart, killing her. Stefan is alive, but immobilized by the stake through is back. He sees that he's too late to save Jenna. Greta pours her blood on the fire. Stefan whispers to Elena that he's sorry, but Elena only asks "Are they going to kill him?" Stefan says yes. Klaus brings Elena over to the altar, next to Jenna's ashen body. Klaus bites down on Elena's neck and she calmly lets him. He drops her body to the ground and she lies there, not breathing. Stefan can only watch. The moon clouds over and Klaus says he can feel the change. He starts to creak and change into a werewolf but suddenly sparks erupt. Bonnie walks out of the clearly chanting furiously. Damon breaks Greta's neck with one swift movement and Bonnie immobilizes Klaus. "You were dead!" he shouts at Bonnie as he writhes. Damon removes the stake from Stefan, who tells him to get Elena out of there. Bonnie lays on the final bit of incantation. Elijah walks out and kneels over his brother, digging his hand into his chest. "I didn't bury them at sea, their bodies are safe. If you kill me, you'll never find them," Klaus tells him. Elijah pauses. Bonnie swears to kill them both if he hesitates. Elijah thinks about it for a minute, then apologizes and whisks Klaus away. Stuck in the witch house, Jeremy asks John if he read the whole journal. He gives Jeremy a note to give to Elena along with his ring. He tells Jeremy that he and Elena should take care of each other. Damon brings Elena into the house. She's still out. Ric asks about Jenna. Damon apologizes. John walks out of the house into the sun. Inside, Elena takes a deep breath and starts awake. She feels fine. Outside, John drops to the ground. Caroline plops down on the couch next to naked Tyler and his blanket. She tells him he got shot, but it's healing. He thinks he shouldn't have come home, but she says he shouldn't have left. "You're kidding right, this is the second time I've tried to kill you," he says. Caroline tells Tyler that Matt broke up with her. He shares his blanket with her. Stefan tells Damon that Elena is in shock from losing the only parents she ever had. Elena and Jeremy get ready for the funeral. He gives her the letter and ring from John. She tells him she's sorry he's lost so many people. "I still have you," he says. Elena reads John's letter. He says he failed her because of his prejudices and she has a chance to do better with her own child than he did with his. Elena lays roses on their graves. John's letter says whether she's reading the letter as a human or vampire, he loves her all the same. Ric lays a rose on Jenna's grave. After, Damon worries how they kill a half vamp-werewolf. Stefan says he's not sure, but he doesn't want Elena to lose anyone else. Damon tells him not to make any promises and tells him Tyler Lockwood bit him. Stefan says they can find a cure, but Damon says all Stefan can do is keep it from Elena, who doesn't need to grieve anymore. Damon walks away, into an uncertain future.
P recaps...I Lay Dying
While Mystic Falls presents a screening of "Gone with The Wind" in the town square, Damon's memories of Katherine in 1864 mix with the reality of Elena in the present day. Stefan pays a terrible personal price for his attempt to prevent a tragedy, and Sheriff Forbes makes a deadly mistake while trying to keep everyone safe. More than one life hangs in the balance as the consequences of the sacrifice ritual play out to a horrifying conclusion.
Video of Episode 21


Edited by sui007 - 07 May 2011 at 2:47am