5/5/5011
Previous Episode
http://www.india-forums.com/forum_posts.asp?TID=1676149
Next Episode
http://www.india-forums.com/forum_posts.asp?TID=1677729
Naina explains to Daksh the reason why Akruti had not come home early. He is upset that she told lies to get her way. In the car, Ayush is taking as much time as he can with Akruti, and tells her to give her home people some excuse and encourages her to lie. He tells her since she has told Naina and come, she will handle everything. The car stalls and Ayush takes more time to set it right.
Naina tells Daksh, that Akruti is in love with Ayush, and he should understand, how one feels, as he himself is in love.


Even Naina herself, is not aware if she herself is in love
,
and it may be Akruti's conclusions about her were right.
She had been told by Akruti, that she would not understand what love is, since she is not in love with anybody. On the one side, Naina has only feelings of friendship towards Daksh, and he has the problem of not being able to give expression to what he feels. In this, Madhura is a greater expert, and knows how to twist a person round her delicate tapering finger !
It is night time, and Ayush is still driving Akruti around after setting his car right, and she is mute and self conscious, and afraid, that she has not been able to reach home, and since her mobile battery has gone low, is not in a position to either make or call or receive one. She tries to get Ayush to take her home, but he is not in a mood to oblige and continues carousing her. Akruti can not respond to his feelings, and the boy is aware of it, and tries his best to get the girl on his side. As they drive the car stalls and stops and Ayush finds the car has heated, and when it cools down he rakes her home, and drops her her house.
In the passage, on the upper floor, Rohini sees Madhura all decked up, walking towards the dining room on the ground floor. She stops her, and asks her where she is hurrying to. She tells her that according to her tutoring, she is trying to get Daksh out of the house to watch a movie, and reminds her that she herself had purchased the tickets, and she plans to take him out. Rohini is more circumspect, and tells her sister, that this is not the best time to make the move, and she should go back. Madhura has no patience for her sister's caution. Rohini again explains to her, that due to Akruti's absence, the whole house is worried about her, and her proactive action, will be misconstrued and they will not like it, and least of all, Daksh who will get offended, and then all her plans to get her into this house will go awry. Madhura finally yields to her sister. As they are discussing, with Rohini's hands on Madhura's shoulders, Kaka, walks by in a huff, and Rohini is relieved that he has not said anything to her.
Kaka is walking up and down in the courtyard, and is very angry with his daughter for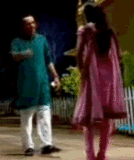 not coming home in time. Is he angry, because his authority has been thwarted, or is he anxious for his daughter's safety. It looks that he is affected by the former. As she enters the gate, he spies her and they walk towards each other, and there is a confrontation and altercation. He yells at her and scolds her and tells her that she has no right to come in and tells her to go back to where she came from. Just then his wife comes in and takes over, and introduces the great drama between parents, who do see eye to eye where their children are concerned. She goes against her husband, and places a protective hand over her daughter's shoulder. One has to see the things that go in the minds of the each of these three people. Kaka with his insulted ego. The Mother, with her maternal concerns for her 'innocent' daughter. And the daughter, well aware, of what she has done, and the way she has deceived the both of them.
The foundation is on Lies. What would be the result that ensures from this?
Daksh and Naina are waiting for them and then Kaka joins and blames Naina and she keeps quiet to allow Daksh to do the needful. She has unnecessarily brought this ignominy on herself.. Daksh tells Naina, when his Kaka is gone, not to take the words of his uncle to heart.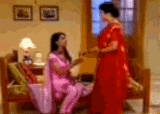 When the mother takes Akruti to her room, she does not ask her what she did, but she tells her what she did: She went to meet her clients and did her work. -
How could people come to conclusions like these, when it is a matter of life and death for their families, and the well being of their children. How could a daughter leave her own mother in deception ?
Daksh is walking up and down in his room, figuring what could have gone wrong with Akruti, and now that he knows what her problem is, thinks how to deal with it. He can not handle his own problem, but as always, he wants to do his bit for others as a elder brother. They can take him for a ride, and he can fall for their tactics. Can such a person solve other's problems?
His mother, the over anxious and gullible woman that she is, exuberant, and trusting, even those, who try to dig a grave for her, has come to her son's room to set his clothes in place in his cup board.
Just see the way she treats her boys, who are grown up men. She still thinks of them as little boys, and does everything for them. How could they make any judgments for themselves and for their own lives. Sanket is a hen pecked husband, and Daksh is self conscious of his position as a lawyer, but in the face of aggressive tactics of women like Rohini and Madhura, he is help less, and unable to put his foot down.
The Mother has swallowed Rohini's story and surprisingly, has made up her mind, that Madhura and Daksh are in love. In spite of her son glaring at her, she is blind to the situation, that her daughter in law could have played a game, just as she did when threatening to leave the house.
It is a pity, people like this bring unhappiness to themselves and their families, and their children are never given a chance to make their own decisions, and take responsibility for their actions.
When Ayee tells Daksh that she would like to find a nice boy for Akruti, unaware of her underhand dealings with Ayush, behind their backs, and get her married on the same day with Daksh and Madhura.
How did she came to the conclusion, that Daksh had agreed, when he has not said a word to her
.
He tries to tell her, and in the nick of time, Madhura makes her grand coquette entry into his room, with a tray of tea. Daksh is stopped, and he can not ask his mother to stay back, and tell her to wait, but he is tongue tied.
This is going to be the bane in his life, the inability to put his foot down at the right time, and for the right person.
When the mother is gone, he wants to tell Madhura, and she has no time for him. A man with guts, would make her wait and listen, but not a person like Daksh, who has great feelings for others but in he case of Naina, he has been harsh to her.
Was it his way to deal with outsiders, and he has another way with the insiders? Madhura has the last laugh and she goes, a good student of her sister Rohini.
Naina comes and questions Akruti, telling her that she went to meet Ayush and gave the impression that she had gone to do office work.
Akruti admits that she made a mistake, and Naina covers her for her indiscretion.
She then tells her that she had to keep Daksh informed of her meeting with Ayush, and Akruti is looking at her with her eyes open.
Next morning, Daksh meets Akruti, and asks her how she trusted him so much with such a short acquaintance. He tells her that he met him only once. He says that he does not want her to suffer for her whole life, for a small indiscretion on her part. He asks whether Ayush is so important for her, that she had to tell lies to her mother. She admits her approach is wrong.
P.S. A member has drawn my attention, that I should separate my views, from the story as told by the Writer. I have done this, by putting my views in
italic.
This story is something
unique
and has a lot of hidden lessons for those who see it. As a viewer, I see situations where I myself could be, and that is why, I have written what can be drawn for my own benefit from it and included my observations with the hope it could be of help to others too. Others are welcome to add their views in the comments, as it would bring out the best this serial has to offer.
---------------------------------------------------------------------------------------------------
This Serial has apparently not been receiving any support ads from the Channel, but has a solid support
from its viewers on IF
, who are increasing every day. Just watch the
Chaska Meter
, and vote for this serial. It started on 21 and now had climbed to 17.and now it has dropped to 18. Every week, it has a large share of votes. Last week was 171 up from 81 the previous week's votes. Total is 238. If you
like this Serial
, just give it a
"Awesome"
vote and help to voice your opinion. In your comments, do write what you like best in this Serial. Thanks.
You will find the
Chaska Meter
here:
http://www.india-forums.com/forum_topics.asp?FI


Edited by walquest2000 - 06 May 2011 at 3:16am