4/5/2011
Previous Episode
http://www.india-forums.com/forum_posts.asp?TID=1675384
Next Episode
http://www.india-forums.com/forum_posts.asp?TID=1676931
Ayush is vociferously opposed to Akruti showing any attention to others than him, and Naina is listening to him from behind. As he walks out, he looks at Naina angrily and walks away. Akruti is upset, about what Ayush said to her. When Naina comes inside, she asks Akruti, "How can he speak to you like this? So much anger? He went on speaking, and you went on listening. Why?" Akruti replies, "When the person in front of you is angry, one has to be quiet. When his anger has quietened, I will speak to him and pacify him." Naina tells her, "He got angry, spoke to you rudely, and you will pacify him?" Akruti defends Ayush and tells her that it was not his mistake. He saw something, and misunderstood. She adds, "Perhaps, this is called Love ! But you will not understand it. You have never loved any one, have you?".
Akruti tells Naina her idea of love, and that there is no difference between right and wrong in love. (This is the idea, Ayush has put in her mind.) Naina tells her that it is alright, as there is no use of explaining to someone, who does not want to understand. Naina asks her, "Have you spoken to Daksh about Ayush?" She says, that she has not. Then Naina reminds her of the promise she made to her, that after the meeting, she would speak to Daksh about it. Akruti tells her that she did not have a chance. When she went to speak to him, they were talking about his marriage. Naina tells her that she can tell him today. She tells her that Daksh will be at home, and asks her to come with her to meet him. But Akruti, refuses, and hesitates. When Naina takes the call from Abhi, Akruti hastens to meet Ayush, and does not wait, in spite of Naina asking her to do so.
Abhi had asked Naina to meet him on the terrace, and she goes to meet him there.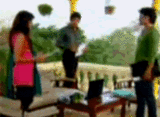 Abhi is showing Daksh and Naina the script of a play about the romance of Daksh's father and mother. Naina asks, "Did Ayee and Baba have a love marriage?" and Daksh says, "Yes." Naina likes the idea, that theirs was a marriage of love. Abhi wants Naina to play Ayee's role, and he will take the father's role. Naina tells him, that Daksh is a more suitable candidate for that role. Abhi thinks that he can not act. Naina tells them, that even Ayee says that Daksh is very much like his father. Abhi insists, that he will do the part, and Naina asks him whether he can do any thing without a confrontation. He then thinks, that he could give the Ayee's role to Akruti, and asks where she is. Naina is speechless, and then Abhi thinks of calling her, and Daksh tells him that she might be with a client, and might have switched her phone off. Then they start their practice.
Akruti is chasing Ayush's car, in a rickshaw, and tells him to stop next to his car. As she crosses his car, she tells him to stop the car and listen to her. He gets out of his car, and talks rudely to her, and asks what is she doing here, and he has no time for her, and asks her to go back to her office. As Akruti pleads with him two goons on a bike stop and tease them and say, that if he does not want to listen to her, they have time and will listen to her. Ayush looks at them angrily. Akruti is being insulted by Ayush, and she is desperate to please him end convince him of her sincerity. Ayush gets an upper hand, and argues more and more with her. He finds fault with her dress and hair. As she starts telling him about the office, he interrupts her and says, "What happened in your office should not be repeated any more."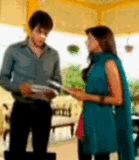 Back on the terrace, Daksh and Naina are rehearsing the play. Naina takes a break, and asks Daksh, "Did you speak to Madhura?" He says, "No." Naina tells him, "Do not delay to tell her the truth." Director Abhi gets from his deck chair and asks them why they are wasting their time. The director tells them the story, how Vibha was walking when Vidhyadar was walking with his book and he goes on and they play act the story. "Both Vibha and Vidhyadar dash each other" Abhi recounts the story, Daksh gets his emotions on fire. He makes his connection with Naina. The acting becomes reality, as they see each other, Naina with her smile and Daksh with his deep intensity. Abhi says, : "And, Vidhyadar says..." and Naina prompts him, :"Daksh your line, "
Madhura comes to the terrace with a coy smile, and has brought tea for Daksh, and tells him, that his mother told her that he has tea after his breakfast, and Abhi brings her down to earth, that it is wrong what she has heard. "He drinks coffee", he tells her. Naina tells Madhura not to take Abhi seriously, as he is joking. Abhi sends Daksh and Madhura down, but before leaving, Naina holds his hand, and reminds him, to tell her what he had to say.
On the road, Ayush has softened, and tells her that he loves her and can not bear to see her with any one else. He professes his love, and the girl believes him. He embraces her. He offers to take her on a long drive, and she goes with him.
In the bedroom, Madhura offers Daksh his tea, in a very amorous way. Daksh starts hesitatingly, that he wants to tell her something, and she shyly looks down and listens to him. He tries to tell her in a round about way, and drags on. She interrupts him and says, "Biscuit?" and offers him the same. He says, that he does not want. She tells him that it is his favorite biscuit, and he agrees. Daksh takes a biscuit to please her. When he tries to tell her, she stops his trend, and tells him that he likes less sugar in his tea. He tells her to listen to him, but she says, that she can understand his heart, without his saying anything, and thanks him, for giving a place for her in his heart. She tells him, "I am very happy with your decision." She walks from the room, without giving Daksh a chance to speak. He in his reluctance to hurt her feelings, is falling a prey to Rohini's machinations.
Downstairs, Shyamal has brought the jewels for Akruti to wear for Daksh's wedding. She is showing them to Naina and Abhi. The mother remembers that she made this jewelry for her wedding and then asks Naina, "Where is Akruti?" Naina is surprised that she has not come back as yet. The mother wants Naina to confirm that she has gone out on work, and Naina is hesitant. Shridar arrives and starts to say, that the girl who would not step out of the house without asking him, goes any where she likes and is angry. He puts the blame on Naina. Daksh arrives on the scene and asks his uncle why he blames Naina. The uncle mocks him. He asks him, if his daughter has ever lied to him and gone out. The mother is afraid of her husband and tries to find excuses forr her daughter.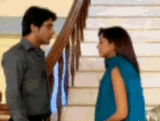 Daksh tells Naina not to worry, and she tells him that it is a matter for worry, and says that she wants to tell him about something. She tells him that she too thought in the beginning that they were good friends, then she came to know. That it is not friendship, but love. "I wanted to tell you, but I was hesitating." she tells him. Daksh is at a loss, as to the meaning of her words. She tells him, that he is not the only one who is in love. Akruti too is in love and wants some one. Daksh is stunned.
In the pre-cap, Akruti comes home in the night, and her father is shouting at her.


Edited by walquest2000 - 05 May 2011 at 3:51am