At GREAT INDIAN WEDDING CARNIVAL
Kareena razzles and dazzles at the launch of the Great Indian wedding carnival. The orange/pink saree is a little OTT but considering the event, she might be under-dressed:P Hate her glossy hair!

RATING: 7/10
AT LAKME FASHION WEEK 2011
Having see Manish Malhotra's collection at the fashion week, I think Kareena could have chosen a more "visually, stunning" piece to wear. This one is nice but not really breathtaking. She does a have lovely back!
RATING: 8/10
AT COSMOPOLITAN FEARLESS AWARDS
Love the nude-pink color but not sure about the dress. This needs a better fitting at the waist, no? I dont see any curves..I am also not a big fan of pockets on evening gowns (Jeans? yes pockets. Gowns with pockets? Never good) and I think this outfit would have looked better if it was knee length.

RATING: 7/10
AT UNVEILING OF STARDUST ISSUE
Stunning. Kareena is absolutely slamming in this sari-inspired gown! The draping is just divine and the dress accentuates her drool-worthy curves. When you want to make a statement you cant go wrong in red!

RATING: 10/10
AT IMRAN KHAN RECEPTION
Kareena sparkles and shines in a net saree with glittering sequins. The sequins are really the star of this outfit elevating a basic black saree.
RATING: 9/10
AT FITNESS BOOK LAUNCH
Kareena went for a semi-formal look pairing her jeans and graffiti t-shirt with a tuxedo blazer.
RATING: 5/10
AT GOLMAAL 3 SUCCESS PARTY
Kareena wore a bright green asymmetrical dress which she thankfully paired with subdued accessories - gold peep-toes and woven clutch. Love the color - perfect for the coming Xmas parties but didnt like the shape or style of the dress. Thumbs down to her hairstyle too..

RATING: 6/10
AT TUSSHAR KAPOOR DIWALI PARTY
Kareena in a very loud Manish Malhotra outfit and wa-a-y to much blush. She can give any drag queen a run for her money!!

RATING: 7/10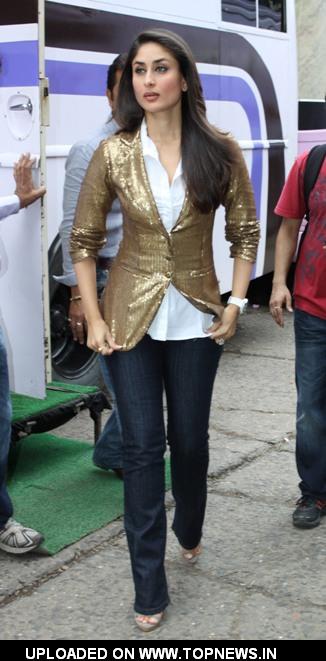 AT INDIAN IDOL 5
I love sequins - they infuse any outfit with instant glamor. Kareena rocks the gold sequins blazer and avoids lookin like a Christmas tree by keeping the rest of her outfit very simple and causal. The perfect tailoring of the jacket also helps.
She would have looked much better if she wore skin tight jeans.
RATING: 7/10
AT UNVEILING OF STAR WEEK'S MAGAZINE
Kareena went for an unfussy look in blue dress paired with cute Valentino shoes. How adorable are the bows on those shoes. The dress doesn't really match the drama of the shoes..Step it up, honey..

RATING: 7/10
AT ZARA STORE LAUNCH
Honey, are you having bladder control issues? why are u always standing cross-legged?? jokes apart, I love the coral color of her dress but I have never been a fan of loose fitting dresses. They always look like maternity dresses to me:( I think a brown belt would have added some definition. She did her signature look - the smokey eyes and curled up her hair.
RATING: 7/10
UNVEILING OS SONY VAIO LAPTOPS
The dress color is also stunning and so is the upper part with silver embroidery. I don't like the draping of this dress and , the length doesn't do much for her legs..
RATING: 7/10
AT LAUNCH OF 3 IDIOTS BOOK
Kareena wore a front twist, halter neck dress to the event. Like the dress and red nails, no to the shoes. And puhlease, a little less blush..You look as if u have are having a hot flash!!

RATING: 7/10
AT LAUNCH OF LONELY PLANET MAGAZINE
Kareena has gone for a minimalist look with this black and white halter gown. I wish she had accessorized - it would have taken the look up a notch. My number one rule when it comes to dressing is always, always wear earrings. Since she has pulled her hair back - hoops or dangles would have upgraded this look. She also needs to upgrade the man in her life but thats a story for another topic...

RATING: 8/10

AVERAGE RATING: 7.28/10


Edited by dazzling_doll - 04 May 2011 at 2:38am