PART 43
Soon Maan and Geet started sharing a different rapport. Their interactions more frequent. Geet wud often bring him coffee at night while she had her tea. They wud both burn their eyes one in her books and other on his laptop. Their comfort level was increasing day by day. Neither did Geet shift to her room nor did Maan ask her to do so after Kavya left to visit other relatives. They were comfortable sharing the room and none complained.
I m taking a small time leap here. Around a month.
It was very unusual to see the old woman loose her patience. The suave Savitri devi was on her anger mode today. Rarely did she scold servants but she was not sparing the smallest mistake.
For a change Maan saw she was even scolding Dev and NT for their irresponsible behavior and late nite parties. All maan cud gather was she was angry that they returned at 3 in the morning and Dev had a bad hangover cudnt stand straight with his headache. So NT was given all lectures on keeping sanity of her husband. Geet was unexpectedly absent from the scene. He had not seen her after he left for his exercise.
Finally NT was spared to go back to her room and daadi headed towards the dining area where maan was munching his breakfast. Daadi gave him a serious look. Whatever he was in his professional life he had grown up holding this woman's caring hand. She had taught him everything in life and he didn't want to be scolded by her.
He hesitantly asked daadi sensing she had some problem that's y she is creating the havoc. Daadi kya hua?
He moved his hand over hers to assure her.
I have 3 drivers but when I need. One is sick, 1 out of station and one is with u.
Daadi from next month we will hire one more. Ok. Aaj meri impt meeting hai mujhe sonipat jaana hai. Highway pe bhut traffic hogi isliye bina driver mushkil hoga. Aapko evening mein driver chahiye to le lijiye.
Mujhe morning mein kaam hai. Bechari tyaar hok baithi hai subh se. aapne dosto k sath bhi nahi gayi.
Maan didn't ask her much and left to get ready as he was getting late.
He entered his room and geet sat their flustered in a white sari. She had brought her legs up made a pout and sat there mumbling.
Kya hua?
Mujhe shadi mein jana hai.
To tum shaam ki shadi kliye abhi se tyaar ho gayi ho.
Jaale pe namak mat chirakiye. He understood she is serious.
Kya hua?
Ek to meera aur nuts raat ko hi chali gayi. I thought I will reach there before the shubh muhurat but driver bimaar hai. And its on highway so it will take 2hrs to drive from here. I cant take a taxi in this dress. Daadi doesn't want me to go by a taxi.
# So this all the chaos about. #
Geet subh mein shadi nahi hoti. Evening k time se tum morning confuse kar rahi ho' I will send the driver in the evening and I will drive back from office. Now is it fine for u and daadi? Dono ne pura ghar sar pe utha rakha hai.
Mujhe parhna aata hai. Look.
She shoved a marriage card in his hand.
Govardhan Rao weds Vijaylakshmi Rao.
Ok it is 11 am. Aahh geet where do people get married in morning?
She is south indian.
He flipped the card and was about to return it to geet as most things were uncomprehendable to him, when he saw the address.
If u can get ready in 10 minutes u can go there.
10min?
Yeah I have only 10 min for u to reach the car else I wont drop u.
U will drop me? She was excited.
Yeah the farm house is on the same highway route I have to go to. It wud have maximum 15 min deviation from main road as the address states. I can manage that. So u have 10 min to be in the car.
She hurried to daadi. She was literally running lifting her sari exposing her ankles. The thin anklets were tinkling. She rushed to daadi's room where daadi helped her get ready.
She straightened her sari. And daadi helped her with her jewelry and last minute touch ups.
Daadi jaldi kijiye warna saru mujhe chor k chala jaega.
Daadi was adjusting her waist band while geet wore the small gold jhumki in her ear.
Saru kaun?
Aapka pota. Unhone mujhe sirf 10 min diye hai car mein pahuchane ko.
Geet aap bhi. Ek to aapko drop karne ko man gaye yahi surprise hai upar se aap unko hi saru bolti hai.
Koi larki 10 min mein party kliye ready hoti hai kya. Acha hua meine sari daal k make up kar liya tha. She hurried adjusting her bangles.
Geet. Maan knocked on the door. I will leave now. Its 15 min already and u r still here.
Daadi opened the door for maan. Bas ho gaya. Daadi handed geet her purse and said u look beautiful. Now go.
Doesn't she look good maan? Look she wore my sari and jewelry.
Hhhmm. Now lets go. Maan observed her as they walked down to the car.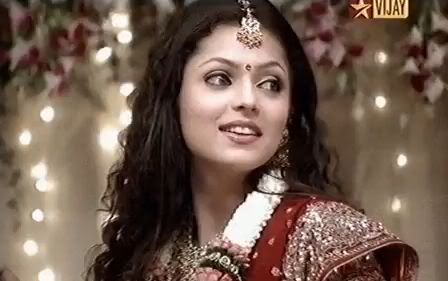 Maan was spell bound seeing her. # How does she manage to look different every time she dresses up. Today she is so simply dressed than that black sari but yet so beautiful. White silk sari with thick gold border along with red blouse pinned in thin pleats on her shoulder exposing her creamy waist. Oops a waist band too. Her blouse is simple and traditional with sleeves. Her jewelry is always so simple. Small gold jhumkis south indian style, thin gold necklace, armlet and few bangles to jingle. Her anklets are her trademark. Hair pinned away from her face and left loose behind. She has a good figure. Yeah a wash board tummy, beautiful curves filling at the right places.#
Shall we sit? U r angry that I got late? Actually I thought I wont be able to go so I didn't wear the jewelry. I cudnt do it faster than this.
His self-thought was broken. He pressed his lips. No lets go.
The ride was quiet. He tried not to look at her. He knew his control might cheat him anytime. He made himself busy in his phone to focus on anything other than her. Geet was busy looking outside the window, the road side vendors, shops, people hurrying to their work, street kids playing. She was engrossed in them. It was one of her longest ride after coming from HP. She covered a different area of the town which she never went. Leaving the broad roads they headed to these roads to get to the highway.
Maan dropped her on time to the venue. She gave him a beautiful smile and rushed inside.
Who came to drop u? meera asked as she saw the car from which geet got down.
Saru. He dropped me else I wudnt have been able to come. What r u doing here outside?
Oh aunty had some work. Come lets go in. viji is waiting for u.
~.~.~
Maan finished with his meeting late afternoon. He moved to his car exhausted by the outdoor site visit and subsequent meeting. As he sat down he remembered geet must have also finished with the marriage ceremony as it was scheduled to be held at 11 and it was around 4 now. He called her.
Geet r u finished with the party?
Ahh some rituals are still going on. Why?
I have finished with my work. i was returning back so I thought if u needed me to take u back. I can pick u up in 30 min.
No u go home. I will watch all the rituals and then will come back with my friends. Yash has his car, he will drop all of us.
Ok. U better inform daadi.
Yeah. She kept the phone back in her purse.
Whose phone was it? Meera inquired.
Saru. He called to pick me up. I told him no.
Meera caught her hand and pulled her out of the hall to the adjoining room. Now will u tell me what he told u?
Yeah. She told her conversation.
Geet first u want his attention but when he gives u that u resist.
I dnt get it.
Did u ask him to pick u? or did u ask him to drop u even?
No.
So when he is taking extra effort y do u deny it and push him away. Is this stupid post marriage games more important than ur life.
No. she made a baby face. But I have refused. How can I call him again.
Y dnt u think before speaking. Call him again and say as I tell u. meera explained.
Ok. This will work na?
She called him.
Hhhmm geet.
Vo my friends wud return late and I m tired.
So?
Meera pinched her. bol.
If it is possible can u pick me?
Ok. Will be there in 15 min or so. Is it fine for u?
Yeah. Just give me a call when u reach I will come out.
~.~.~
As she sat in the car smell of fresh jasmine filled in the atmosphere. Maan looked at the source being strands of flowers in geet's hair.
Y have u put flowers in ur hair?
Oh married women in their tradition do and as it is it was a wedding so viji's cosins put it in my hair too. Dnt tell me u dnt like it. Yash made so many jokes about it.
Its alright. But its smell is'
Too good na. I love it that's y I didn't remove it.
He said in his mind' too strong' I wanted to say too strong.
Geet pulled up her hair into a messy bun and put a clip on it from her bag. Few strands escaped and played on her bare back.
Geet blabbered about the wedding, the rituals and how different they were from punjabi culture. She went on for some time untill she realised maan was not much interested but was nodding just to make her happy.
As time passed the jewelry was pricking into geet. She softly opened her armlet and kept it in her purse. Maan cud hear the rustle of the smooth fabric and he looked at her. Geet had moved both her hands behind her back and was making some attempt. Actually she was trying to open her waist band. Maan cudnt see that because his eyes were focused on her front. The more she struggled, more her br***** were stretched to the front. The strain in her hands was making it more prominent. In her struggle geet raised her eyes and they met Maan's. she stopped all efforts and stopped and sat straight. Time and again she wud make an effort to loosen or readjust the band.
Maan was looking outside the window, they were still on the highway not yet entered the busy city roads. He was poked on the shoulder; he turned to look at geet who was now sitting close to him.
meine breakfast bhi nahi kiya tha. Kuch jyada munching kar liya and then heavy spicy lunch. Mujhe ab taklif ho rahi hai. she spoke softly.
Hhhmmm. To?
She leaned closer and whispered. Actually I m not able to open this. Daadi fixed the hook for me. She showed him the waist band. It is making me uncomfortable. Aap help kar doge plzzz'
Driver aage kahi shop dikhe to rok dena. Madam ki tabiyat thik nahi hai. Ek cold water bottle lena hai.
Geet was startled by his behavior. She slid away on the seat. She expected him to help but only babaji knew what he understood.
When the driver gave maan the bottle he told him that they will leave after 10 min.
Turn geet.
huhh? She was confused.
Show me then only I can open it.
She turned and placed her back towards him. She sat at an angle on the seat and he sat behind her. He slowly removed her pallu hanging behind and placed it to the front. She caught it and took the cloth mass on her lap exposing her full waist from back. The hook was tiny compared to Maan's long fingers. He delicately tried to open it. The moment his fingers touched geet's waist, she gulped in. a current passed thru her skin which burnt her skin. She breathed in as she realised she has invited trouble and embarrassment. In her endeavor to get the chain out she forgot what it wud be like when Maan will touch her.
When just his touch made her body go stiff, Maan was surprised. He didn't expect so much of reaction just by his touch. He moved his thumb on her skin near the hook. She drew in her abdominal muscles. He traced back the thumb this time with a little more pressure, she cudnt have stuck her stomach more than this. Maan leaned in closer, his breath fanning the hair strands tucked behind her ears. He cud breath the scent of her hair mixed with jasmine. His lips touched her hair and she gasped for breath as if choking. She took deep breaths and her chest heaved. Her fingers knotting and unknotting the corner of her pallu. She was fidgetiing. He lowered his head, and slipped his fingers between the chain her skin and carefully released the hook. She left a sigh at the release of physical tension the band held. But her heart was pounding. He slowly pulled the chain from the front, initially it glided smoothly on her skin at his soft pull but then the hook got stuck in her sari on the other side. Geet tilted her face to look at him but she found his face just at an angle that if she turned a bit more her lips wud meet his. She freezed and closed her eyes not knowing how to react and where to move.
Maan moved his hand towards the hook carelessly allowing his long fingers to caress the skin of her stomach. It was another assault to her untouched skin. Each second geet turned a shade darker of red. She was breathing hard, eyes closed feeling each tremor his closeness was giving her. Her first experience to male touch was numbing her thoughts and her body. She sat there freezed to her position while maan's hand captured her waist in full embrace. He removed the entangled hook but didn't bring back his hand.
He was mesmerised in her beauty, her innocence, her reactions to even his slightest touch. He was enjoying his effect on her. They stayed in the position for some time absorbing each other. Geet slowly started draining of energy and her body started to lean onto him. They wud have submerged in each other's arms. Maan felt like pushing her down and kissing her delicate lips fiercely.
But u never know what is in store for u. A speeding car passed them blowing the honk consistently. It broke their daze. Maan slipped the chain out of her waist and geet straightened herself. She was embarrased at the reactions she had shown. A few minutes more and she wud have collapsed in his arms right here in his car, with the driver waiting outside chatting with the bodygaurd in other car. Oh babaji she was lost her head on road. She got extra conscious and moved to the far end of the car seat. It was her own fault how cud she ask him to touch her and then be angry on him for her own reactions.
Maan also tried to straighten himself and passed the chain to her without looking at her. He knew the woman was making him loose. She had the effect on him. All the way back he kept thinking about their relationship, its high and lows. How beautifully and sincerely geet had moulded herself to the family. She was innocent. He kept staring out and introspecting. But he wud wait for her to be comfortable with him.
Geet wud at times steal glances at him from the corner of her eye thinking maybe he feels something for me. but she cudnt understand her own emotions. Her denial for such long time for any relationship with him had blurred her thoughts.
i had written it last evening. i know something of this type has been shown in yesterdays episode as i gathered from the posts on the fb. i have yet not seen it. i watch the nonstop afternoons so still waiting for the emotion GC and DD have added to the waist band scene. i dnt how similar or different it is from the episode but i hope u all will like it . but thanks to the episode i got few photos. as it is their first interaction of this type.
im eagerly waiting for ur comments.
PRECAP
geet surprises maan again with her boldness


Edited by sanjeevani09 - 15 May 2011 at 2:32am