Romance and heartbreak? Of course we could only be talking about one show: The Vampire Diaries!
We caught up with executive producer (and evil genius mastermind!) Julie Plec at the opening night bash for Warner Bros.' Television Out of the Box exhibit at the Paley Center in Beverly Hills, where she was more than happy to divulge what fans of Stefan (Paul Wesley) and Elena (Nina Dobrev) versus Damon (Ian Somerhalder) and Elena can look forward to in the season's final four episodes.
So which couple's headed for heartbreak and which one will be romancin' all over your TV screens? Plus, what does Plec have to say about Matt Davis' future on the show?
"Four episodes of the choice!"
Yes, Plec says Elena will make a decision between Stefan and Damon (can't she just have both?!) before season's end, but it will be an arduous road to get to that game-changing moment—a road that is romantic and heartbreaking all at once!
"Stefan and Elena and Damon and Elena fans can each look forward to an exploration over the next four episodes of where Elena stands with each of these brothers and where their relationship, both as a love triangle and as people who have been through a lot together, all stand," Plec explains. "There's a lot of romantic moments coming up on both sides and there's some heartbreak coming up on both sides."
Of Elena's exploration of her feelings over the final string of season-three episodes, Plec says, "I hope what people see when all is said and done is we're really been trying to let Elena, as Stefan so kindly encourages her, to figure out where she is in her life—who she is and what she wants and who she wants—to let her honestly and truthfully make that decision for herself."
But will fans see any hot lip action between Elena and either of the Salvatore brothers soon? It's kind of been a while, no? "I'll never tell, but I'm not saying no!" Plec teases.
MORE: TVD's Spoiler-y First Look Photos: Who's Crying? And Who's (Gulp!) Dying?
While some fans are biting their nails over Elena's version of Sophie's Choice, we think it's safe to say all TVD fans are stressing over fan favorite Alaric's future on the show ever since news broke that Matt Davis had landed the lead role in the CW's drama pilot Cult, which recently wrapped production in Vancouver. So if Cult is picked up to series by the CW in May, what will it mean for Davis' future on Vampire Diaries?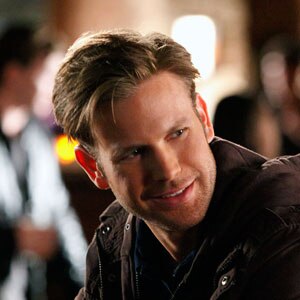 Quantrell D. Colbert/The CW
"My hope is that Matt Davis gets everything he wants in the form of this new show, but also that we get everything we want and he wants, which is an eternity of Alaric in our world," Plec says. An eternity of Alaric?! Wheee!
Unfortunately, we'll probably have to get used to watching everyone's favorite (most likely alcoholic) high school history teacher/semiretired vampire hunter suffer. We're hearing this Thursday's episode is going to be a super-dark one for Ric as we get another glimpse of his serial killin' alter ego. "He's got a lot of good stuff coming up and he's doing it really well," Plec says of Davis.
The Vampire Diaries airs Thursdays at 8 p.m. on the CW.
Whom do you think Elena will choose: Stefan or Damon? Or will she pull a Kelly Taylor and choose herself? Sound off in the comments!
\