Vampire Diaries Star Joins CW Pilot Cult! Is a Death Coming?
Today 4:06 PM PDT by TIERNEY BRICKER
Courtesy of Kevin Parry for PaleyFest
Spoiler Alert! The following may have spoilers pertaining to The Vampire Diaries, so hit that little "x" in the top right corner if you don't want to know. If you do choose to continue, no complaining about spoilers in the comments. House rules!
Um, did pilot season just spoil a major Vampire Diaries death?!
Possibly. One of the CW hit series' fan favorites just landed the leading role in the network's drama pilot Cult, Deadline reports. So does this mean the character is being killed off TVD, which let's face it, doesn't ever shy away from offing beloved characters. (Hi, Aunt Jenna!)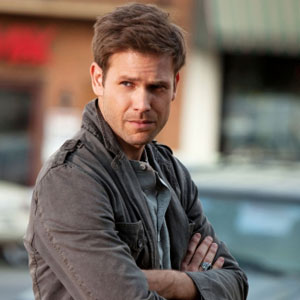 Bob Mahoney/The CW
Matt Davis aka everyone's favorite history teacher/vampire hunter has landed the role of Jeff opposite Jessica Lucas in Cult, which centers on fans of a hit series re-creating the crimes seen committed on the show. Davis' character is a journalist blogger who teams up with Skye (Lucas) a production assistant of the show after his brother goes missing.
While Alaric's life was put in jeopardy at the end of The Vampire Diaries' most recent episode, with Meredith (Torrey DeVitto) aiming a gun at him and pulling the trigger, we can safely say she doesn't murder him. In fact, Alaric is the one who finds himself behind bars at the start of Thursday's episode.
So should fans of the character be preparing eulogies and buying black clothes to mourn? Not quite. Deadline says that Davis will still be available to make guest appearances on TVD should Cult be picked up to series. Phew!
How do you feel about this news, TVD fans? Happy for Davis or do you want to keep him all to yourselves?