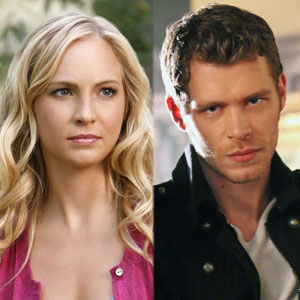 Bob Mahoney/The CW; Quantrell D. Colbert/The CW
Um, raise your hand if you didn't see that coming!
Talk about chemistry! Leave it to The Vampire Diaries to bring two characters we would have never pictured as a romantic pairing, in this case hyrbrid extraordinaire Klaus (Joseph Morgan) and fan favorite vamp Caroline (Candice Accola), together in an incredibly powerful and seductive scene, causing us to give them a couple name: Klausoline. Yeah, it could use a little work.
So is TVD planning on going there with Klaus and Caroline (who would totally win Mystic Fall's hottest blond vamp couple ever, by the way)? Here's what executive producer Julie Plec exclusively tells us...
Despite that scene, which Plec describes as "really powerful and, in a very weird way, so seductive and so sexy," she tells us "there's nothing to talk about" when it comes to Klaus and Caroline...yet.
"It's this very intimate conversation between the two of them about what it means to have eternal life, and I think we can safely say that possibly after that scene Caroline has caught the attention of Klaus a little bit." Aw, is Klaus going to have a bit of a crush on our favorite blonde? Sounds like it's possible and we love it!
Still, Plec says, "It's not something we'll play right away or ever, but they had a connection that did not go unnoticed by him, at least in his mind, not necessarily in her's."
It's been reported that Klaus will be getting a love interest later this season, but it doesn't mean that he'll be actually be receiving any love. "I think Klaus has to be worthy of love in his actions before we overtly or deliberately put love in his life," Plec teases. "But that doesn't mean he can't think he's falling for someone who might look at him and say, 'Absolutely not' or 'Hmmm...maybe!'"
And how Plec says Caroline would look at Klaus? "Certainly, Caroline as we know her today would be like, 'Ew!' But it's a long season. There's a lot of episodes left, so you never know."
Of course, when we chatted with Accola we had to ask her thoughts on a possible Klaus and Caroline romance. For valid reasons, she's a little wary. "I think it would on very odd terms in which they would have much to talk about considering that he's been the death and the destruction amongst the entirety of her life between her friends and their family and the town that she's grown up in. I don't think that that would be the best icebreaker on the first date. Who knows what kind of love interest the writers have up their sleeves for Klaus?"
So how does Morgan feel about the new development? "I think at the moment it's started as a sort of as an infatuation. I think he's been around for a thousand years, so he struggles to find something new and something that will entertain and interest him after that amount of time," he tells us. "One of the things he really thrives on is to be a mentor figure. So she's a new vampire, she's sexy, she's interesting, but she's conflicted about being a vampire. She has a lot of father issues and there's a parallel there with Klaus' father issues. There's something instantly that they can relate to each other."
While there would be a lot of obstacles in their way, Morgan says there is one thing that Klaus could use to win Caroline over. "I think that there's something to be gained by him from this relationship that's sort of by being able to show her the positive of being a vampire, that there's all these things out there that you can be a part of an indulge in. It's giving her a perspective she maybe hasn't seen before. I feel like if anything is going to be his ticket to her heart or to her favor, it's going to be that."
So is Caroline the love interest for Klaus that's been teased for a few weeks now? "I can safely say that one episode isn't going to win anyone over. I'd love to confirm that, but I don't think I can," Morgan coyly says. "There's other elements that come into play. Yes, he is going to get a love interest, but it's a little more complex than that. I don't want to open your Christmas presents for you. There's a definite interest there from him, let's say that."