He may play an immortal vampire on television, but he's helping to fight a very human condition in real life.
Daniel Gillies, who plays fan favorite Elijah on the hit CW series The Vampire Diaries, is raising awareness for Isaias Quintana, a 2-year-old boy battling a rare form of cancer, and is reaching out to his fans to help make a difference.
Though he's currently filming his new series for NBC, Saving Hope, Daniel found some time to talk with us about the foundation he started for Isaias and his mission to raise $10,000 for the boy and his family. Plus, he also teases Elijah's return in the "tragic" Vampire Diaries finale...
MORE: Our Spoiler Chat Is Now Daily! Get the Latest Scoop on Vampire Diaries and All Your Favorite Shows!
While attending a fundraiser for the True Hearts organization at the Los Angeles Children's Hospital, Daniel and his wife, actress Rachel Leigh Cook, were introduced to Isaias, whom he calls "so stinkin' cute," and his family. "I met this little boy who just broke my heart because I could see there was a fragility in the child," he explains. "We had to be careful playing with him and he had to wear a crash-helmet. He's an adorable boy. Of course, naturally I inquired about his health and condition, just to learn about the disease."
Daniel learned that Isaias has neuroblastoma, a rare form of cancer that occurs in infancy and attacks the adrenal glands, neck, chest and abdomen. Daniel knew knew nothing the disease—which affects approximately 1 out of 100,000 children according to the U.S. National Library of Medicine—before meeting the 2-year-old.
"When I went home and started to look around online about what his affliction was, I started to get very upset," he says. "But I'm somebody who gets upset and then gets creative."
For Daniel, getting creative meant setting up a foundation for Isaias, a task he admits was very challenging. "Setting up a foundation for somebody is a lot more of a minefield than you would think. It's a lot more difficult than making a place to put money, you have to make sure everyone's legally covered," he explains. "It wasn't easy. I wanted to get this up and running mid to late March, but it took a while."
MORE: 2012 May Finale Spoiler-rama! Scoop on the End of All Your Favorite Shows!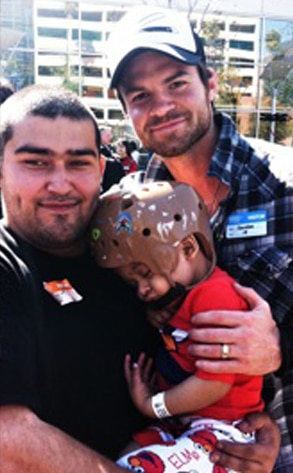 teamisaias.org
Of starting the foundation, Daniel says, "It's just really important for me to get an awareness of this boy out there in the world and an awareness of this disease. The first step I'd like to take is to raise some money."
Not only will donations go towards Isaias' medication, but also to help his family buy groceries, gas, toys and other necessities. "I was just on the phone with his mother yesterday for about an hour and a half. She's lovely," he says. "She was basically telling me what a day in the life is like and it's exhausting, not just financially, but emotionally."
While Daniel says nothing would make him happier than to "constantly be raising money for kids and raising awareness," his focus right now is purely on Isaias. "I made a commitment to that boy. I looked his family in the eye and said, 'Let's go raise some money and let's get people involved.' This is why it's not just a matter of me writing a check. When you get people involved and donating, then they start to research the disease."
Aside from visiting TeamIsaias.org, Daniel also suggests people make a donation to the Los Angeles Children's Hospital and, if possible, to spend some time with children afflicted by this disease. "It doesn't sound like everybody's cup of tea to be around children that are sick, but it's really eye-opening and heartwarming and encouraging because there's a strength of not just the suffering children, but the families, that is really inspiring," he says.
MORE: TNT Renews Southland For a Fifth Season!
Daniel is quick to acknowledge the impact that social media sites can have when it comes to fundraising. "It's not all squandered time," he says of Twitter. "It's actually really fruitful and really beautiful when I'm seeing this collective of people giving what they can to help this child."
Of course, the "collective of people" helping Daniel in his quest are, for the most part, Vampire Diaries viewers, and Daniel considers himself "spoiled" to have the support of the show's fan base, which he says helped restore his faith in people after spending three "soul-crushing" years trying to raise money for his film Broken Kingdom. "[It] was basically going out to lunch with wealthy people who would string you along over and over and over again. I actually lost a bit of faith in people, but thanks to things like this, it's reinvigorated my faith in people's desire to do something good. It's about can you be part of something that doesn't directly affect you? It makes people special."
MORE: Exclusive! CSI: New York First Look: Panic at the Toy Store!
Of course, we had to ask Daniel about the Vampire Diaries upcoming season three finale, which yes, he will he a part of. "I'm coming back. There's a hot mess in Mystic Falls. It's a hot mess! We need a little Elijah to restore some order," Daniel teases of his reappearance.
While Daniel couldn't say too much about the finale, he warns fans to "brace" themselves as the episode is "just going to rock the foundation of the fandom. It's stunning what the writers have done. I love what [executive producer] Julie Plec has done. I'm as eager as the fans to see how it evolves. It's deeply tragic. You can expect some tragedy. That's all I can really say. Whatever's happening with this group of people is about to be changed forever."
Considering Elijah was literally stabbed in the back by his brother Klaus (Joseph Morgan) in last season's finale, it shouldn't come as much of a surprise that Daniel considers finales to be brutal. "Brutal things happen. I feel like the character Precious!" he says. "I feel like can anything else bad happen to this creature? One thing I really enjoy about that role is that when he comes around, it means that an equilibrium is being sought after."
To help Daniel reach his goal of raising $10,000 help Isaias and his family, visit teamisaias.org and make a donation.
Read more:
http://www.eonline.com/news/watch_with_kristin/vampire_diaries_star_reveals_finale/313741#ixzz1uJbxfGjc