Originally posted by savee_k
A leap to start with and introducing anmol new character also ragini's husband.
Tammy's birthday party over we got a clue of about ragini/anmol relationship.
agreed all mysteries were solved regarding this unique realtionship
there is a maryada ..a line not to cross for anmol though being her husband and he respected that..
Anmol never crossed that line
and that was not the only issue because later we got to watch how he was treated in the rajvansh house..
very badly by Vasu, my blood used to boil
tammy proposed an idea about sending a letter to sadnah but as a child she did not know this could be fatal as alekh/tashi went on the roof..their saviour was there anmol and all went well.. one person reacted so negatively to this incident vasu thus ending up locking up alekh in a room..second person to react same ragini..she slapped her daughter..reason she was the one to give the idea 'anmol not happy about it and his words afterwards was enough to make her regretful of wat blunder she has done..not being able to tackle such situation with her brain but emotionally..all this because alekh was locked in a room and she wont be able to do anything though she promised khushi.
Anmol was really angry with Ragini as she did not see it fit to tell that Alekh was locked in his room but much later we saw how Ragini depended on Anmol totally for advice and emotional support.
That was wat hapenned ragini could not changed vasu's decision..the one who took alekh out of this room was anmol..a challenge to vasu and definitely she did not like it at all.though her bitter words about anmol he stayed put and supported his bro.this was a scene where we viewers got it that anmol was treated as an outsider in the rajvansh house'
that was must watch scene
, I saw a tensed atmosphere with heated electricity between Anmol and Vasu, Vasu all hot hot and Anmol tanda tanda cool cool
I want to see such ego matches between Vasu and Anmol in Bidaai2.
okay rest shall comment later.
The handkerchief scene..
Anmol searching for his handkerchief in the cupboard and ragini came to give it to him..anmol saying thanks to her for supporting him in front of vasu.. he never expected the reaction of ragini to this..ragini blaming him why he had to hurt vasu and also he has done a favour to her family saving tashi/alekh..it does not look good if some member of her family is angry with him and if she could change the situation and return all the obligations he has done towards her family.
It was all about HER family ..it hurt anmol but he was used to such remark but he did not leave without saying the last word.."kaash aap mere parivaar ki jagahaa humara parivaar kaheti to aap ehsaan maane ki zaroorat nahin hotee"touchy dialogues'wat come afterwards was to make ragini speechless and must say anmol nailed it completely by telling her "thank you for the handkerchief"totally loved anmol attitude and sarcasm or better it was pun intended....yes she did him a favor giving him his handkerchief so he said thanks to her'apoorva..anmol you stole viewers heart '.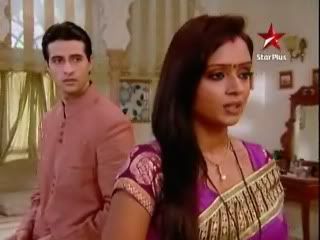 instead of saying thanks to anmol for handling the situation she ended up hurting anmol with her rudeness..second time in a row he was treated as an outsider in the house and its ragini herself..
It does end here vasu did not lose a sec to insult anmol's selfrespect again .reason he helped gunni in going to Mumbai..vasu lost it completely and I think that was enough insult anmol could digest and after all he was human..ragini as usual spectator and instead of siding by her husband end up making him the guilty one..third time he was the outsider when vasu said "bahaar ka aadmi"'ragini.vasu on the same line of thinking anmol the outsider in their life..
Some very powerpacked dialogues for anmol as "mein apne iss parivaar ki raksha apne anthim padh tak karoungaa"I will protect my family till my last breath.it was enough to make ragini shameful of how she treated him as a stranger in the morning..anmol was really fed up with the situation let vasu he lost hope if ever ragini will understand him and stood by him for the sake of their family..after 6yrs he decided to leave the rajvansh house..
Ragini running after him but in vain ..you can agree or disagree but for me that was the right time ragini got the reality check..it was big time of how important anmol was in her life..how much a void he would leave if he did not return home..thus her waiting till late and even angry with him.
My pov in the beginning esp in this situation ragini's character was portrayed as weak..she could not handle that sensible matter with her daughter end up slapping her..that was not done at all'ragini promised alekh/khushi to handle it all with vasu but nothing she could do just kept quiet..
The one who brought a smile back on their faces was anmol but still ragini did not realized it but end up hurting him with her rudeness with the meri parivaar..to say she could not do nothing for them esp when It came to defy vasu strictness..
It changed for the good after that as ragini needed anmol in every step of her life..starting after the lock room scene to the POA issue..the key word was TRUST and we saw ragini as not an outsider wife the day she stood by vasu for her husband anmol..
Such scene did left an impact to the audiences and apoorva was just outstanding in his acting..
A reason more why he should be back in bidaai2..