part-75:
krishna's bed room:
krishna was looking sadly at his messed up room. it was looking as if his room was hit by tornado.'how i am going to set right my room?where from i should start?
'he was wondered and confused.
rolli:'krishna....
'she came calling.
krishna:'come come.....come and look at my room?...
'
rolli:'omg...
'she opened her mouth with shock looking at the condition of the room.
rolli:'kis ne kiya isse?'
krishna:'wahi mere pure kay pure pyaare 42 friends...
'
rolli:'...ummmm
...say girl friends...'
krishna:'whatever...
'
rolli:'it is nothing but their excitement and happiness.forget about your room.now go and get ready for mehendi and haldi...
'
krishna:'get ready!!!!...where????
...look at the condition of my dressing table...
'
rolli:'..
....go to nitin's room and get ready...by that time i will tell somebody to re arrange your room.'she gave his new dress in a fancy shopping bag .
krishna:'better do that.thanks...
'he took the bag and went to nitin's room.

nitin was not in his room.the rented bungalow in the same street was allotted for mathur and sxaena family.haldi ceremony for krishna and komal were arranged in singh house , at the same time for ninit and pratigya were arranged in that rented bungalow.

krishna and komal got ready for their haldi ceremony. krishna was in dark turmeric yellow full sleeve silk kurta and tight paijama with self zari work through out the kurta. he was looking grand extra hot and handsome with silky hair, glittering eyes ,attractive lips etc.all 44(girls including shumi and piyasia ) girls looked at him with their eyes and mouth wide open.
vaishu2 aka vaishu:' what is this haldi?...
' she asked an elderly lady who was busy mixing haldi in a silver bowl.
elderly lady:' it is a ceremony which takes place in the groom's house a day before the marriage. female relatives of the groom apply haldi on him ...
'
aleena1 aka aleena:'...why haldi?
why not some other thing like sandal etc...
'
elderly lady:'...because the yellow colour and spice turmeric both are sign of holy and auspicious. it is a cleansing and purifying ceremony before the wedding takes place....
' the elderly lady explained while mixing the haldi with rose water and sandalwood, haldi thali was ready.
look at the shagun thali! haldi in a cute silver bowl, 5 to 6 whole haldi pieces, a yellow flower and yellow gold!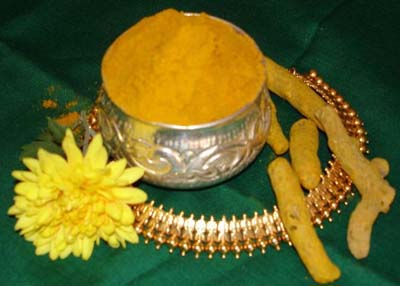 middle of the singh hall was traditionally decorated for haldi with fresh leaves and beautiful rangoli!
look at the hall!
rolli brought komal to the hall for her haldi and mehendi.she was in her beautifully designed green and red sequins saree with no jewelery.rolli made krishna and komal to sit on a small stool.
look komal and krishna sitting for their haldi!
the elderly suhagan lady brought the haldi thali and gave it to sumitra.krishna and komal were surrounded by all their guests especially by his girl friends.
natasha:'omg
...look at him!!!
how hot he is!...
'she could not stop wondering.
jasmeet:'care full...
you may burn...
'she teased her
natasha:'
... i hate you...'

some of them don't care about any thing.they were just staring at krishna.
the haldi ceremony started by a suhagan lady putting haldi on krishna's face and hands along with her best blessings.then amma came forwarded and put haldi on krishna's face and hands. she tied a yellow sacred thread on the right wrists of krishna as a symbols of good luck and to protect him from the evil eye , so that wedding happens without any obstacles.
look at amma applying haldi to krishna!
rolli putting haldi on komal!
shakti to krish!
while they were putting haldi on krishna's and komal's face all the other female members started singing traditional song on haldi ceremony. praising the good looking of krishna and komal and blessed them by god, there parents and all other family members.
look ! how krishna is feeling shy while the ladies were praising and singing in front of his girl friends.
rolli:' chalo...tum log bhi haldi lagao krishna ko...
'after all the elderly people were done rolli called krishna's friends. all 44 were just waiting for it.
shalini:'wooo...mai...
' she jumped forward.
romana: 'me first...
'she almost jumped on krishna.
krishna:'omg
...'he moved back.
mitaly:'tum log bahut chote ho...mai shuru karun ge...
'she pushed romana.romana lost her balance...went and fall on krishna's lap(...
)
krishna:'omg...
...utto...
'he helped her to get up from his lap where as romana did not co operate with him.
romanu:
...'she winked at mitaly sitting in krishna's lap
mitaly:'
...'
'yeh kya kardi maine?
...khud romana ko krishna kay godi mai daal di!...
'she pulled her out of krishna's lap.
romana:'who told you to help me? haan!
...' while she was busy asking her, without caring her mitaly took the haldi and put it on krishna's cheek.
mitaly:
....
'while putting haldi on krishna's cheek she winked at him twice.
krishna:
romana:'hey rabbha!
...besharam!
...tu ne mere kishna ko aank mara?
behaya...
'
mitaly:'aaa aaa haa haa
...thodi dar pehele tu krishna kay godi mai girgaye aur utt ne ka naam hi le nahi rahi thi....wo ka?...haan!
...'
rolli:'mitaly and romana...come this side
...let others to put haldi...
' she took them aside.
radhi:'
....god bless you...
'she blessed him while putting haldi on his cheek.
surbhi:'
..abey tu boodi hogaye kya?....
'she teased radhi.
radhi:'
...then what should i say?
...'
surbhi:' i will show you....
'she took lot of haldi more than necessary in her both the hands.
radhi:
surbhi:' i lub u krish
...muahhhh!....
' she pasted the haldi on both the cheeks.
krishna:
b2011:'
...she pinched his cheek while putting haldi.
krishna:'ouch!
muskaan:'...where should i put???
... there is no place left on his face 'she wondered looking at krishna's face covered with haldi.
roshna:'put on his forehead...
'
muskaan:'
...she did it literally.
krishna:
sweet_bhanki:' me
...me
...'she came forward and put haldi on his ear lob.
binny:' my sweetu
...sweet heart...
...' she made haldi as a small ball and stuck it on his nose tip.
krishna:
shehnaz:' mai bhi
....'she went forward, instead of putting haldi on krishna's face she took haldi from his cheek with her four fingers.
sweet_bhanki:'tum tho ulta kar rahi ho!
....'
shehnaz:' nahi...this haldi is for me...
'she put it on her own cheeks.
mitaly: lagta hai aaj kay baad she will not wash her face....
'
romana:'give me some....
' she took some haldi from shehnaz and put it on her face.
mitaly:'argh!
...'she went and removed haldi from krishna's face and put it on her face to compete with romana.
looking at shehnaz, mitaly and romana others too followed them. in no time krishna's face became clean.
krishna:'omg...these girls are unbelievable...
'he got up from the stool.

rolli noticed krishna that he was finding tough time with his girl friends.
rolli:'come on girls let us all dance together
...'she called and try to divert them.
while others were singing and dancing komal's haldi was followed my komal's mehendi ceremony!



Edited by shumi. - 13 April 2011 at 4:49am