PART 18
Abhay's car stopped in the parking lot...beside Piya's car... She didn't pay attention... He wanted to speak to her...to clarify issues between them but she wasn't ready to listen to any of his explanations. He advanced towards her but she advanced back. She moved away from Abhay's route but he stopped near her...
I want to talk to you...
Well! I don't! excuse me...I need to go get back and pick up Misha...
Listen Piya...
Please Abhay...I don't want to talk to you...
Piya didn't realize when she came in the middle of the road...her back was to the bustling traffic still talking to Abhay...he tried to get near her...but she misinterpreted...
Piya...stop...
No Abhay...please...
Piya ruko...
Mujhe tumse baat nahi karni...
Then Piya heard a honk...a truck's honk...it was drawing near her...she turned back petrified and looked the driver shouting about the brake failure and she froze... Just when the truck was nearly going to touch her...Piya moved out of the way and Abhay crashed the truck into pieces...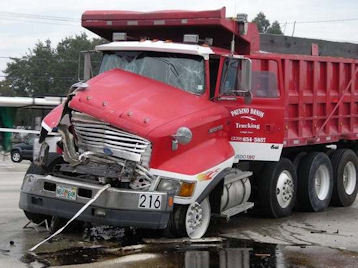 That was what the truck looked like...very lucky that none of the people saw the almost accident...Piya gazed at him...amazed... He picked her up and made her sit on his car's bonnet...funny!
Abhay...you...
Are you alright?
hmm...
tum dekh kar nahi chal sakti kya?
Piya made a baby face...
Now don't show me this face of yours...you're such an accident freak...!
sorry...
you're sorry for hurting yourself!
think so...!
Abhay...how did you...?
What...?
stop the truck...?
I didn't...the driver stopped...
and he crashed the truck like that...?
think so...
please don't lie...!
actually i practised marshal arts...so its easy...!
really! (Piya thought it proper to leave the topic...accounting for change for color in Abhay's eyes...)
DOBRIYAL HOUSE
Abhay brought Piya back to her place and told Mr. Dobriyal about her 'almost accident'... Misha and Panchi halted all their work and rushed to attend Piya...Abhay comfortably made Piya lie on her bed... He waited till she slept and left after placing a soft peck on her forehead...Misha and Panchi saw that...
Misha- Ahem! Ahem! Hi Abhay!
Abhay- Umm! Hi...!
Abhay left blushing and Misha attended Piya...they stayed till she woke up again...Meanwhile...Misha and Panchi sat chatting...rather whispering so as to not wake up Piya.
Misha- birdie! jab se papa ne humein separate rooms diye hain...Piya ko kuch na kuch hota rehta hai...
Panchi- Kyun...sirf accident hi tu hua na...?
Misha- Lekin...Abhay ke saath uski friendship bhi to toot gayi na...
Panchi- hmm!
Misha- pata nahi Abhay ki problem kya hai...dekha na birdieabhi usko chumma de kar gaya aur aise friendship todna chahta hai...strange na!
Panchi- Hota hai Mish... abhi dono nahi samjhe honge...let them have some time...!
Misha- I hope so...
They waited till Piya woke up again...they had their lunch together...
In the evening she was fit enough to continue with her studies... She sat studying and then after 2-3 hours she got bored and took out her 'Wuthering Heights' and started reading it...
At night, they sat on the table chewing their salads...Piya, Misha and Arnav exchanged pathetic looks while Madhu advised Panchi to have a healthy dinner so that she slimmed down for her marriage...
Arnav- Madhu! Panchi ke liye theek hai...pur humein rogiyon ka khaana kyun khila rahe ho!
Misha- Mamma...yuck...!
Madhu- Chup chaap...khao...tum koi bahut fit nahi ho...
Misha- Arghh!
Piya had her dinner and went back quietly to her room. She slept...
Her newest and latest dream...not the familiar one...something different. She was in forests of Dehradun... Growls resounding every now and then... Six- Seven wolves surround her...their shining red eyes glitter in the dark...soft growl follow the saliva dropping from the sides of their jaws. Piya falls to the ground crying for help...the only name she can remember...'Abhay'
Piya screamed and threw her legs apart. When she woke up, she found she was holding cold hands...She got back to her senses and found Abhay gazing at her...
Abhay! tum yahaan...
So jaao! subah baat karenge...
woh wolves Abhay...
Sssh! sleep!
He lay on the bed resting Piya's head on his chest and made her go to sleep...on his chest only...
NEXT MORNING
Piya woke up all alone on her bed. Abhay was nowhere. Misha was making juice for her...
Misha- Good Morning! sweetie! how do you feel!
Piya- Ya'ah! i am gud! waise tum mere liye juice bana rahi ho...!
Misha- Ji princess jaiswal!
Piya giggled... After forcing Piya to drink the juice, Misha left and Abhay jumped in from the window...she jerked and the juice spilled a bit...!
Piya- You give me heart attacks...!
Abhay- How do you feel?
Piya- Good!
Abhay- Get ready...I am waiting for you in the parking lot of Dobriyals...
Piya- You said you didn't wanted to be friends with me!
Abhay- I am just caring for you...!
Piya- Ya'ah right...
Abhay- get ready soon!
Piya- Tum jaoge nahi...to how will I get ready!
Precap
Even I don't know...what will happen next!


Edited by CIDMaaneetNaksh - 28 April 2011 at 1:31am