21/3/2011
Previous Episode
http://www.india-forums.com/forum_posts.asp?TID=1640253
Video Link India Forums
http://www.hostingcup.com/g4m1py8upmxf.html
Vibha and Shyamal are preparing for their pooja and Naina brings flowers from the garden. Kaka calls his wife and Shyamal leaves. Vibha tells Naina that before the pooja they do not eat.
Rohini calls Vibha and tells her to get her breakfast ready. Naina does not like what she hears and tells her Ayee, that Rohini can prepare her own breakfast. That she is not a child and as she tells her this, Daksh is listening. Naina feels that even though it is her fast, she takes all this on herself. She treats everyone as helpless babes, and feels they need her to take care of them. Naina argues, that if one is not given a chance to grow how can they take responsibility and face life on their own. Vibha wants to blank what happened the previous night. Naina tells Ayee that she should be concerned that such behavior does not repeat, Vibha is told that she has to change. It is Naina's point of view that with her way it will make her children dependent, and in order to make them take responsibility she has to allow them a space. Naina tells her that just as she was a daughter in law and learnt to take responsibility they too should learn to take it and grow. "You have treated me like your daughter" and she hopes her saying will be taken as coming from her own daughter. In spite of everything Vibha goes down to make Rohini's breakfast.
When she points out that the breakfast is in the dish, Rohini sees ot and says that she does not like this breakfast, which is not good for her figure. Rohini continues to grumble and tells her mother that she prepares only those things which she likes.
Vibha says sorry, if she forgets always. She looks at her watch and tells her that she has fifteen minutes, and tells her to prepare her own breakfast as she has to go for her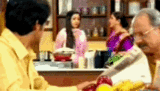 pooja. "You belong to this house and you can do what ever you like and get up early and prepare whatever you like. i have to go for my prayers". Her husband likes his wife for taking a stand. Daksh thinks what Naina said, and goes to meet her and says thanks. He tells what he could not do she did. He tells her when she looks at him in surprise, "i am serious. It was due to your words, my mother thought for the first time, to think of herself". He says, "You are very good". She tells him that he should keep far from her. "I can brain wash you too" and she laughs. They are getting ready to go to work.
Sanket and Rohini walk, and she grumbles about her mother and her husband distracts her and calls a taxi.
In Naina's office, Nikhil lets off some remarks. The staff is already at work. Naina comes in and shows some jewelry designs. She tells them to make a copy and keep. That these belong to Ms Nair and she tells them to keep them safe. Seema says some work is already ready and Naina tells her to show Akriti and to decide among themselves and later to show her. She leaves.
In the drive way, Daksh is talking to Lekha. Naina comes, and he tells Lekha that he will find a way. Naina asks him as to with whom he was talking. He does not answer.
As they drive to the office, she asks him why he does not smile, and he tells her that he does not want to pursue the topic. She irritates him. She says, "Bitter, bitter," and he asks what she meant. She tells him that the vegetable was bitter.
Daksh tries to divert by finding out from her if she knows his appointments and she tells him everything, without looking at her diary, and comes out with flying colors.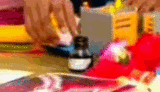 In Naina's office the girls are showing the photo copies. and Nikhil is waiting to take his revenge on Akriti. As they see the pictures, he thinks of what insult he got from Akriti in the mall. and waiting for his payback time. He pours some ink on the drawings and shouts "What have you done?". She knows that she did not do anything, and she is surprised. Nikhil blames her and tells her to take care of her dupatta but Akriti is not so stupid to take up what he says, as she knows he is up to something.
At home in the evening Vibha sees some guests at the door, and she recognizes Sushant and Lekha have come. Rohini who has come home too, asks for her tea, and her mother says, that she should prepare it for herself. Rohini is stung.
Next Episode
http://www.india-forums.com/forum_posts.asp?TID=1642977


Edited by walquest2000 - 23 March 2011 at 12:05pm