21/3/2011
Previous Episode
http://www.india-forums.com/forum_posts.asp?TID=1640245
The celebration of Holi. As the morning dawns, we are shown a scene between Laachi and Sarju. She paints the face with colors. She tells him to look at his face in the mirror, when he finds that it is his sister in law. Laachi jokes with him. He walks out and they look at Sarju and laugh in the courtyard.
As their fun continues, Sarju by mistake paints his brother. His elders too join. Ramdei distributes gifts and all are happy but Laxmi is jealous. She goes into the kitchen and sees her daughter in law and starts to argue with her. They are jealous about all the others in the house. Laxmi tells her to join her other sisters in law.
Sarju suggests that they go the the maidan and join the other villagers. They have much fun. Vishnoo comes late and joins. Heeraman grumbles at his son and says dogs tail does not get straight.
Phoolmani in her plan to create trouble mixes chilly powder to the gulal, and unfortunately it falls on her own face, and she runs away to wash herself.
The gynecologist too comes. She has bought the reports. Radha reads and the doctor says Laachi can conceive. She is not barren. All are surprised.
22/3/201
At the village maidan, the doctor informs them that Laachi's report is positive, and she can conceive, but it is necessary to test the husband too. Ramdei is offended, and the doctor tells her, to come to the clinic where she can explain to her. The doctor assures that even if there is some fault there is remedy for this.
The village mind-set has been buried in the past, and does not understand the science that has brought light into the world, and refuse to accept the cures. The insistence of the mind-set, is visibly brought to our notice, in the serial, but instead of learning, the family under the leadership of their mother, buries them in the past, and refuses to move forward. Her two sons are dumb founded in front of their esteemed mother. Sarju who was in the city, and had come to learn the use of the computer, sign contracts, apparently gave the impression of having come of age, seems to have regressed into the past, and behaves like a medieval peasant.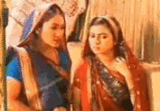 In the house, again they start arguing and accusing the wise daughter in law, Radha, the two evil women in their midst, Laxmi and Phoolmani are intent in sowing the seeds of division, and doubt. They fan their fears, and the woman, the head of the family falls to their evil designs.
Laxmi puts the doubt in her mind, and says all the fault is of Radha. The poison works. She says, that if the child which Kalki left, is not of Kesoo, and Laachi gets her own son, she will throw Kalki's son out. Ramdei says, there is no harm. She herself will throw him out. Laxmi picks it up, and shows surprise, as to why Ramdei said this, as if he was not Kesoo's son, and Ramdei stops in her tracks. Just then Phoolmani comes and tells without looking at Ramdei, that their plan has worked. Ramdei looks at them suspiciously.
Phoolmani has sowed doubts in the mind of Laachi, that Radha wants to bring disrepute to Kesoo and she starts to believe her. This was the plan of the two evil women, to bring a rift between the two daughters in law.
Sarju comes and grumbles at Radha for interfering. She shows her surprise, that all his knowledge he gained in the city is of no use, as he too behaves like his mother, and does not understand that what she did was for the good of the family. She asks him, "Do you not like Dada and Laachi to have a child of their own? " He starts to think.
Next day, when Radha wants to take Kesoo to the doctor, Laachi prevents her with her sharp accusations against Radha. She is stunned at the change in her.
23/3/2011
Laxmi and Ramdei argue and the former tells her to keep cool. Ramdei retorts that she being older, knows more and does not need her help. As Laxmi is leaving, Phoolmani rushes in and says "My work is done" but her mother brushes her aside and tells her there is more to be done and takes her away with her. Ramdei is in her doubts and wonders if Kesoo is infertile. She wants to know where Kesoo is and goes out to find him. Shamboo tells her that he has not seen him and does not know where he is. All join in searching for Kesoo. Finally Vishnoo comes with the news, that Kesoo is fighting in the village square and is drunk. Sarju goes to bring him home. Laxmi comforts her sister in law, Ramdei.
Sarju reaches and stops the brother fighting with a villager and takes him back home on his bike. Kesoo is distraught and cries as Sarju tries to pacify him while his brother blames his destiny. He is upset with his situation and he is crushed.
This is the fate of being illiterate and ignorant, blaming the only people around them who are reasonable and capable of helping them.
Sarju and Kesoo come back, but the latter is drunk and can not walk. Laachi tells Radha to stay away, and she blames her. A pitiable display of human ignorance and foolishness. Sarju wants his brother to rest.
Kesoo is in the bedroom and Laachi tries to tell him that he has nothing wanting. She parrots the arguments of her foolish elders, and asks how they can trust the doctor. Kesoo blames her for going to the doctor. He quarrels with his wife, and commiserates himself in self pity.
This whole episode is dedicated for the display of the effect of ignorance of the basic facts of reproduction on the village people, and the trauma they suffer as a result of this. The medical profession and the government wants to help, some enlightened people among the villagers want to help, but the bulk of the villagers, being ignorant, defeat them and remain in their misery, buried in superstition and backwardness. How they all will come out of this is hopefully to be seen in a future time, when the children who are born today are educated and learn about facts, and will witness better days.
Radha tells Phoolmani to keep her ideas to herself, and she excuses herself in telling her this, in spite of her being older than her. Phoolmani tries her best to put her down. When Radha asks what she was doing near Laachi's bedroom, she taunts Radha.
Kesoo drowns in self pity and says he will kill himself, as Radha hears and feels helpless. She brings Sarju,and they see Kesoo in bed. He asks for water, and Radha gives it to him. Kesoo is offended when she offers and he asks where Laachi is. Radha offers apologies profusely and asks forgiveness, and Sarju also adds his mercy petition. They try to cool Kesoo By offering their sympathy. Radha points out that they thought this could make them happy, if they could have a child of their own. He sees her and touches her head and walks off.
In the kitchen Laachi is crying and Phoolmani goes there to instigate her and offers to help her but Laachi says she will manage. Phoolmani tries to sow hate between Radha and Laachi. She puts doubts in her mind that Sarju and Radha will look down upon her and Kesoo. Laachi falls in her trap. She allows Phoolmani to do the kitchen work, and leaves, and then Phoolmani starts instigating Radha. This is a display of how easily evil women can cause fights between the women who are incapable of thinking for themselves. It looks evil can win easily over good. But will it?

24/3/2011
Radha is trying to persuade Laachi to see reason, and ask Kesoo to see the doctor, but she instead of remembering their previous good relationship, comes into the trap of Phoolmani and acts rudely towards her sister in law, demonstrating how fickle and fleeting one's loyalty could be. Radha gives the impression, that all the training she received in Mumbai, at the insistence of Kamya's mother lin law has gone to waste, and she is back in the primitive mode from where she had entered the sophistication of life in a character called "Sonya". Here we see how the creative teams of the Channels, fit actors into their preconceived molds, rather than show continuity of character throughout their story. This is what disappoints the viewer, and they lose interest in the serial, and then they wonder why the TRP is falling. Let it be as they want it. We shall just record, what they created for the viewers to see.
The scene shifts to the manipulative tactics of the two women, who are the new centerpiece of their story as created by the producers of this serial. This is a replication of Kamya in rural mode. How far the two women can go in their plan to undermine the family of their hosts depends on the mood the mind of the Team called "Creatives".
They show how a decent man like Kesoo, is brought down by the short sighted thinking of the villagers, and how vulnerable he is to their opinions and ideas. This is only possible, because Kesoo is uneducated, illiterate and unable to read and thus all the progress of the 21st century is beyond him, even though he uses its tools like a modern motor bike and the helmet but does not know how it works. Who keeps these people in this situation? Is it the lack of interest of the Government for not opening rural schools, or the rigid attitudes of the elders, and their being stuck in medieval rut? How easy it is to deceive them with the superstition and its votaries? How easily he falls for their taunts and picks up fights, rather than use his mind, which he can use to grow his crops in the field? The "Creatives" are not interested in these angles, as they do not have scripts to work on it. Their friendly trick, is to blank off the sound, while the actors gesticulate, giving us the impression of a plot. They will figure out what it is later, if time permits.
Laxmi seeing the attempts of her daughter in law Phoolmani, failing to persuade Laachi, thinks of her own plan, and goes to the village medicine man, who hands out roots and powders of the art handed down to him by his father. The villagers trust a person like this, rather than the doctor who comes from the town to meet the needs of the villagers. See how women like Laxmi and Phoolmani are able to convince women like Ramdei, Laachi and their neighbours, and cast doubts on a doctor, and raise the faith in the village healers. Laxmi spreads false rumors about Kesoo in the village, and still lives under their roof, eating and sleeping with them. Is this what the Creative Team wants to us to believe as the life in a village? It is in their minds, and how long will they go on showing this to perpetuate the false image of a Indian village? Hopefully, they should come out with the victory of truth soon, so that wrong ideas do not take root.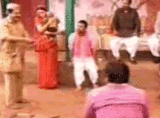 In the evening, the Vaid, or the village doctor comes over, as arranged by the conniving Laxmi, and offers to help. Sarju, who might still be remembering some good things he learnt in the city, but does not have the guts to admit those in front of his rigid minded family for fear of hurting them, wants to drive him away, but Kesoo, has imbibed the taunts of the villagers and has decided to show his 'manhood' and stops his younger brother.
I must admit that the work of the cameramen and the crew is good and so too the direction, but the script is wanting in writing a story which makes some sense.
25/3/2011
Laxmi and Phoolmani plot to undermine Sarju's family and then go to the kitchen, where they find Ramdei and Laachi eating, and join them. Ramdei finds Radha is missing and Phoolmani offers to call her, and goes to her room, where she is praying. On being invited, she tells Phoolmani to go and she would follow.
Out in the courtyard, all the men are forlorn and in deep despair. The women too join them. (In this scene, there is a time delay at the beginning of the shot in the photography, and the editing has been done haphazardly, like the reply comes a few seconds after the shooting has started, and I find it poor workmanship of the director the clap board and the camera man. The replies of the characters, come a little delayed, and this should have been avoided. since rest of the work is good.)
The scene continues, with a visit of two women who have come to invite the family for their daughter's wedding. The women offer their sympathies to Kesoo on his predicament, and this leads to a verbal war and all accuse them of bad intentions, and send them away.
Then comes the village medicine man, with his offer to help Kesoo, as he heard about him. He was expecting him but since he did not come he decided to come on his own. Laxmi and Phoolmani show undue interest, and it is a wonder, no one in that household sees this. (Does it mean, that this family is made up of morons? Is this what the Creatives want us to believe, or is it a contrived effect to embellish their work of art? ) The medical expert is sent off unceremoniously, and Kesoo is offended and leaves the place in a huff and Sarju chases after him to stop him on doing anything which would harm him.
There is next the scene of Ramdei hurling insults and insinuations against Radha, and she just watches them, helplessly afraid to speak her mind to the mindless.
Just then, the Pandit comes and tells them that he visited the haveli, and they should have the ceremony the next day, at 10.30 a.m.
In the preview, Ramdei is all excited and finds Laachi is not ready and on asking why, she tells her that she does not want to go there as it is Sarju's and Radha's house, as she has swallowed whole sale Phoolmani's insinuations (and again it is a wonder how the Creatives change the natures of their characters, with the toss of their hats. They have a poor opinion about the mental faculty of their viewers.)
The next article will be about what happens between March 28 and April 2.
You can see episodes in video, on this forum, as wells as other online websites. like desirecap.com
Next Week
http://www.india-forums.com/forum_posts.asp?TID=1647034


Edited by walquest2000 - 27 March 2011 at 6:06am