I'm heeerree..But you know I like don't this di..Whenever I open ur PM and come this gorgeous shop 8 - 9 pages are filled yaar..Tchh..Tell me when you update okay so I can come in the top 5 pages
I'm mad na I knowww..Chalo now I shall comment :)

Aww dnt be sad LOL i plomish ek din to furst aaogi LOL =P
i will tell u wen i m updating come to shop That time and then u can be in first 5 pages =D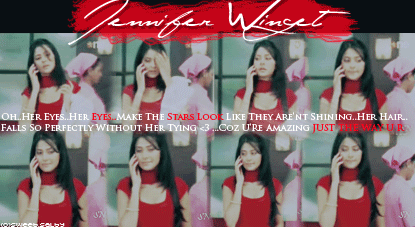 Aiyeee Haaiiyeee..Jen looks soooo cuteeee..All the pics you chose are so niceee..Jen looks like a dolll!!And the lyrics..Ahhh that's my fav song.It suits her..And and you know I love the small lat coming on her face..She looks awesomee!!
Aww Thanks a lott i was seeing the Scene so thought to make some of these =D thanks m glad u liked it =D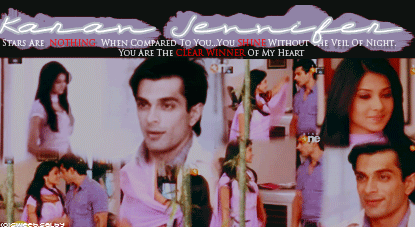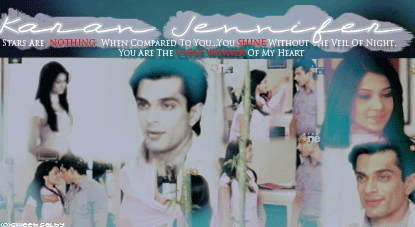 The 1st dreamy sequence of KaJen not the white ones but yeah.Itna accha scene hai..Armaan is busy tadofying his basket after their roka..Did I tell you text is tooo good..Really..How do you come up with such texts ?? Love it.
LOL i knw I love this <3 hi5 LOL this is my fav scene too Aww LOL the way he looks at her coming in is MINDBLOWING <3 And Aww LOL i never thought this is gonna be a dream sequence though :| I was kindda disappointed wen i realised it was a dream sequence LOL =P..But i kindda guessed too coz the Gang went missing =P and text was given by AMAL =D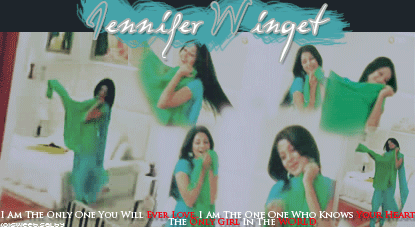 OMJW!!!She is soooooooooooo cute..I love the way she dances with sweater.Nice scene you ch<3ose and you know the coluring of "J" and "W" is reallyyyy nice..even style of the text is nice..When will I make such good sigss??
Aww Thanks A LOttt <3 LOL u make sigs u never showed me =( I lub this scene =P
Accchhaaa I wanted to saaayyy that YOUR NEW STYLE IS NICE SO YOU BETTER NOT SAY IT IS BAAADDD..It is shoooo goood..I'm pakka using the SIGS..and even the YuNa avi's are nicessshh..
Love you Di YOU ROCK..
ThaNkS a Lottt <3 LOL ok m not gonna say itz bad anymore theek hai..? =D
LOL love u too <3 TC!