Reserved
Edited!
My answer book
Ya i know long time no chat why oh why i mish u
anyways OMG 4th shop thats rocking
Im soo proud of u
and trust me ur shop is making me soo happy conrgrats
My special banana watermelon dances for ur shop opening
Ok now enuf of bakwaas commenting time
OMG ur KaJen updates every single one is beyongd gorgeous!
waise i didnyt know u make avis alo
u never told my kya and leave avis i never knew u were soo awesome at them
I know now
U rocked the avis and i can say tht coz i cant stop staring
specially the KaJen ones freaking adorable!
The styles and i lub u for making stuff on tht library and kajen Aaata scenes their such cute scnes and omg their my fav actually one of my fav
OMG sooo dreammmy



My fav 3 out of the Aata update
OMFG they are soo HAWT!!! check out the last one lip staring
i love the colouring on thses avis its soo clear lol! And the second avi oye hoye gussi baby on fire
she was sooo cutee in th scene
and KSG in white oh hotness!! <3333 And they were soo close i love how simple ur avis are!!! aaaaaaahhh soo hot!! and the first one the making of the aata they are soo close omg i love thtese 3 soooo much!!!! <333 OMG u rocked it these are soo hawt and cute at the same time
Uff KaJen answer book ur avis are rocking



Kajeeeeeeeeeeeen <3333 u made on this scene alos u know not many ppl make on this scene well i havent seen many ppl make
U made aah im happy
Like really happy
I lovw the dupaata scene uff soo KaJenlicious
U know i dont drool over kajen much bt ur avis are making me go into KaJen land
Their expression i love this scene ksg looks soo hawt in black and wen he takes off his helmet and his expresssions
and again im telling u simple colouring looks fab
Keep it simple u bring out the magic
I mean it wen i say tht
And haw u know how to make animated siggies also wah wah i didnt know
Love them way tooo much!!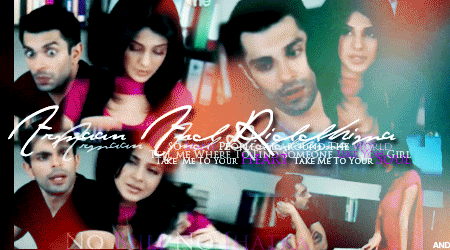 Library scene
Him staring at her
OMG love love love it
and i love the colouring and the text is soo perfect <3 and also its in white and purple those colours go soo well together
and the stare omg its magical!! and btw i lovw the texture here as welll and its simple again aah i love this siggy
The text u chose is perfect!!!
EEEEEEEEEEEEE first kajen scene
this was wen i actually fell in love with them and love the red and white colouring it looks hawt!! and i love u for animating the stare and uff the pics u chose are soo perfect baby
LOVE IT and the textures and omg the text
AB u rocked it omg cant stop staring u must be thinkin im pagal
Ok the RM stuff is amazing as well specially the BB ones are too cute
OMG ur rocking the avis and i love how u keep them simple i just keep saying th haina
so ya i love ur work coz its amaazing
Ok i think i done much bakwaas lol waise do u know how to stack avis? and i better see YuNa here
ok im not ordering u
and i better get pms
Love ya


Edited by YuNa4ever - 19 March 2011 at 11:28am