18/3/2011
Previous Episode
http://www.india-forums.com/forum_posts.asp?TID=1639151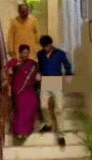 It is still night time, and a few hours have passed since Mr and Mrs. Sharma left the house, and Rohini gave the ultimatum, and is still up in hr room, packing. What started in yesterday's episode, is still continuing, and now we are shown, Daksh bringing down his parents down the steps, from the first floor to the ground floor, and in the living room, Shridar Kaka is reclining on his chair, and watching them, with amused face. He tells them that Daksh is right, and they have to let the two go. They are without reason getting afraid of the outcome. They will be fine, once they are on their own.
The parents argue with their son Daksh, and he tells them to let his brother and his wife leave. The mother is distraught, and inconsolable. The father say he will call Mukesh, and his son stops him. He gives them an ultimatum, that either they stay and insult them as much as they want, and his parents tolerate them with humble submission, or he goes away as he can not see his parents humiliated by this Rohini. He walks away. The father wants to call Mukesh, and Daksh says no. He insists his mother will not tender any apology, and she tells him she will leave the house. it does not make a difference for Daksh.
Shridar Kaka, is at his best. He wants to help, and says, that he will go up and tell them that they are free to leave now. He goes up, but finds something fishy going on and then meets Sanket, and tells him that he can go. Rohini comes out with her bag, and he makes fun of her, and tells her to have a good life outside, and live in peace. Inside, the Kaka tells his nephew, that his parents have taken Daksh's side, and decided them to go, as other wise, Daksh will leave the house. Sanket is shocked, that all of Rohini's plan will come to a zero. He tries to tell her as she goes down with her bag, but she just makes him shut up, and tells him she knows what she is doing.
In the living room, the mother pleads with a sad face, but Rohini with her nose up in the air, tries to taunt her mother in law. She tells her that she is leaving and walks out of the room. Sanket is in two minds, and finally he too goes after his wife and outside, he tells her what had happened. She is angry with him for not telling her before, but he tells here that she never gave him a chance. They have come to the realization that they don't
even have money to stay in a good hotel. He tells her, that they can stay in a cheap hotel for now, and in the morning he will get an advance on his salary. They can then hunt for a cheap flat, where she will have to look after the house as well as work in the office. She asks, how can she do that. It dawns on them that it is better to go back, and stay with the family. It is not sure whether she has mentally accepted defeat, or she wants to play some other trick on her gullible in laws.
Up in the room, Daksh is unhappy at the outcome and Naina is with him, listening. He tells her that it was not his intention for his brother to leave.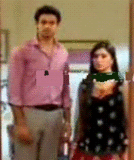 In the meantime, the main door opens, and in slide the two with their bags and their heads down. Sanket seems to be really sorry for hurting his parents, but Rohini gives the appearance of repentance, and verbalizes with her chosen words.
The mother is greatly relieved and embraces her daughter in law. She is still a simple girl from a simple and straight forward family, where there has been no guile or deceit. She can not comprehend that there are people like Rohini.


Edited by walquest2000 - 18 March 2011 at 8:58am