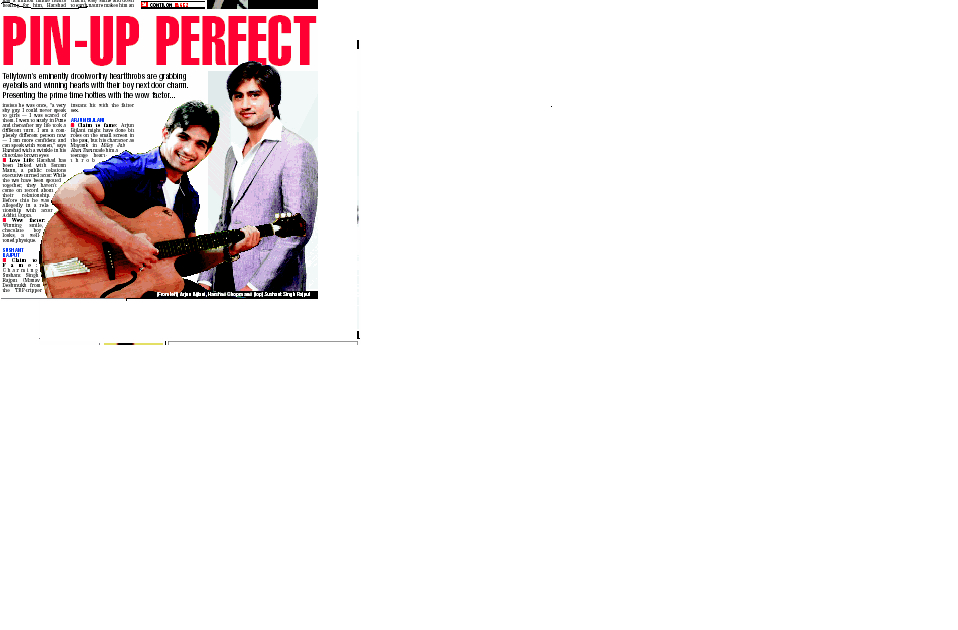 PIN-UP PERFECT

Tellytowns eminently droolworthy heartthrobs are grabbing eyeballs and winning hearts with their boy next door charm.Presenting the prime time hotties with the wow factor...

Amrita Mulchandani


They make a million nubile hearts go dhakdhak when they arrive in the boudoirs every evening.Small screens new superstars are changing the way telly shows are watched.They pull out all the stops to grab eyeballs they flaunt their dance skills,show off their fab abs in shower scenes and even display their histrionic abilities.Oh,and sometime during the show they also tug at your heartstrings and woo their beloved.

HARSHAD CHOPRA
Claim to Fame:

From Left Right Left,Kis Desh Mein Hai Meraa Dil to Tere Liye,Harshad Chopra has emerged as small screens most versatile actor.For someone who has a million nubile hearts beating for him,Harshad insists he was once,a very shy guy.I could never speak to girls I was scared of them.I went to study in Pune and thereafter my life took a different turn.I am a completely different person now I am more confident and can speak with women, says Harshad with a twinkle in his chocolate brown eyes.

Love Life:

Harshad has been linked with Sonam Mann,a public relations executive turned actor.While the two have been spotted together,they havent come on record about their relationship.Before this he was allegedly in a relationship with actor Additi Gupta.

Wow factor:

Winning smile,chocolate boy looks,a welltoned physique.
this was expected after his recent interview
now they'll link him with every possible girl in tinsel town


Edited by -vandy- - 18 March 2011 at 3:37am