hello friends...it's ridi...a die-hard MayUr fan...nd here is my MayUr Os gallery...for me MayUr means Love and Love means MayUr...so I decide the name of this gallery is...

MayUr ~ defination Of Love~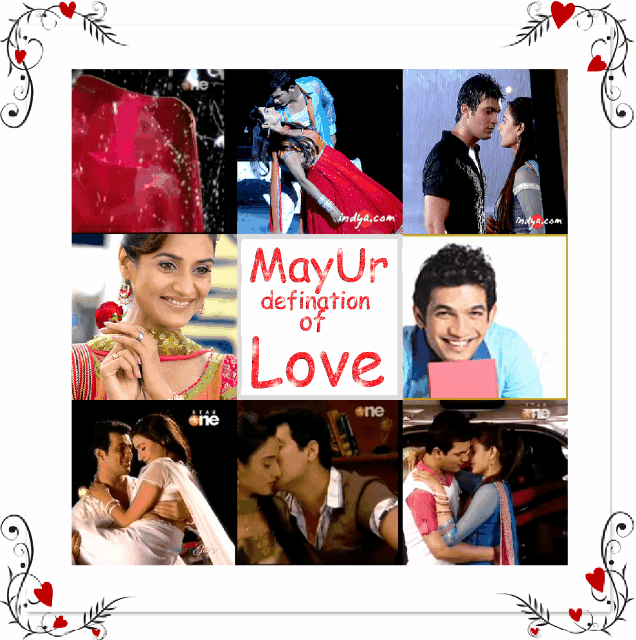 here is my first Os...I hope u'll like it nd plz forgive me for my mistakes...
We are meant to be together
It has been five years that we apart from each other. But it was our decision to apart from each other. So neither I can blame him nor me. For five years I have been living with his memory. But today may be I'm going to loose that right to live with his memory. Today someone is coming to see me for marriage. I'm getting ready for that. I am wearing a white churidaar. He loved to see me in white. I don't know why I wear this one but I really want to wear that''.
I still remember that day when we met first time. It was my first day of college. I was too nervous. I went to the class. There were so many students and there was no seat left empty except one. A boy was sitting there and reading a book. I sat beside him. But he didn't notice me. He was lost in his book. Meanwhile the teacher came and took the class. After the lecture he left the class'he didn't talk to me. I thought he was arrogant. First one month we didn't talk to each other. He was busy with his book and I was busy with my new friends. One day I was going to know that he was my project partner. I don't tell lie. I was not happy to know that. But I had no other way to work with him. We started our project'..after some days I could understand that behind that sadu face there was a very sweet boy. We became good friend'.we spent more time with each other''..and one day we realized that we loved each other. We could understand each other feelings but never confessed that. Our days went on'..four years passed. In our graduation day we met in our college garden'.we were so upset. Because we both knew that after that day may be we will never met again. He had some responsibility to fulfill as well as I. And for fulfilling those responsibilities he was going to US. We never said that we loved each other because we knew that. We didn't talk that day'..only felt each other presence''and finally that time came. We parted from each other. After that day we never met nor talked. And today I'm getting ready for someone else''.
While I'm thinking this my sister come and informs me that the guests come. So I have to go to downstairs''..
I'm here to see a girl for marriage though I love someone else. But we have been parted from each other for five years. It was our decision to apart from each other. I can't stop loving her. I still love her and I know she also loves me. But may be destiny doesn't want that we are together. So I'm here to see someone else. Today I'm wearing a red shirt black pant with black suit. I don't know why I wear these''. She loved to see me in red''..While I'm thinking these my mom informs me that the girl is coming''.
I go to downstairs. I see a boy sit with a middle aged woman with my parents. I can only see his back. I go and greet that woman 'Namaste'. Then I look at the boy'..and I am getting shocked'.
I hear a girl greet my mom. Her voice is familiar to me. I raise my head to see her'..and I am getting shocked''..
'NUPUR'
'MAYANK'
They both can't believe their own eyes. They are in front of each other. They never think that they will meet again. But today they are here for getting married to each other. Firstly they were shocked then they feel an immense happiness. They feel that they get their live back. Five years back they decided to apart from each other but they didn't know that they are meant to be together''.
love
ridi
INDEX
Mayur SS#1

Part 1-we are meant to be together-page 1
Part 2-said unsaid-page 8
Mayur ss#2

Part 1-I hate him-page 15
Part 2-I still hate you-page 24
Last Part-Something Never Change- Page 33
OS#1-An Ordinary day with extraordianary Sharma's- Page 40
OS#2- Hum Toh aise hein- Page 62

Os#3- Where could I find so much love in my life?- Page 66
Os#4 Aaoge jab tum o saajana- Page 69

my other ffs
To Be Or Not To Be(completed)
http://india-forums.com/forum_posts.asp?TID=1588878
Life is not a fairytale but...
http://india-forums.com/forum_posts.asp?TID=1612581
Love???!!!
http://india-forums.com/forum_posts.asp?TID=1716204&PID=44059015&#44059015
love
ridi


Edited by -ridionasis- - 03 January 2012 at 11:20am