Originally posted by Absoluv
Mayu dearest sweetie....
AWESOME post ....This was needed since there is soooo much sadness in the forum....this perspective will definitely reignite the light of POSITIVITY in us all....
I totally agree with u...that this separation will only STRENGTHEN their love & their bond...
I know that unless u personally go thru such a state of mind, to others GEET will come out looking SELFISH & making another mistake....BUT I guess she is not in the RIGHT frame of mind to completely understand that SHE SHUD MOVE ON....She needs more time & patience than ever to grasp the situation & move on....Maan was simply hoping that doing what he did wud help Geet move on BUT invain....
So all in all, tho this is a SAD track....MAANEETians v neeed to HANG ON and watch as these two SOULMATES emerge victorious from this battle....
MAAN & GEET love each other & cannot live without each other....So fingers crossed....this track will pass soooon toooo....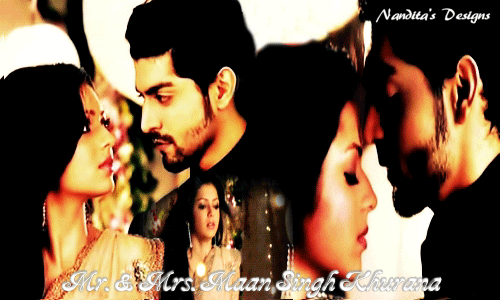 Param Di
Glad that you finally replied; I was not going to give up on sending pm to you
Well it was high time and I came here and saw that you all needed that positivity dose so thought of giving it!
As you said that Geet is not in the right frame of the mind; she will hate every person who tries to snatch away her baby's memories! That's all thats left with her; she has lost an important part of her life; her baby!
And should I tell girls what their baby means to them?
But she has the authority to question Maan; not anyone else becuase she trusts him more than anyone else; she didnt expect that her Maan wouldnt understand her!
I pity Geet today! Poor soul!
I hope my vishesh tippani didnt bore you!
Thanks!
Love
Mayuuuuuuuu<3<3