17/3/2011

Previous Episode
http://www.india-forums.com/forum_posts.asp?TID=1638306


The serial starts with Mr. Sharma advising Rohini that how important in life it is to be a good human being first and then try everything else. They walk away from the Patwardan House.
After the Sharmas have gone, Rohini starts accusing Naina that all this mess is due to
her. The fact that Naina brought her parents to the restaurant was her fault, as it came in the way of her plans and destroyed her chances of getting her promotion. Such self centered and petty thinking exasperated all and then Vibha stopped her. When Daksh started to stop her from talking more, she goes to him, and asks him, "From when have you started to take her side?" He tells her, that from the moment he came to know that Naina thinks about others more than about herself, he has changed his point of view. When Rohini goes on harping on her own point, even though every one knows she is selfish, and thinks only of herself, her father in law puts his foot down. The father tells her, "Do not speak too much, that you will regret later". She argues, "I have not done anything wrong. I took my boss and his wife to dinner, and she brought you all there." - she has overlooked everything else. Her mind is so closed, that it is a flaw in her character, and had not been corrected right from her childhood, and her husband has been sucked into her coyness, with which she entraps whomsoever she has wanted. This she is unaware of. She thinks that it is her good point. She has not even understood, what Mr. Sharma told her.
Naina gives her back. "It is not my fault. The fault was yours. You told lies to your mother. If you had told your mother, that you were taking your boss for dinner, nothing like this would have happened. You did not do this because you do not care for them" - Rohini can not hear any one telling her what they think of her, so she tells her to shut up. "I do not want to hear what 'outsiders' think of me. Enough, stop it, do not say more."
Rohini is very upset, and goes to Sanket and tells him that she can not stay in this house any longer. She is leaving it, and going. The family members just look at one another in absolute surprise, at her behavior, as how she disowns her own part, and puts the blame on everyone else, and wants to run away, as she can not face the accusers. Vibha gets over worked, and distraught that she is running after her saying, "Rohini, Sanket, " in desperation, at the sight of her family falling apart.
Daksh looks at Naina, and the calm way she has handled this affair. Rohini and Sanket are in their room, and Rohini empties the cupboard of her clothes, and tells him to bring down the suit case. The mother has come in and tries to reason out with the insane girl. She is so drowned in her self pity she sees no reason, and wants every one else to dance to her tune. She tells Sanket, "If you are frightened to leave, then you stay here, I am going.". He asks her, "Where do you want to go?"
Shridar and Shyamal with Akriti too come into the room. The aunt joins Vibha, and her husband stops her from talking more, and tells her not to interfere. Shridar taunts Rohini, and says, "It is good she goes. She does not know to respect elders, and so often she has insulted me as well. Let her go." He tells Vibha, "Vahini, you should have kicked her out, long time ago." He continues in his unique sing song tone contorting his facial expression, "Now we can live here in peace." and walks away. After he goes, Rohini gets her voice, "Saw ?" she asks them.
Sanket tries to reason out with his wife, but she is so hell bent that no one can speak to her. His mother begs him, and he tells her, "Mother, when you had chance to speak, you kept quiet. Now what is the use? Leave it to me to handle the situation as I think fit." Her sister in law, takes Vibha down and leaves them alone.
Sanket tells his wife, after so much insult, we shall not stay here a minute longer. He takes his diary to get a broker's telephone number. Just that morning, he was checking his laptop, and telling her that they have already spent half the salary of both of them together for the dinner, and the two fools are not thinking from where they will bring the money required for a deposit. Any one would think both of them are half brained, and dumb. Sanket must have grown up, being pampered, and looked after every step of the way, and Rohini's parents did not bother to correct her arrogance as she was growing up. The result, two grown up 'children' with tantrums. All is not that meats the eye !
Naina consoles Mr. Patwardan, and he complains that she is unreasonable. Shridar comes to rub salt. Tells them to give their room to a paying guest. Mother begs them to convince them to stay. Daksh asks, "Why, if you ask them again they will humiliate you fruther." Mother says that she will not allow them to go. Mr Patwardan stands up, and faces her and asks, "Why do you want them to stay, they do not have any concern about our values, or show us any respect. Why do you stop them? Your motherly affection is making us weak, and them arrogant and proud." The mother cries and tells she can not live without her children. This is the problem, the toy which gave the parents comfort when they were young, has become a pain in their old age. The toy has a life of its own, and wants to go away, and the toy does not remember any thing that happened during the days when the parents were young. This is the problem of every parent, and the difficulty arises when children have to part. The oak tree, does not grumble when an acorn falls on the ground and brings forth a sapling. The grand old oak, is not upset of the new sapling. This truth of life is so poignantly brought forward in this serial. The Professor, tells his wife this very same truth, but in his own way. One has to see the serial to see the pathos in the scene.
Naina in her inimitable style, tries to cool off the tension, and offers water to drink. Mother begs, and Daksh puts his point forcefully, and tells her not to ask any one anything. Daksh walks away. Finally, the father yields to his wife, and says, "Come on."
In the bedroom, Rohini has a trick up her sleeve. She road rolls her husband into submission, into listening to her plan. "We shall not go anywhere. This is just an act I did, to make mother beg us to stay. She will not be able to live without her children. She will cry and beg us" - on the outside, Naina hears her telling his to her husband. She was on her way to her room. She stops and hear more.
"When we will refuse, she will ask for forgiveness. The humiliation which they have made us to go through, I will avenge it." Sanket asks, "Then what do you want?" She replies, "Promotion. It will be very easy for our father, he will speak to his Mukesh, his student, and he will give me my promotion.". She smiles with delight at her brilliant idea, least aware that Naina has heard her whole plan !
In his room, Daksh is walking up and down, and asking himself, that Rohini insulted his father and mother so much, and what does she want from them. Naina enters his room just then and gives him the answer, "Apology". He asks, what she meant. She tells him that she does not know how to tell him all this. She tells what she heard. "Rohini thinks Mr. Sharma insulted and demoted her on account of her parents, and until they ask forgiveness from her she will not budge. She wants father to ask Mr. Sharma to give her the promotion."
Naina tells him that we have to find a plan where two birds can be killed with one stone. Daksh goes to speak to his parents.
Rohini and Sanket are in their room, and he is walking up and down, and sees the parents are coming up. Tells his wife, "They are coming up". Rohini starts to pack her things to show her parents. The mother falls in the trap set by Rohini and starts her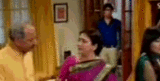 begging, and explaining, and the father says,that one can not clap hands with one hand. Rohini continues her act. Keeps them in suspense. Mother pleads with the arrogant girl, and just then Daksh is standing at the door and watching. Father tells her that he knows what has upset her, and assures her that he will speak to Mukesh. She tells him that he does not need to take any trouble. "It is against your principles" and she adds, To stay in this house, is against my principles". She is getting ready to go.
Rohini sees Daksh there and tells him, "Daksh, do not try to stop me. I will not change my mind." He tells her, "No, I will not stop you. You have taken the right step Go." Father does not like what he hears. but the son tells his parents, that he wants to speak to them privately. He takes them out, and Sanket tells Rohini to stop the drama, but Rohini she is adamant, as she has not received an apology.
In the living room the parents decide to go ahead and call Mukesh, but Daksh tells them they can not do it. If they do, he will leave the house and go. What will be the result, will Sanket and Rohini be left standing with their "dead baby"


Next Episode
http://www.india-forums.com/forum_posts.asp?TID=1640253

Episode 21/3/2011
http://www.india-forums.com/forum_posts.asp?TID=1642150




Edited by walquest2000 - 29 March 2011 at 7:06am