This is my first fan fiction. I have been reading so many lovely fan fictions of Maan and Geet and sincerely watching the serial GHSP for a few months now. I just couldn't stop myself from writing and thanks to the beautiful inspirations by all the lovely ff writers! I was actually planning to write this during my summer vacation but the ideas in my head have been overwhelming that I couldn't stop myself from writing. Let me give a character sketch and a small introductory chapter. Please let me know how is it before I continue with the rest...
Maan Singh Khurana: The Angry Young Man of Delhi. 30 year
old and is oldest of the Khurana sibilings who comes with a dark and sorrowful
past. He is named the youngest
talent of the year and hottest male in India. A man of principles and few words
but his actions speak volumes. He is the MD of Khurana Constructions and heir
of the Khurana Empire. He leaves no stone unturned to make his construction
company number one not only in India but around the world too. His cold and
mean gaze brings shivers to everyone as he strides by the corridor of his
office yet a small call from his Daadima instantly mellows him down. Although he is rich, hot, and
irresistible, he is always unreachable making him look like the forbidden fruit
of the Garden of Eden.
Geetanjali Arvind Handa: She is 27 years old and is a successful
Architectural engineer working in top construction company based in New York.
She is woman of traditions. She is soft and bubbly and always ready to help everyone
around her. She is a strong woman like her mother yet her stubbornness
sometimes blinds her decisions. Her constant chatter can be annoying but her
sweet smile and golden heart makes it up.
Savitri Devi (Daadima): She is Maan's lovable Daadima. She
loves her grandchildren very much. She is a perfect blend of traditional and
modern values. In her times, she was known for her boldness and cleverness in
business; she helped her husband, the late Vanraj Singh Khurana, to establish
the Khurana Empire.
Arvind Krishna Handa: He is Geetanjali's father. A man of
high values and loves his family a lot. He loves his only daughter, Geetanjali.
He is very outgoing and friendly. A successful criminal lawyer and owner of
Handa Law firm co-run with his wife.
Anuradha Arvind Handa: She is Geetanjali's lovely
mother. She is woman of strong
values and a dear friend, guide, and philosopher to her daughter. She lives
with her husband in Mumbai. She was brought up in a strict and conservative
South Indian Iyer family yet her views are very liberal. Her parents shunned
her as she married out of caste to her love of her life, Arvind Handa. Her
hardworking nature led her to become successful lawyer and owner of Handa Law
Firm.
Kritika Handa: A four-year-old cutie pie daughter ofGeetanjali. She just started her pre-school and is thrilled to have joined school and has already made a lot of friends and has her own gang of friends that include Raji, Keerthi, Neel, Choks, and Chandu. She constantly gets into trouble, as she is really very mischievous yet her mother enjoys her little nakras. She is also very stubborn and doesn't easily give into doing something but once she makes up her mind nobody can stop her.
Vikrant Singh Khurana: Fondly known as Vicky and is the second
sibling of Maan Singh Khurana and is the complete opposite of his brother. He
is 25 years old. He is a party animal and doesn't leave a chance to flirt with
the opposite sex. Although he seems like a playboy he keeps himself in his
limits and adores his older brother Maan. He looks up to him as his role model.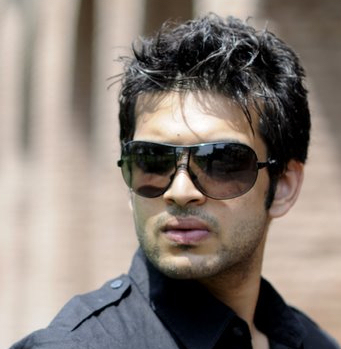 Arjun Singhania: Childhood friend of Geet. He is 29 years old. He is a
charming young man, who always made people smile even in their worst times. Since
he lost his mother in his early age, his world evolved around his father,
Gowtam Singhania. He always considered Anuradha Handa like his own mother and
always went to her when he was disturbed about anything. Although he comes from
a rich family background, he is very down to earth. He is tall, lean, handsome
young man, and all the girls swooned over him. Geet has always looked up to his
company and friendship. He moved away from Mumbai at the age of 16 due his
father's investment firm business shifting to Delhi.

Radhika: A young bubbly and vivacious girl. She is a self-made
businesswoman. She is bold and beautiful yet is confined to the traditions and
ethics she is brought up with. She doesn't hesitate to point a finger if
something wrong is happening around her. The only thing she lacks in her life
is love as she lost her parents at a very young age and grew up in a orphanage
that she calls it as her dear home even after gaining money and power in the
society. She is simple yet carries an air of elegance and sophistication. More about
her character shall be revealed as the story progresses.
Please Note: Other
characters will be introduced as the story progresses and other major
characters that may be introduced later in the story, shall be added to the
character sketch later.
Sneak Peek: Maan Singh Khurana was coming there! Her heart
skipped a beat and a slow smile appeared on her face but before it turned into
a full-blown smile, she stopped herself. In place of a smile sadness crept over
her face...