I'm... in heaven right now! Oh god. I can't even explain this!
Your update is absolutely
stunning
. You captured the most INTENSE scene in KMH, by far so beautifully! I think this scene definitely beat their union scene in the shaadi ka joda, and slide show, etc. Your work is so striking, it's a beauty to look at! Ah. I just... wow. The girl who always talks a lot, and says a lot, is at a loss for words right now :/ Shit! This is amazing, it truly, really is.
This is absolutely perfect! I can't even... wow. The colours, the combination of textures and your colouring, and the way you've assembled this whole siggy, gosh, it's breath taking! I cannot, I REALLY am in love with this siggy. You captured one of my most favourite moments, and siggyfied it so elegantly; in such a classy manner, I just am blown away! This is
s t u n n i n g!
I probably sound like a lunatic right now, raving about the same things over and over again, but I'm sorry! I can't help it. This siggy seriously is fantastic. I LOVE THIS. It's probably one of my favourite pieces you've made! The hurt in Arohi's eyes, and pain is
completely
visible! Gosh, you're terrific!
Another
moment that I found absolutely exhilarating! Eeks. This was beyond love for me. This just made me fall for them all over again. Their promises, their hug, the intensity in the atmosphere, everything went so well, and your colouring is seriously absolutely amazing! I LOVE it here. It's so gorgeous! Gosh, I really like the borders; it's super cute, and classy! Perfect :D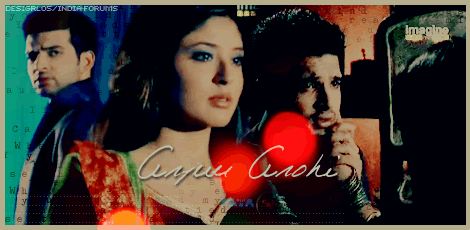 This is so beautiful! I prefer the other one up there a bit more over this, just 'cause the b/w effects add to the intensity, and I'm a b/w fan! Hehe. But this is really well made! I LOVE your creativity at a vid siggy, it turned out really nice! Asides from the quality, I think this is gorgeous! Two moments perfectly combined. The sweet moments before the storm hit! Ah. I really love the colouring here, you are so goood! Shit, I'm jealous.
This update was flippin' AMAZING. I'm so glad you made these! GREAT job!!
<33333