Hi Everyone....
MahaPurush of the week
Keeping to the RBO flavour
------


So this week on the hot seat is goldie, always looking for the betterment of the show. She rants enough to invent her own language
. Dripping with sarcasm, she creates a comic frenzy.
Her name resembles that of a clown that I gave her a nickname as well. Fun in nature like her name. She hails from the same forum as me when we both joined IF. She is the subtle tormentor for her beloved SS. Her name rhymes with Rehaaz. Let's Rate her to the Hot Seat. She issssssssssssssssssssssssssssssss

-SAAZ-

Congratulations Saaz..
Stop Tormenting people .. come to the hot topic..
the hot seat.. and get ready to get grilled.
(pisssstt..beware of that girl Rooj...
oh yea that's me!)
Please feel free to use the siggy below to flaunt your special status for the week.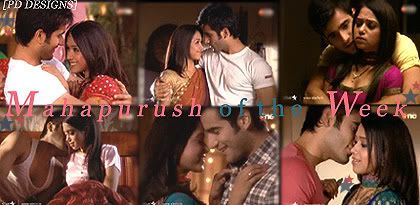 Time to grill everyone..
make it a fun week for Saaz (Saazy Smaazy) lets grill her and get some info out of her.... Saaz (Saazy Smaazy) get ready.. One..two.. here it comes....
Name:
IF name:
Age:
IF age:
Hometown (Current and where are you from):
How did I get started with India Forums:
Why am I hooked to RBO(Yasharan and Shanak)...:
Why do I like Shanak and Yasharan:
My hobbies and a little about me:
What I like best @ IF:
What I would like to see more @IF:
What do I dream about when I sleep:
Favorite Food(other than Indian)
Favorite Color:
Favorite Movie (choose one):
One random fact about me:
---
Now it is your turn to grill bake and fry her..
----
Credits:
All glitter courtesy of Tumhari_Khushi and Zwani.com
Pooja for the RBO MOTW siggie..
Thanks girls.


Edited by rooj-i - 16 March 2011 at 10:09pm