part 11 on page 39
PART 12

Late night
Armaan's room,
He was doing some work but was just not able to concentrate on anything right now all his thoughts were taken over by riddhima's thoughts
"whats all is happening to me why i am getting so restless its not that i have not been soo close danced with her before then why all this , god i need some help am i really searching for her in every girl as shilpa told me, may be afterall there is noone like her i knew that she is everything that one person can ask for in a girl she is sweet cute inteligent kiddish sometime emotional sometime strong also sometime but the most important she is surely the most beautiful girl i ever met in and out i never can judge her heart is more beautiful or she herself but then what about her innocence , she trust me she trust her best friend no this is wrong i should not think about my best friend like this she trusted me soo much and here i am no this is wrong i have to control myself , just ignore this armaan just do ignore otherwise i can loose my best friend in all this no i cant afford loosing my riddhima at any cost, i think i should just avoid all this thoughts and just think about other thinks but how, i cant , iknew i cant ok if i cant do anything in this lts just get going with this let the things going as they have been always maybe with the passing time i get my solutions"
Concluding that armaan went to sleep
NEXT DAY
Riddhima, kashish and nandini selecting the jewelry designs
riddhima: wow mom these designs are really nice , soo which one you like the most
Kashish: ya baby , but I was thinking that I will gift nupur few sets from my side in shagun , how about 11 , that will be good , and as for the rest , you select for wearing purpose , on the occasion , and most important , the engagement ring
Nanadini: ya kashish , I think 11 sets would be fine and some gold , diamond bangles , an anklet
Riddhima: oh oh relax ladies , god, you ladies only have craze for jewelry I suppose , I thought we have to take only the jewel that we were supposed to wear in the party , and now soo big list
Kashish: you wont understand that baby , this is shagun , and nupur is now becoming our daughter in law , we have to give her all this in gifts , I was thinking to give her few sets now, and the rest I will give her at time of their wedding , soo that she have plenty to wear after wedding , don't you want your bhabhi to look beautiful
Only then mayank came down
Riddhima: I don't knew about me mom , but yes mayank always want her to look beautiful and to look at only him , now our nupur is soo beautiful already without all this jewelry , I don't think she will need this materialistic things to look beautiful , right mayuu
Mayank: shut up riddhima and stop teasing me now , mom I am going
Kashish: you are going , but where ?
Mayank: office along with dad
Nandini : no ways , you are not going anywhere, tomorrow is your engagement and we still have soo many preparations left , and most important , mayuu , where is the engagement ring ,
Mayank: [confused] ring ? which ring masi ma
Nandini: oh god look at him kashish , god , mayank you are too much , you are getting engaged tomorrow and you have still not bought the engagement ring for nupur , what are you going to make her wear tomorrow then , that's why I always use to say you to stay away from karan's company , see now you becoming like him only , soo irresponsible towards your partner ,
Kashish: leave that nandini, I wished mayank had been like karan, I knew that very well that karan is soo responsible and romantic towards you , ok , I really wished him to be like that ,but what can I doo he is just like his dad , fully influenced by him , that's why he is like this
Riddhima: ok ladies break , now will you stop cursing and telling all bad about your respective husbands and come back to the point from which you started , engagement ring
Mayank: yes please, sorry mom , actually I just came back yesterday and have not got time yet
Before he can say ahead and anyone can say anything , riddhima said
Riddhima: its ok mayu , you don't worry , here I have asked the jeweler to send me designs for the ring , you choose the best one you like out of them ok , and haa if you want you can take help from nupur , after all you two together need to select this , right
Kashish: oh wow baby , you are getting soo intelligent day by day , have done everything already , I am impressed with you
Riddhima: oh thank you mom [bowing down]
Came samrat
Samrat: oh please masi ma , don't praise her soo much , without any reason her mind will get on the seventh sky , and then she will thing that she is the best
Riddhima: what do you mean by think samm , of course I am the best , and I will always be
As samrat was about to say anything
Riddhima: and today I am really busy have noo time to waste while fighting and arguing with you
And with that they all got busy with their respective works , when nupur came there along with gunjan
Gunjan: good morning guys , hey aunties how are you both
Nandini: hi gunjan , I am perfectly fine beta , thank god you came I am soo much confused with these designs , not getting anything
Gunjan: oh hoo , aunty , don't be tensed , now I have came na , now you don't need to worry , I will help you with this , I already knew your taste , and I knew what you like the most
Riddhima: look now masi ma , here come your nice and sweet daughter to help you ,now my work over , gunji will surely help you with this
And riddhima went where samrat was standing
Samrat: [to riddhima] mom really likes gunjan they look soo nice together na
Riddhima: [sarcastically and teasing samrat] , ya perfect just like a family mother in law , daughter in law and you the son, wow what a complete family
Samrat: ohh stop it riddhima , I should have not told you anything
Riddhima: oh hello Mr dumb , for your kind information you haven't told me anything , I have myself figured it out ok
Samrat: then why don't you figure few more things out [with deep meaning thinking about armaan and her , why she cant figure that out]
Riddhima: what do you mean I am not getting it
Samrat: ohh nothing , I was just wondering where's armaan , I have not seen him since morning
Riddhima: no idea may be in his room , its early morning right now , may be he is still sleeping
Samrat: oh riddhima its already 10 in the morning ,and he is still sleeping , hope he is fine ,let me goo and check
Riddhima: [getting concerned may be armaan is not well] , no samm you wait I will go and check
And riddhima went from there , and here samrat winking and signaling thumb up to karan who have came there after girls came
Armaan and riddhima
Riddhima went to armaans room only to see him in deep sleep , his head was towards end of bed and legs on other and he was sleeping opposite way on his stomach with pillow tight in his arms , he was shirtless [girls there stop imagining] his back towards riddhima , she bend down towards him , saw him smiling in sleep ,she bend down on his knees towards him and kept a hand in his hairs
She was smiling looking at him sleeping like a baby , and then remembered how he supported him with the show yesterday , and that he was such a great friend always
finally after a big flashback remembering the time spend together ,riddhima remembered the work for which she came there , to wake him up
riddhima: [about to say something but then thought] , he must be really tired , yesterday was a hectic day , I think I should let him sleep
soo she got up from there and was about to went away , when armaan waked up
armaan: I was expecting a cyclone or a thunderstorm but none of that happened [opening his eyes , still in same position just picked his head a little]
riddhima: you were not sleeping , and what , what did you said ? [Confused]
armaan: oh hoo dumbo , I thought you came to wake me up and you knew your waking up is never normal , I was expecting that either you will splash a jug of water on me , but then you came down soo I thought you were planning to shout hard in my ears , but none happened
riddhima: [showing fake anger] you mean I bring cyclones and thunderstorm , ok then Mr Armaan Singhania , you watch yourself you were really missing some cyclone na , soo get ready for it now
armaan: [scared now , what was she up to] look riddhima ,look, I was just kidding
riddhima: but I am not armaan , and now you think about yourself , save yourself
[and with that she picked the pillows kept on side and one shot missed , second shot direct on armaan , and he got up and sat properly on bed]
Armaan: riddhima what are you doing have you gone crazy , hey hey stop
Riddhima: noo armaan , now you get ready for a bigger cyclone
[and then she picked books , and files kept there, and after few more shots , armaan got up and stand on the bed]
And soo did riddhima , she also came up on the bed with a pillow , and keep on hitting him with that
Armaan: oh ok , soo Miss Riddhima you want to fight ok then lets go ahead
[and with that armaan also picked up one pillow and soon started Home War number, don't knew which number , its too uncounted by now , it was soo normal for them to fight that how much fight they had till now cant be counted]
After fighting and getting exhausted they both laid down on the bed laughing hard over there kiddish act
Armaan: god that was soo fun , what a great morning , and you idiot, what happened to you why were you just going back like this
Riddhima: oh nothing actually I thought that you were really tired soo I thought to let you sleep
Armaan: ohh god riddhima since when have you started thinking [teasing]
Riddhima: what , what you said , you mean I don't think [getting angry]
Armaan: oh hoo dumboo , can you just listen first properly what I was saying and then fight , I was saying that since when have you started to think soo much about us , and about this that we are tired or something
Riddhima: oh that , stupid you think I don't care about you , then you are really wrong I really care about you a lot and you knew that ok , its just that yesterday was a hectic day first the show , and then all that shopping and then I knew that you were awake for very long at night , I saw your room lights on when I came out of room for water in midnight , you must be tired na
Armaan: [touched by her concern] , ya actually sujal uncle and buddy gave me some work was completing that only [poor armaan cant tell the whole truth that the work they gave was just few papers a work of half hour , but it took armaan 3 hours to complete it , cause he was just not able to concentrate a bit on work]
Riddhima: ohh ok , god armaan have some manners go and wear some clothes , you don't feel ashamed standing like this in front of a girl [teasing him as he was shirtless]
Armaan: where is a girl here in this room [teasing riddhima ahead]
Riddhima: ha ha very funny armaan , who do you think I am
Armaan: oh you riddhima you are also a girl since when , anyways thanks for the information [teasing ahead]
Riddhima: armaan , shut up , you knew [about to fight but then stopped] forget it , I have no time to spend today on fighting with you , there is so much work still left , oh ya come down fast everyone is selecting jewelry down there
Armaan: what !!! god one more torture [behaving as if he is very scared]
Riddhima: oh forget it armaan , I am going down , you can come if you want ok
As riddhima moved out , armaan also got in washroom to change
Riddhima went down in the main hall , everyone was sitting there comfortably and selecting the designs for jewels
Finally after lots of thinking and selecting , few were selected for nupur
riddhima : wow mom all the designs are great , I love them all , and now what are you doing I hope its done ,


nandini: yaa Riddhima just few bangles left, hey I think these are fine for now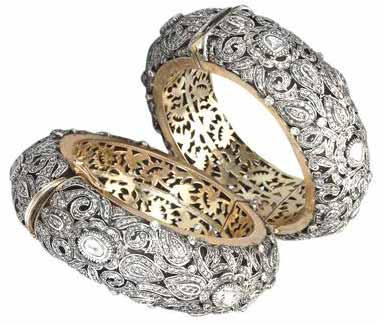 kashish: ok finally its done ,mayu you youngster now sit here and select the rings ok I will be back in a while
and with that kashish , nandini went from there , leaving the young one left , now armaan also came and joined them


and they all were seeing the ring designs ,


with as usual lots of yes no this one that one , just like for lehanga , they selected few rings ,


gunjan selected one Samrat selected other Armaan liked some other and riddhima to selected different
But mayank and nupur choice was different , they just wanted a simple ring , not that colourful and all soo they selected few rings,
Out of which the one looks best to all soo it was selected , and for mayank not much effort was taken , as he wanted very simple ring , soo they all selected this for mayank and nupur


As they end up there selection a servant came and said that kashish had called them in her room


Soo they all went to kashish's room,
kashish and nandini were sitting there on the bed with few open boxes of jewelry ,
mayank: hey mom you called us ?
kashish: [just teasing] I was just calling nupur not you all
riddhima: yes offcourse , now you are only concerned with your dearest daughter in law , there is only masi ma for us now [going near nandini]


nandini: yes baby I am always there for you , but right now we have some work with nupur
nupur: yes aunty , is there something serious [getting tensed]
kashish: nothing ,beta relax why are you getting tensed , I just wanted to give you something [smiling] come here
and nupur went near kashish and she gave her one box which had this
Nupur: oh aunty this is beautiful , but why you giving this to me ?


Kashish : this is our family ritual , this is our traditional necklace , my mother in law gave it to me , and soo I am giving it to you and I want you to wear this in tomorrow occasion
riddhima: [seeing this whistling and teasing nupur] [after a whistle] not bad nupur , you are too much in attention today getting so much jewelry
kashish: that's cause ye these are our generation wealth , since years these are with us , these were specially reserved for mayanks to be wife and nupur beta you will get this one at time of your wedding , but still today also I want to give you something , from just my side
and then kashish holded nupur hand and made her wear this

kashish: [getting bit emotional] , I am really very happy that mayu has chosen you , I always wanted a daughter in law like you , thanks beta , thanks for fulfilling my dreams , and I knew this very well that you can take care of my son very nicely
and then an emotional hug between the two , and while everyone was quite to lighten the atmosphere , samrat came in between
samrat: hmm I knew that masi ma , your all love s only for mayank ,have you seen this armaan how nice jewelry were kept for mayank's to be wife and nothing for us
nandini: shut up samrat , its not at all like that , you three have everything equal , and you knew this type of jewellery are even kept for your wife and even armaan's wife , when they will come in our lifes they will also get that ok

riddhima: ohh ok , its fine give all love to your respective daughter in laws , [teasing] who cares for daughter here
kashish: hmm ya right , nautanki , we have made the maximum share for you , you will get it when you will get married
riddhima: ohh ok , I can't wait that long , I need something now ,
[and then she sat on the bed where lots of jewellery was kept , and then she saw one bangle there and picked it] wow this is osm , as for now I will have this
and saying that riddhima wore this in her hand
riddhima: see what a perfect fit


kashish: [after seeing it] this bangle is prerna's i suppose , am i right nandini
nandini: yes this is prerna didi's bangle, soo we have kept this aside , just reserved for armaan's wife, sorry riddhima choose something else for you

riddhima: is this really chote ma's [she said emotionally , and removed it] , its very nice , no problem [and she removed it] and moreover ,this all jewel is extremely heavy , and I think I can't wear all this , soo plan dropped I don't want any of this
armaan: [taking the bangle and he also got emotional] is it really mom's bangle girlfriend [to nandini] , well , riddhima if you like it then you can take it , I am sure mom wont have minded if you would have taken this
riddhima: no thanks a lot Mr Generous , I think you should keep it to you , and the day you get your perfect match just make her wear this and bring her here in front of us , we all will then automatically understand that she is the one
armaan: [smiling] hey not a bad idea , ok then in that case I keep it to me , and I promise I will do what you said and what you want [deep meaning] ,
and seeing all this samrat to himself
samrat: the right thing itself reaches the right place [and then he said to nandini] , well mom , isn't there any bangle like this for me , I mean just give it to me also , I will also make it wear to who ever I want and you all will also understand then

nandini: no ways samrat , i wont give you that ok we cant trust you with this who knews what kind of girl you will make that wear i cant trust your choice at all [teasing samrat]
and everyone else just laughing
samrat: what mom , at least sometimes take me seriously
[seeing towards gunjan , who was busy laughing , she was looking beautiful with that smile]
riddhima: [after seeing samrat lost in staring gunjan] , ahem ahem , well I was thinking , that we shall leave now ,still few works left to be done , ok lets go , mom ,me and gunjan are taking nupur to parlour , and we will be back till evening , ok
samrat: by the way riddhima, for your kind information engagement is not today its tomorrow , and I am sure you ladies wont take full 2 days to get ready , soo why going parlour now
riddhima: I knew that very well Mr Over Smart , that engagement party is tomorrow , and we are not going to get ready right now , there is something in this world called , Pre- Bridal and we are taking nupur for that only , after all she needs to look the most beautiful and for that lots of efforts need to be taken
samrat: god you ladies , now you are going to waste your whole day in parlour , great ok then mom , I think we are left with no work ahead , we shall also go to office
and with that everyone dispersed ,
In the Evening

A small ladies sangeet was going on at nupur's place and all ladies went there , one night before engagement ,
Mehendi was been applied in nupur's hand ,
While the other ladies were singing and dancing on dholak ,
And on the other side at mayank's house, all boys enjoying there time have a good bachelors party , but with no dancers mind that , hehe, well I am excluding the rest details , not required
Next Day , the engagement day


As the engagement party was decided to be held in Hotel , soo no decorations and all other preparations were required,

Just shifting of shagun , and all was going to that Hotel Hall
In the Evening ,
Mayank's room ,
Mayank was getting ready he was wearing the dress he bought , and armaan and samrat , were helping him with that , he was already wearing the dress , but not that dupatta , the achkan its called which boys wear around the neck , and armaan and samrat , giving their option for that

Mayank was already very nervous and to add to that armaan and samrat were making him more conscious
Armaan: this one , ya perfect ,see mayank this dupatta goes perfectly with your dress , nice silver colour
Samrat: no no armaan mayank's dress is in golden red colour, just tell me where is silver in this , this silver dupatta wont go , mayank you take this , golden one , this will look good
Armaan: ohh noo samm, this golden colour don't match mayank dress , this is dark , it wont look good , this silver is light colour , it is perfect ,

Mayank: guys , guys , are you sure , I mean I think none of the two will go perfect with my dress
Samrat: no mayank you don't knew , this golden one matches well
Armaan: no samm , mayank , this silver one
Mayank: [irritated and nervous] god where am I struck , please help me god , riddhima where are you [finally wishing for her]
Only then riddhima came in the room , fully dressed up , wearing that blue dress she selected
riddhima: some one called me here
And as the three guys turned back , they were struck and as for armaan , well he just cant take his eyes off her , she was looking complete angel


Samrat: [praising] gosh riddhima , you looking horrible [teasing]
riddhima: what !!! shut up samm I didn't asked you
Mayank: but I am asking , what is this , what are you wearing , don't you think its too open from above , cover yourself [typical Indian brother hehe]
riddhima: shut up mayu , this is fashion , and you have no sense of that , for me my dress is very nice , and I am just going to wear this , now you tell why were you praying my name , and what the hell is this why aren't you ready yet make fast mayu we are already late
Mayank: hey hey stop yaar , I am already very nervous and now you are making me more , cant you be quite , and here these guys I am so badly struck , I mean see what they are doing to me , they cant get the perfect matching dupatta for me
Samrat: god , see riddhima I have got this , this is golden and matches his dress
Armaan: no I think this one is dark soo I got this light shade
riddhima: guys stop please , with mayu dress none of your colour will go well , his dress is golden soo he need to have the dupatta in contrast and not the same colour , here this
And she picked the red colour duppatta and made mayank wear it ,
riddhima: [adjusting mayank's collar] see perfect match , my bro today is looking the most handsome groom ever in this world [emotionally]
Mayank: [very seriously] I wish I could have said the same for you
And with that he burst out laughing
riddhima: you knew what you are impossible , get out mayu , get out of my sight right now
Mayank: hey hey madam , this is my room
riddhima: soo what still get out and moreover mom and masi ma calling you down
Mayank: mom is calling but why ?
riddhima: yes they want to do your aarti [the prayer did with holy fire in a plate] [said normally as she was kidding]
Mayank: stop kidding right now , tell me
riddhima: see , when did I was kidding , seriously they want to do your worship , so that their sweet and cute mayank don't get effected by any evil eyes [melodramatically ]
Mayank: ok ok I am going , lets go samrat, armaan come fast lets go, and riddhima you also wear your clothes and come down [teasing her again he went from there and samrat also went]
And riddhima left behind mouth open , with armaan laughing at her face
riddhima: what's soo funny ? [irritated]
Armaan: [stopped laughing] ohh nothing , ok come lets go , and by the way you are looking very beautiful [seriously]
riddhima: [smiling] seriously , wish I could have also said the same for you [teasing]
Armaan: ohh really , stop repeating mayank's dialogue copy cat
riddhima: hwww , you said me copy cat , [fake anger]
Armaan: ohh sorry , no copy cat , you are actually wild cat , jungli billi [teasing her and then tickling her a bit on her stomach]
riddhima: [laughing with tickling] , armaan please stop , see I cant even run in this lehanga , I will fall down
But armaan in no mood to stop
Armaan: really , jungle billi , cant even run [and tickling her more and she going back and back]
Finally came the bed corner and riddhima lost her balance and fallen down directly on bed , and as like always , armaan misbalanced too and landed exactly over her
And everything around them got quite , a sudden unknown quietness was there
Eyes in eyes , and both were breathing heavily , for the first time riddhima was more deeply engrossed looking in his eyes, there was something in there that had captured her and she just cant think of anything at that moment
And after few moments , this time armaan got conscious of the surroundings and got up , and made her get up as well ,
riddhima: [thinking what to say] its already late I think we shall leave
armaan: riddhima just a minute
And then armaan picked riddhima dupatta and adjusted it on her shoulder properly ,
Armaan: now its fine lets goo [smiling, trying to lighten the atmosphere]
After few moments , everything got normal again ,and they all went together and proceeds towards the hall ,
Nupur's parents welcomed them at the gate and then they all went in


While riddhima rushed to the bride room , to meet nupur ,
There in the bride room , nupur was getting ready , and gunjan was already ready

Gunjan wearing the red dress she selected ,
And nupur wearing the one mayank selected for her
riddhima: [entering the room] hello would be bhabhi not ready yet , wow gunji looking osm ,
Gunjan: thanks riddhima , you looking very nice as well


riddhima: [not happy] thanks
Gunjan: what happened why your thanks sound so sad

riddhima: nothing much ,already had lots of teasing session anyways leave that , nupur , you didn't took this set along with you , here wear this, wait I will make you wear this
And with that riddhima and gunjan made nupur wear the jewellery and after giving final touch to the make up she was ready
She was Sitting in front of mirror and gunjan and riddhima sat down on there knees on the both opposite sides of her , and nupur was not even looking up in the mirror and just blushing
riddhima: god I swear today moon will also feel shy seeing the beauty of yours ,
Gunjan: yes you are right, god knows what will happen to mayank today
riddhima: well as for him that will happen that we both want
Gunjan: means ?
riddhima: means that for getting a glimpse of this moon today mayank will have to do a little bit amount of efforts
Nupur: what do you both want to do, and riddhima what's going on in your mind [knew riddhima well she must be planning something]
Riddhima: nothing much sweety , just like that I was wondering that what if nupur don't goes down right now

Nupur: no ways riddhima nothing like this will happen, I am going down , please riddhima not today ,

Riddhima: oh hoo, someone really getting too concerned for mayank today, madam he is my brother as well and I also care for him , and I won't irritate him too much, just till the time mayank don't call you down in a perfect style mein nahi bulaata , you won't go down ok deal

Nupur: what do you mean by perfect style ?

Riddhima: that you will get to knew after sometime , lets go gunjan and take a glimpse of her majnu

Gunjan: yes lets go and see how much desperation is surrounded down for nupur , oh wow , what a poet I am

Riddhima: ohh miss poet lets goo

And then riddhima and gunjan went down where boys were standing with their parents and nupur's parents ,

Nupur's mom: riddhima beta, where's nupur , why didn't you got her with you

Riddhima: nothing aunty , actually our groom has to wait for some more time our bride will take little more time

Mayank: riddhima please leave this jokes for now

Gunjan: oh ho mayank that's soo good this much desperation , you cant want for this much also [teasing]

samrat: girls please stop right now why are you teasing our poor mayank you wait mayank me and armaan will get your nupur down

and as samrat moved a little ahead , gunjan stopped him

gunjan: no ways , today you and armaan are not going to help him at all, if he want nupur down , then he has to show his style

riddhima: comeon mayuu , just call your nupur from your heart and see she will come down running

armaan: go ahead mayank , just show them all today, that mayank also have style

mayank: what !!! [and poor he was struck, well he thought of something and then gathered few girls around
and the music started

Girls singing:

Kabse Aaye Hain Tere Dulhe Raja
Ab Der Na Kar Jaldi Aaja


[Mayank came and started singing]
Tere Ghar Aaya Main Aaya Tujhko Lene
Tere Ghar Aaya Main Aaya Tujhko Lene
[dancing went near nupur's parents]
Dil Ke Badle Mein Dil Ka Nazraana Dene


[then moved to his parents and crossing them]

Meri Har Dhadkan Kya Bole Hai


[reached riddhima and gunjan and signalling them like to listen]

Sun Sun Sun
[Mayank , samrat and armaan with chorus riddhima and gunjan just watching]


Saajanji Ghar Aaye Hay
Saajanji Ghar Aaye
Dulhan Kyon Sharmaaye Hay

[ samrat and armaan came to riddhima and gunjan , saying to call nupur now]


Saajanji Ghar Aaye
[Came nupur down ,with few girls , nupur in half stairs]
Ay Dil Chalega Ab Na Koi Bahaana
Gori Ko Hoga Ab Saajan Ke Ghar Jaana

[riddhima and gunjan brought her down]

Maathe Ki Bindiya Kya Bole Hai


[dancing ,all three girls]

Sun Sun Sun


[calling mayank near him , and as he came nupur ran from there]
[All dancing , except mayank and nupur]
Saajanji Ghar Aaye
Saajanji Ghar Aaye
Dulhan Kyon Sharmaaye Hay
Saajanji Ghar Aaye
[And now nupur meeting mayank family and all other guest , and mayank all time coming around her trying to hold her hand , and all and our nupur feeling shy]
Nupur:

Deewane Ki Chaal Mein
Phas Gayi Main Is Jaal Mein
Ay Sakhiyon Kaise Bolo Bolo


[coming to riddhima and gunjan]
[Now mayank came near them , from one side holding riddhima hand and from other gunjan and dancing with them]
Mayank:

Mujhpe To Aye Dilruba
Teri Sakhiyaan Bhi Fida
Ye Bolengi Kya Poochho
Poochho
Nupur:
Ja Re Ja Jhoothe
Tareefein Kyon Hai Loote
chorus
Hay Ja Re Ja Jhoothe
Tareefein Kyon Hai Loote
[Mayank coming near nupur hoding her hand and making her swing again and again]
Mayank:

Tera Mastana Kya Bole Hai
Sun Sun Sun

All together , dancing
Saajanji Ghar Aaye Hay
Saajanji Ghar Aaye
Dulhan Kyon Sharmaaye Hay
Saajanji Ghar Aaye
[Mayank and nupur standing while all others dancing , armaan behaving like mayank, and riddhima behaving as nupur, Khushi singing this from behalf of nupur , and telling to mayank]
Na Samjhe Nadaan Hai
Ye Mera Ehsaan Hai
Chaahe Jo Isko Keh Do
Keh Do


[And now armaan came to mayank , and singing on mayank's behalf , and replying riddhima]
Chhede Muhko Jaan Ke
Badle Mein Ehsaan Ke
De Diya Dil Isko Keh Do
Keh Do

[Gunjan singing , deep meaning , remembering about ranvijay and her past]
Gunjan:
Tu Ye Na Jaane Dil Toote Bhi Deewane
Tu Ye Na Jaane Dil Toote Bhi Deewane
[Samrat understood , what gunjan meant , and went to her to lighten her mood, dancing with gunjan]

Samrat:
Tera Deewana Kya Bole Hai
Sun Sun Sun
All dancing and singing:

Saajanji Ghar Aaye Hay
Saajanji Ghar Aaye
Dulhan Kyon Sharmaaye Hay
Saajanji Ghar Aaye

[Now emotional part , nupur , riddhima and gunjan , stading there]
Nupur mom , seeing nupur happy: ,

Mehndi Laake Gehne Paake
Gehne Paake Hay Roke Tu Sabko Rulaake
Savere Tu Jaayegi Tu Bada Yaad Aayegi
Tu Bada Yaad Aayegi Yaad Aayegi


[Nupur mom coming near nupur:]


Mehndi Laake Gehne Paake
Gehne Paake Hay
Gehne Paake Hay Roke Tu Sabko Rulaake
Savere Tu Jaayegi Tu Bada Yaad Aayegi
Tu Bada Yaad Aayegi Yaad Aayegi


[Nupur getting emotional here for leaving her parents while gunjan to standing with her parents , seeing some unknown pain in there eyes as well]


[Soo samrat , mayank , armaan and riddhima thought to lighten the atmosphere]


Mayank :
Tere Ghar Aaya Main Aaya Tujhko Lene
Tere Ghar Aaya Main Aaya Tujhko Lene
[Mayank coming to nupur and dancing]:

Dil Ke Badle Mein Dil Ka Nazraana Dene
Meri Har Dhadkan Kya Bole Hai
Sun Sun Sun


[All dancing and finally all happy]

Saajanji Ghar Aaye Hay
Saajanji Ghar Aaye
Dulhan Kyon Sharmaaye Hay
Saajanji Ghar Aaye


general vm form the movie
Finally at the end of the song and dance , everyone happy together

Mayank: [to riddhima and gunjan] hmm soo finally over with your demands girls, or anything else is still left

riddhima: no no not much left now , you both just go there and sit together soo that we can start with the engagement ceremony

And then everyone went towards the chairs decorated for mayank and nupur to sit

And mayank and nupur sat there , while all others standing there around ,

And then kashish and sujal ccame in front ,

Kashish did nupur's aarti , and then of mayank , later sujal did the
same , this is there way to give blessings to their kids, and then they give few gifts to them , including anklet , it's a tradition of giving that
Later same process was done by nupur's parents and they also gave few gifts to mayank after they did it
Kashish: [to riddhima standing next to her] , riddhima beta come here and cover nupur's head with this duppata
riddhima: but mom , why this and why me

kashish: why do you question me so much , this is a tradition, this duppata is the first piece of cloth from nupur's in law's house , and according to tradition groom's sister is the one who make her new bhabhi wear this ,and its kind of you are welcoming her to be a part of your family now , soo don't waste much time and cover nupur head with this , soo that they can exchange there rings


riddhima: oh ok ok , I am doing it


and with that riddhima made nupur wear the duppata ,


now came the ring exchange time


and nupur mom gave nupur the ring to make mayank wear that


kashish: mayank forward your hand ahead and let nupur make you wear the ring


samrat: masi ma , what do you think its too easy , I mean nupur took soo much time in coming down so our groom cant even take time for this, well , its not so easy this time for nupur , if she want mayank to wear this ring , she had to do something special


gunjan: what !! what do you mean , mayank bring your hand ahead , do you really want to do the engagement or we should take nupur back from here

armaan: no ways , mayank , wont forward his hand soo soon , and engagement will be held , per only then when nupur will say something special for mayank here in something front of us


riddhima: ohh if this is the point , then comeon nupur , speak up , and show them that you are not less them anyone here

and nupur poor she , just keep on blushing and cant do anything
and mayank seeing that


mayank: armaan leave it now

armaan: oh ho , my god mayank from now only you are so concerned for nupur


samrat: ok mayank , if you say soo , we leave your hands , but if nupur is not saying anything , then you have to say on her behalf before wearing the ring ok


and now poor mayank got struck again


mayank: [clearing his throat , getting nervous] me I actually


riddhima: mayuu you are blushing even more then nupur , leave them guys , look at them they both are getting soo restless to make each other wear the rings , let them do that , mayank go ahead let nupur bhabhi make you wear the ring


nupur: [making mayank wear the ring] , I promise to love you and keep you happy for the rest of my whole life


and remaining four were just hooding for them ,


and now mayank's turn


mayank: [making nupur wear the ring] , and I promise to love you the way you are , and never want to change you for anything
and with lots of hooding and blessing and clapping , finally the engagement ceremony was held


later , mayank and nupur were having good photo sessions , with their parents ,


while gunjan parents , gunjan mom and dad were watching them from corner


gunjan mom : Mr and Mrs Bhushan , are soo lucky that there daughter is getting married in such a good family , and she will get all the happiness in this world


gunjan father: yes they are , I am very happy for them


gunjan mom : I wished , we could have also felt the same happiness that nupur parents are feeling now , but with gunjan past and what happened with her everyone knew about that , and no goo family will make gunjan there daughter in law now


gunjan father: what non sense , there is nothing like that , and as for gunjan you see she will also get a very nice family and I am sure there will also be some guy for her who will love her and accept her even after knowing her past


gunjan mom: I also wish soo , I am also living for that day only when I will see my daughter getting happily married

but this little secret conversation was been heard by someone , and that was none , other then GUNJAN


yes she had heard all that , and it pained her , her heart was crying , her mother wanted a good future for her , and with her past she can never get a good future , but she cant cry at the moment ,


she went in a corner as she was really upset and sad , and trying to get back to normal


Samrat , as usuall , searching for gunjan , came there and saw her in a corner , she was looking upset , he watched her from a little distance and understood she was upset ,

Samrat: [to himself] she is looking really sad , maybe she remembered some bad memories off her past I think I need to cheer her up
And then he got an idea , and getting in the middle if the hall ,
He stopped the DJ and started singing
Samrat:
Mere dil mein aaj kya hai, tu kahe to main bata doon
[After a stop , when everyone attention got to him , he started again]
samrat:
Na chaahoon sona chaandi, na chaahoon heera moti
Yeh mere kis kaam ke

[he went near gunjan , and gunjan also getting normal now]

Na maangoon bangla baadi, na maangoon ghoda gaadi
Yeh to hain bas naam ke
De di hai dil de badle mein dil ke ' 2

[dancing with gunjan]
[and now gunjan also getting normal singing with samrat]
Gunjan:
Ghe ghe ghe ghe ghe, ghere sahiba pyaar mein sauda nahin - 2
[Everyone got there ,and then riddhima and nupur standing with mayank , riddhima signalled nupur to start and nupur sang]


Nupur:
Jhoot bole
Arre jhoot bole kaunwa kaate, kaale kaunwe se darriyo

[came near mayank , as if warning him]

Main maike chali jaaoongi, tum dekhte rahiyo ' 2

[nupur dancing around mayank]


Jhoot bole
Arre jhoot bole kaunwa kaate, kaale kaunwe se darriyo

[dancing and riddhima also joined him in the dance]


Main maike chali jaaoongi, tum dekhte rahiyo ' 2
Mayank too have to reply soo ,


Mayank:
Le jaayenge le jaayenge, dilwaale dulhaniya le jaayenge
Haan, le jaayenge le jaayenge, dilwaale dulhaniya le jaayenge

[crossing all standing there , and coming near nupur]
Chorus:
Le jaayenge le jaayenge, dilwaale dulhaniya le jaayenge
[Mayank holding nupur's hand and taking her away from her parents]
Mayank:
Arre reh jaayenge reh jaayenge, gharwaale dekhte reh jaayenge
[and everyone dancing]

Chorus :
Reh jaayenge reh jaayenge, gharwaale dekhte reh jaayenge

[Samrat coming there and joining mayank and now mayank and samrat dancing]


Arre le jaayenge le jaayenge, dilwaale dulhaniya le jaayenge

[gunjan and riddhima , came along with nupur , dancing on this]


Nupur:
Yeh galiyaan yeh chaubaara yahan aana na dobaara ' 2

[all girls dancing and gunjan and riddhima stopped]

Ab hum to bhaye pardesi ke tera yahan koi nahin
Ke tera yahan koi nahin


[towards gunjan and riddhima]
[nupur moving from there towards her parents and then]


Le jaa rang birangi yaadein, hasne rone ki buniyaadein
Ab hum to bhaye pardesi ke tera yahan koi nahin
Ke tera yahan koi nahin

[to her mom and getting bit emotional]
[everyone quite , when came voice of music]
armaan:
Bachna ae haseenon, lo main aa gaya
Ae bachna ae haseenon, lo main aa gaya

[coming down towards all of them]


Husn ka aashiq, husn ka dushman
Apni ada hai yaaron se judaa, hey ho


[armaan dancing with few girls]


Bachna ae haseenon, lo main aa gaya
[end up the song and riddhima was standing there]


riddhima:
Aap yahan aaye kis liye

[to armaan]

Armaan:
Aap ne bulaaya, is liye


[following riddhima as she was moving ahead]

riddhima:
Aaye hain to kaam bhi bataaiye


Armaan:
Na na na, pehle zara aap muskuraaiye


riddhima:
Aap yahan aaye kis liye

[stopped there and they both standing]

[it was karan from the back , all in masti style , came to them]
karan:
Main nikla, o gaddi leke
Main nikla, o gaddi leke, o raste par, o sadak mein
Ek mod aaya, main utthe dil chhod aaya ' 2
[armaan riddhima dancing with him]
[and then karan went towards samrat and gunjan where they were standing]

karan:
Rab jaane kab guzra Amritsar o kab jaane
Lahore aaya, main utthe dil chhod aaya
Ek mod aaya, main utthe dil chhod aaya

[gunjan , samrat dancing with karan now and went to nupur and mayank , end dancing with them]

[Now samrat was standing alone and riddhima went to him]
riddhima:
Chup chup khade ho zaroor koi baat hai

[teasing samrat and samrat was like chup reh]

Pehli mulaaqaat hai yeh pehli mulaaqaat hai ' 2
[Now riddhima went towards gunjan]

riddhima:
Chup chup khade ho zaroor koi baat hai
Pehli mulaaqaat hai yeh pehli mulaaqaat hai - 2

[now riddhima intentionally make gunjan spin a bit soo that she can land directly towards samrat and soo happenned gunjan almost hugging samrat]



Gunjan:
Raja ki aayegi baaraat, rangeeli hogi raat
Magan main naachoongi, ho magan main naachoongi - 2
Raja ki aayegi baaraat

[dancing a bit , and samrat just watching her]
[as gunjan ended the song , mayank came back]
Mayank:
Aaj kal tere mere pyaar ke charche har zabaan par
Nupur:
Achha?
Mayank:
Sab ko maaloom hai aur sab ko khabar ho gayi
Nupur:
To kya?
Mayank:
[from a distance]
Aaj kal tere mere pyaar ke charche har zabaan par
Nupur:
[also standing on other side]
Jaa jaa
Mayank:
Sab ko maaloom hai aur sab ko khabar ho gayi
[in reply to mayank's song , nupur start with dance and riddhima and gunjan joined her]
Nupur:
O, pardesiya
Pardesiya yeh sach hai piya
Sab kehte hai maine tujhko dil de diya

[she first dancing with riddhima and gunjan by her side and then she went towards mayank , mayank dance with nupur]


Pardesiya, pardesiya yeh sach hai piya
Sab kehte hai maine tujhko dil de diya
Main kehti hoon tune mera dil le liya


[both getting really close , and dancing together]
[came the oldies gang , nandini , kashish , nupur's mom and gunjan mom]
[together old ladies and riddhima and gunjan supporting them]

Ude jab jab zulfein teri, o ude jab jab zulfein teri
Kunwaariyon ka dil machle
Kunwaariyon ka dil machle jind meriye
[all males replying , including , karan , sujal , nupur dad , gunjan dad ,armaan and samrat]
Ho jab aise chikne chehre, ho jab aise chikne chehre
To kaise na najar phisle
To kaise na najar phisle jind meriye

[now samrat , seeing gunjan at corner , he sang for her]


Samrat:
O dilwaalon, dil mera sunne ko beqaraar hai
Kaho na pyaar hai, kaho na pyaar hai

[he started dancing with riddhima,and everyone else also joined them]
Chaahat se hum tum hain, chaahat se sansaar hai
Kaho na pyaar hai, kaho na pyaar hai

[samrat end up dancing with all]
[music started again and gunjan came singing this , while others were doing couple dance]
Gunjan:
Ajeeb daastaan hai yeh, kahan shuru kahan khatam
Yeh manzilein hai kaunsi, na voh samajh sake na hum
[she came near riddhima and samrat , as they were just doing couple dance ,and then happily samrat and gunjan started dancing as riddhima get aside]

[riddhima seeing mayank and nupur at one corner dancing together and here samrat and gunjan dancing]
riddhima:
Mubaarake tumhe ke tum kisi ke noor ho gaye

[going near mayank and nupur]

Kisi ke itne paas ho ke sab se door ho gaye
[putting nupur's hand in mayank's hand and leaving them alone , now she knew that her brother is first nupur's life partner and then his brother she left them]

Ajeeb daastaan hai yeh
[she stood in a corner ending the song]
[and then armaan came there , putting his elbow in riddhima's shoulder]
Armaan:
Hm hm hm, eh hey hey, aa ha ha ha
Yahan kal kya ho kisne jaana
[making riddhima laugh]

Zindagi ek safar hai suhaana
Yahan kal kya ho kisne jaana

[everyone joining them and dancing with them]

Arre odleyi odleyi oh oo, odleyi odleyi oh
Odleyi odleyi oh oo, odleyi oh oo oo
Odleyi odleyi oh oo, ha ha ha ha
Oldeyi odleyi oh oo, aa ha ha ha ha

[all of them joining and dancing]
[mayank holds nupur hand and everyone else got aside only mayank and nupur in the middle]
Mayank:
Tum paas aaye, yun muskuraaye

[holding nupur's hand making her close to him]

Tumne na jaane kya sapne dikhaaye
Ab to mera dil jaage na sota hai

[getting more and more close to him and poor nupur getting shy , as everyone was watching them]


Kya karoon haai, kuch kuch hota hai - 2
Kuch kuch hota hai, kuch kuch hota hai

[both soo lost in each other ,that they did not even notinced that they were in a party and were being watched by all]

[soo armaan thought to get them back to reality]
Armaan:
Mehndi lagaake rakhna, doli sajaake rakhna
[going towards nupur , who got more and more shy now]

Lene tujhe o gori aayenge tere sajna
[pointing towards mayank]
[and soo riddhima also joined]
riddhima:
Mehndi lagaake rakhna, doli sajaake rakhna
[to nupur]

Lene tujhe o gori aayenge tere sajna
[doing the same way , pointing at mayank]
Soon samrat and gunjan to joined them

Samrat and gunjan
Mehndi lagaake rakhna, doli sajaake rakhna
All together
Mehndi lagaake rakhna, doli sajaake rakhna
Shava oye oye oye, shava oye oye oye
and with this and lots of dancing and masti they ended the song
everyone happy , the song ended on a happy note

later ,
mayank and nupur were still together , having fun in their best evening of their life , they both were sitting on the stage and enjoying their togetherness there ,


while armaan , riddhima , and others family members were busy attending the guest ,

and gunjan was standing there with a group of girls , who were engrossed in there girlish chat , while gunjan was not at all attentive in that her eyes were only searching for her friends , rather for only samrat

gunjan thinking to herself "samrat is so good, he understand me soo well and did so much for me , i feel so lucky to be her friend , and i think he also feels something for me the way i do ,maybe" was all gunjan thinking , when her eyes went towards samrat , who was busy in flirting with two girls there , and gunjan felt bad , yes this time she got disappointed with this

"I am like to much, I don't know what rubbish I was thinking, he was always like this ,and he will always be like this , he cares a lot for me , cause I am his best friend , and that is all , I should not think so much regarding this it can destroy my friendship , no I can't risk my friendship for anything like this" gunjan thinking to herself

while on the other hand , samrat was just having a little bit harmful flirting with the girls which he was in no mood to do either , but he has to do that to show others that he is the same and he has not changed at all , while the fact was that he had changed , yes he had, he loved gunjan a lot ,and now he dont want any other girl in his life , ever except for gunjan

the party was almost over , and all the guest left one by one , only the six were sitting together on a dining table ,and having there dinner as they haven't did it yet

mayank and nupur were eating together and that to in one plate, afterall now they have got official permission for that and thats why they were the main teasing target for the rest four for the night

with lots of masti and teasing session they ended there dinner ,and left from the hall for their home

mayank and nupur were gone alone in their car , while the other four reached their house

gunjan and riddhima went to riddhima's room , as tonight she was staying here with riddhima ,

while samrat and armaan to their respective room ,

and as for our mayuu , he was still not back

after around 2 hours , mayank was still not back ,

armaan and samrat came in riddhima's room with this information , while both the girls were sleeping ,

armaan: riddhima ,riddhima get up you sleepy head [armaan went near riddhima bed]

riddhima: [very sleepy] armaan are you crazy , let me sleep

armaan: oh god riddhima how can you sleep right now

riddhima: [still in sleep] well you knew normal peoples usually sleep at this time of night

armaan: yes and normal people's abnormal brothers are still not home till this time of night

riddhima: [getting up instantly] what , mayu , is still not back , its too late I dont think he can stay out for soo long you tried calling his cell

armaan: yes many times , but its not reachable , and nupurs as well , i am getting worried where can they both go at this time of night

while on the other hand ,

samrat trying to wake gunjan , but she was sleeping soo peacefully that he didnt wished to wake her up , the innocence on her face he can just look at her face for the rest of his whole life

but he has to wake her ,

he took one cloth and tried doing light tickling in gunjan ears , and she getting irritated change her side , and samrat did that again ,

this time gunjan again getting irritated , hit the cloth away from her face , and samrat enjoying her acts in sleep ,

soon after lots of irritation, gunjan tried holding whatever was irritating her and in that she holded samrat hand tightly ,

and this was soo good for samrat as well

while on the other side riddhima and armaan were getting tensed and as riddhima turned back

she saw gunjan holding samrat hand and sleeping ,and samrat watching her and smiling with mouth opem

riddhima: [thinking to herself] this samrat nothing can happen to him, I get a feeling samrat will keep on watching gunjan whole life like this only and that's all nothing ahead will ever happen

riddhima: [now loud enough to make him conscious] samrat you have to wake her up not become her pillow

[and this was enough to make samrat conscious and he immediately took his hand back with a force which made gunjan wake up instantly]

and as gunjan waked up , she was shocked to see someone sitting near her she was sleepy soo didnt got what was it and who was it ,

she just screamed out loud ,

gunjan: aaahhaaa

samrat: aaa

after a long screaming session between the two

samrat: gunjan what happened

gunjan: samm , is it you , what the hell why were you screaming

samrat: what i was screaming , no madam it was you who screamed first and made me scared as well , so I was screaming

gunjan: so what and by the way what are you doing here , is this a way to wake someone up

riddhima: [who was literally standing on their heads irritated] no this is not at all a way to wake someone up

gunjan: [unknown of what was going] hey riddhima you are also awake whats the matter

only then armaan came back , as he was out and trying calling mayank


armaan: I just found from watchman , mayank and nupur came back home here and there car is also outside, they must be somewhere in the house only

riddhima: oh thank god they are safe , but if they are at home , then where are they

samrat: lets goo and find them

gunjan: [very normally] but why to find them when they are in the tree house outside

riddhima: what !! and how do you knew that ?

gunjan: [normally] simple cause nupur called me and told me earlier

riddhima: [irritated , and sarcastically] great , and how soon you are telling us this , when we have almost became half mad searching for them everywhere

gunjan: half mad !! who said you have became it now , you knew you have always been half mad

riddhima: ha ha very funny madam , you are also a part of us in that , you telling us so early about nupur calling you and telling you

gunjan: hey you didn't asked me that , so I didn't told you , what's the problem in that , now when you asked I told you

armaan: hey I think gunjan has got a point in that

gunjan: see I told you , this dumbo of yours will always stay dumbo you knew

armaan: I knew gunji she cant improve ever , so there is no use to even expect that

and armaan and gunjan busy in there riddhima teasing session and our samrat just enjoying it ,

and riddhima just standing there mouth open ,

riddhima: hellooo guys , what the hell I this we were talking about mayank and nupur ,and you both have started gossiping about me

armaan: hello madam , I think you are such a dump topic to gossip about

riddhima: really armaan , well in that case I think I really don't care , you both continue with you ever soo favourite topic , I am leaving

armaan: well madam , I think its too late at night for you to leave for anywhere , and second that its your room , soo you can have your good night sleep here

riddhima: no thanks I don't need any more good night sleep like normal peoples , cause I have already turned abnormal staying with you all for a long time

armaan: oh soo finally you accepted that you are not normal

riddhima: yaa your all's effect you knew , staying with you I have became like you only

armaan: oh really

here armaan and riddhima , started with there fight , while samrat and gunjan watching from here to there,

samrat: guys you can continue with your never ending discussion later , as I think we were here for some other reason

armaan: I think our other reason is already over , as mayank and nupur are safe soo that's all

riddhima: no I think one think is left , what do you think mayank and nupur are doing there in the tree house for last 2 hours

armaan: what do you mean by that ?

samrat: yaa silly what a dump question again , they have just got engaged tonight ,they must be celebrating it together alone , and that is all

gunjan: I think we have already celebrated this a lot for a long while in the party and the rest 2 hours is more than enough for that , I think something else is going on there , don't you knew looking in each other eyes , time just flies off and you don't even realize they must surely be romancing there

samrat: and if something more than that would be happening

riddhima: impossible

samrat: and how can you say that

riddhima: cause I knew mayank well , he is such dump to do anything

armaan: yes riddhima is right this time , and I also agree with her [laughing]

gunjan: yes Sammy ,I am not sure about mayank but nupur , she is definitely too dump for any romancing

samrat: but I think that they can , after all they have a full time licence to romance anywhere, soo why not

riddhima: ok if you think soo then lets go there and check we will automatically get to knew

samrat: ok if you say lets goo

armaan: no yaar , let us leave them alone

gunjan: oh we will leave them all alone , we will just go and check and then we will come back

armaan: ok lets goo

and they all went to there tree house ,

and as they entered in and they saw them, they all four were just standing still there and watching the two

armaan: see I told you , that they wont be doing anything

riddhima: I always knew that mayu is too dump

gunjan: and nupur is one step ahead mayank

samrat: but still see how cute they both are looking

armaan: ok I think we all shall leave them two , lets goo guys its too late

and so armaan , riddhima , gunjan and samrat left out from there , and we see back our mayank and nupur , sitting comfortably together on the bedding on the floor and both were sleeping

peacefully nupur head was on mayank's shoulder and mayank's over that

and a DVD was been played on the screen ahead them , maybe they were watching some video and went to sleep while watching it



Next day morning

Mayank and nupur wake up early and went in before any of their parents can see them , mayank to his room , while nupur in riddhima's room , where gunjan and riddhima were sleeping

but they both didn't knew that the gang was already known of their acts

And for which they had given them a lots of teasing session the whole morning , till the time when gunjan and nupur left for their respective homes

that's all for now with this part , already I think it had became super long , soo I wont bore you all with more then this

as for the precap

PRECAP: lots of masti , AR confusion and getting conscious

And you all are cordially Invited for a Wedding Ceremony,

INVITATION
RANVIJAY RATHODE
WEDS
GUNJAN KAPOOR
Venue :the next part





Edited by searchoffriends - 30 November 2013 at 1:57pm