Originally posted by walquest2000
Originally posted by lakshmin42
. Amrit orders food and he feeds Bebo. Manji is looking angrily at AmBo. AmBo are in their own world totally ignoring Manji. All are happy except Manji.
I am intrigued at the practice of feeding adults. Is this the way it happens in Punjab, where the scene is supposed to take place, or is it a Bollywood cliche to over come the Censor Board, with its restrictions on showing love scenes. In olden times, the ladies and men used to run round the trees. Is this a modern phenomenon?
Can someone familiar with the customs of the different parts of our country enlighten me. Thanks.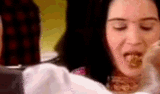 Dear you are over analysing too much, what you need to do is leave your proffesionalism aside and let your hair down, now and then (literally) Romance is not about education and you don't need to 'learn' to love someone.
The reason amrit was feeding bebo was because it is simply romantic and because he loves her. You really don't need to have two brain cells to know this. Bebo can feed herself if she wants,
When you love someone, you want to share your food with them, I don't know how old you are, maybe you are too young to understand but when you are older and you fall in love, you will understand what sharing food with a loved one actually means.
It's nothing about censorship or anything. the couple on this show are innocent and shy in thier own right, thats just how the story goes.


Edited by ambolove - 16 March 2011 at 4:57am