" please pray for japan"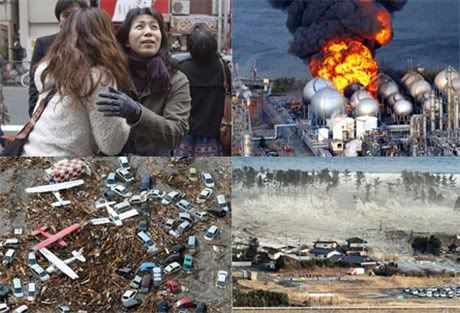 Searchers have found 2,000 bodies in Japan's quake-hit Miyagi region. The police chief in the prefecture said the death toll there was certain to exceed 10,000, with that many missing in the port town of Minamisanriku alone.

The national police agency said the confirmed death toll now stood at 1,597, but hundreds of bodies are being found along the shattered coastline.

As the nation struggled with the devastation wrought by the twin disasters of a shattered land and a surging sea, tales of terror, death and miraculous survival emerged.

Miki Otomo, whose home near Sendai was destroyed, said she quickly piled into her car in a desperate bid to outrun a churning torrent of wood, mud and metal.

"The tsunami wave was coming and I grabbed grandfather and our dog and drove," she said.

But many were not so lucky. Ms Otomo's sister was in a bus when the wave bore down on it.

"The bus driver told everybody to get out of the bus and run. My sister was able to get away but some people just couldn't run fast enough," she said.

The slower passengers were engulfed by the swirling waters, with the image of their deaths seared into the survivors' memories.

Ms Otomo is now living at an evacuation centre in an area school with about 1,000 other exhausted survivors who cheated death.
"God ,plz give them strength for a new beginning"


lena hi hai wapus apno ko
toh feer unhe keun dete ho
sapno ko jo cheen hi logey
feer keun unhe sanjote ho


hum toh koi khilouna nahi
tum humse dill bahlaoge
jab chaho hume hansaoge
aur jab chaha rulaoge


ek nanha sa dill hai hamme
jo pyar ki duniya sanjota hai
sapne har pal sundar sundar
apne naino mein pirota hai


tum ho patthar,tum kya jano
hahakar!! kya hota hai!!
pagal ban jata hai insaan
apno ko jab khota hai


har ghaw ko samay hai bharta
aisa sab toh kahte hain
kya samay ko ye pata hai
dard ko kaise hum sahte hain?



koi dawa,koi marham
kaam nahi tab aata hai
bas dhundhte hain usey
jo wapus kabhi nahi aata hai


tum nirdai ho,humey tarpakar
maza tumhe keun aata hai?
apne bachchon ko kya aise
koi dard deta,rulata hai?


bebas aur laachar hai ham toh
terey raham par jitey hain
pal pal ki hum mout hai martey
gam ka jahar hum pitey hain


bas itni si daya karo ki
jabtak duniya kayam ho
apno se koi na bichde
dukh ka koi na aalam ho



dhan doulat ka moh nahi hai
bas, apne humko pyare hain
unke sapne purey hon
jo humey , nyarey aur dularey hain

***god,please stop the game of death and give them strength who lost everything in this disaster***......
plz.friends pray for japan....
love u all
punam