Gals,
rajsri, hardly writes at I-F, but she has been a regular member of both CB1 & 2.
At the rate she writes, I'm not sure when we may get to celebrate her next milestone in the I-F journey.
So, please join me in congratulating rajsri on reaching 2000 posts.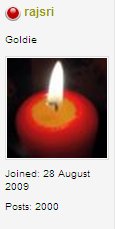 Congratulations Rajsri!!! Finally reached 2000 posts!
Hope you continue giving your comments which always seem to come from what if-it-is-like this angle, which always makes others think as well


Edited by bee5 - 13 March 2011 at 9:30pm