Hey Guys:
The story is coming to an interesting stage with Rohan's wedding around the corner. We all know that Rads will be the chosen bride for him, however we also know from the tellybuzz article that come this holi Dev will propose to her.
So there is abit of confusion, if Dev will propose to Rads and if the UK article is true that he will come to her home to ask for her hand for rohan then how will he propose to Rads????
The only possible solution that is coming to my mind to clear up this confusion is:

RaDev meet in Mathura, start feeling connection to eachother. Dev more....
bcoz he has no idea he is already married but Rads know she is so she might be a bit more reserved however she wouldnt be able to avoid that pull, after all he is her krishna Kanhaiya, her husband her soulmate.
Then on Holi Dev professes his love to Rads but she confused as to what to do despite feeling that strong connection to him since she knows she is a married woman.
Rads is chosen for Rohan, Dev comes to Rawal to ask for the girl's hand in marriage for Rohan as the article states then finds out she is the girl he is in love with.
Dev is heartbroken so is Rads as she wouldnt want to marry anyone bcoz she is already married.
Rads evil eyes mother Shanti might lie to Rads and say Rohan is the guy she got married to, Rads might decide to marry him after being convinced he is her husband...
THEN ENTERS.....
RaDev has the blessings of Lord Krishna and he will never let anything bad happen to his biggest bhakht Radhika.
So no way Rohan and Rads marriage will happen, only one and only one marriage will happen and that is....
The Kanha Idol Dev gifted to Rads when they were kids and the peacock feather Rads gave to him might be very significant in unfolding the truth.
Will someone find out what Maheshwari is doing to Dadaji?
Will Rohan become the head priest?...
I am saying NO!!
PLEASE SHARE YOUR THOUGHTS....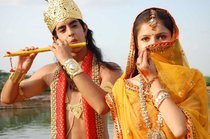 Edited by sun_singh - 13 March 2011 at 7:35pm