WELCOME TO THE OFFICIAL
THE 9TH FAN CLUB DEDICATED TO OUR SUPERSTAR, OUR KING KHAN, THE ASLI KHAN - SALMAN KHAN!!!
Some of his HOT HOT pictures !!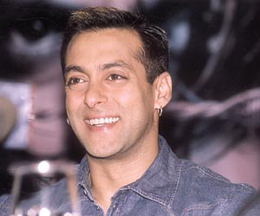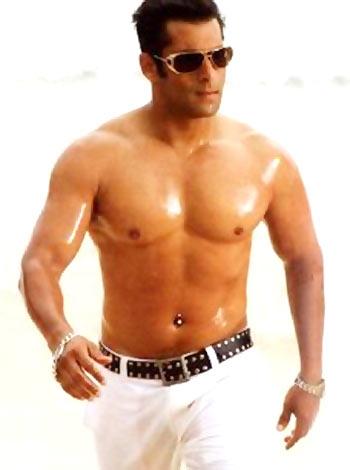 Name: Abdul Rashid Salim Salman Khan
DOB: 27th Dec 1965
Place of birth: Indore, Madhya Pradesh, India
Salman Khan's Hum aapke hain koun is still considered the highest grossing movie in the history of hindi cinema (minus inflation)
His recent movie Dabangg stands 2nd highest grossing bollywood movie of all time..
Something more about Salman Khan !!
The Hot's & Not's through Salman's eyes...
+ No accessories for him except his bracelet & a ring in his ear
+ "Simplicity is the answer for being cool," says he
+ Something that will never go 'out' for him are white shirts and blue jeans
The sexiest thing Salman Khan can wear...
+ Loose low waist jeans with his jock bands showing
+ Jeans with see through shirts
+ His cycling shorts - he loves wearing them
+ Generally wears JUST shorts when at home
What Salman can't live without...
+ His torn, blue jeans
+ His ganjis
+ His rubber chappals
Health and fitness...
+ A total health freak. Doesn't miss his workouts
+ Is very particular about cleanliness
+ Takes hour's to bathe and even brush his teeth
+ Does not like people with body odor and takes care of even that
The soap story...
+ Likes to collect soaps
+ In his bathroom, there is a collection of all kinds of handmade and herbal soaps
+ His favourite are soaps made from natural fruit and vegetable extracts
My Best Friend...
+ Sanjay Dutt
My fav co star
+ Karisma Kapoor - Preity Zinta
My fav actress
+ Preity Zinta
What do his contemporaries say about him????
Shilpa Shetty
"Salman is not a fair weather friend. He is the kind of friend I can rely on," says his pal Shilpa Shetty, who became fast friends with him during the making of Auzaar. No matter who the woman in his life, Shilpa will always be his friend.
Rani Mukherjee
How would you describe Salman Khan in one word?
(Laughs) I'll need two words for that.. ROCK STAR
Priyanka Chopra
He is HIGHLY misunderstood
He was most helpful since I was very new when we started work on the film. Initially, I was a little distant but being a romantic film topped with large doses of comedy, it was important for us to build a rapport. Salman went out of his way to break the ice & we became very cordial. In person he is very different from the image that is portrayed of him and what I learnt about him in this short span, is that he is highly misunderstood'
Could you tell us three things about Salman Khan ?
He's misunderstood, intelligent and a good actor
Preity Zinta
He is very cute and naughty
"Salman is very cute -- at least in the shots we have done together. Thanks to his spontaneity and cuteness, he can make the silliest thing look normal and believable. If he looks at you, he looks like butter wouldn't melt in his mouth. But he has this naughtiness and that's what lights up his face.
Aishwarya Rai
He is the sexiest man around!
Ash is supposed to have keen business acumen, they say she is cool and mature at handling every expect of her life, yet she went public atleast in the promos of 'Rendezvous With Simi Grewal' saying that Salman was her idea of the SEXIEST MAN around. As she said it she twisted her lovely face into a bewlldered absolutely non-Ash what-the-hell-am-I-saying, grimace. Salman is a HONEY and all that, but still!
Salman Khan's awards !!
Filmfare best male debut - Maine Pyaar kiya (1990)
Filmfare best supporting actor - Kuch kuch hota hai (1999)
Bollywood movie award/ most sensational actor - Chori chori chupke chupke (2002)
Rahul Gandhi award for outstanding acheivement - (2007)
Apsara best jodi award with Govinda - Partner (2008)
Indian tv awards best host - dus ka dum (2008, 2009)
Star screen award for best actor - Dabangg (2011)
Big star entertainment award for best actor - Dabangg (2011)
Stardust star of the year - Dabangg (2011)
Apsara award for best actor in a leading role -Dabangg (2011)
Global Indian film award for best host - Bigg Boss 4 (2011)
Some of Salman Khan's famous videos !!
Links to previous fc's!!
1st =http://india-forums.com/forum_posts.asp?TID=262119
2nd = http://www.india-forums.com/forum_posts.asp?TID=524102&T PN=1
3rd = http://india-forums.com/forum_posts.asp?TID=589729
4th = http://www.india-forums.com/forum_posts.asp?TID=679037&T PN=1
5th = http://www.india-forums.com/forum_posts.asp?TID=735022&T PN=1
6th = http://www.india-forums.com/forum_posts.asp?TID=820320&T PN=1
8th =
http://india-forums.com/forum_posts.asp?TID=1484538
Members List:
Ahlam (hot_girl_2525)
Amby (ambarinaaltaf)
Amisha (luv_eijaz_anita)
Anji (anji)
anu-pre4eva
Aysha
Cool14 (cool14)
CraZEEinlove (crazEEinlove)
Deep (~Deep~)
Diya (basanti_diya)
Eva ( Eva)
Farheen (nikki05)
Fiza (*Fiza*)
Geeta (Jaseeka)
Hanii (hani112)
Hirukshi (dochiru77)
Isha (***ISHA***)
Iqra (Mrs.SalmanKhan)
Jahnvi(Jahnvi_4)
Karina (karina_1)
KatForeva
Khusi (khusi22)
Kool_gurl220 (koolgurl220)
Leena (Leenasmg)
lena07
love_KYPH
MIniRulz
Nikita (love_KYPH)
Nram
Pakhme(pakhme)
Pinky (pinky no1)
Poonam (~Poonam~)
Preeti (CINDRELLA)
Pulwasha (Pulwasha)

Radha (radha07)
Rani (rani1224patel)
ruky786
Rusul (Rusul)
Sabz (*Sweet.Sabz*)
sakshilovesAR
Salman-love (salman-love)
sallufanno1
Sammie (~Simmi~)
Samira (Garv_Kumud_4eva)
Sani (cutykoo20)
Seera (seeragurl07)
Seona (seona13)
Siddika (sha_siddhi209)
simran45
sizzlingyasmin
Shefali (shefali_123)
Shelly (Bubbly_Shelly)
_-sHoNaa-_
Soma_beauty (soma_beauty)
(Superstar*)
Swati (preity*zinta)
Tazy (sweety_rajveer)
Tessa (tasha.rox)
Tib_gal (tib_gal)
Tuba(kt4lakshya)
tzahra
Unnati (unnati72003)
Vandu4ever (Vandu4ever)
Vedo (Vedo)
Viviana ( Viviana)
Wassup28 (wassup28)
Yosh (Yosh)
Yogitha (cute_unknown_fr)
Zoya (Zoya677)
Gaganjot.S (Gagan)
Zarmina_244
ZoobiDoobi


Edited by Pulwasha - 01 May 2011 at 7:18pm