Movie Review: Soundtrack

Charu A Mahesh, Buzz Bureau
Mumbai, October 07, 2011

Inspirational stories and tales of survival often touch hearts and Soundtrack is one such story that will make you believe in the power of 'will' and 'self-belief.'

An official remake of the award-winning cult Canadian film, It's All Gone Pete Tong, Soundtrack traces the life-journey of a musician who relearns the art of weaving music after he loses his 'hearing power' forever. Debutante director Nirav Ghosh tells the story of Raunak Kaul [Rajeev Khandelwal], in a docu-drama style using footage of real life technicians like DJ Aqeel, Annu Malik, RJ Malishka and director Anurag Kashyap to give an autobiographical touch to the otherwise dramatic story, which appears quite interesting.

Nirav's protagonist Raunak Kaul is a gifted musician, who comes to Mumbai to make it big. His introduction scene beautifully captures Raunak's passion for rhythm and beats. With right things happening at the right time and help of his uncle [Yatin Karyekar] Raunak lands up as a DJ at Tango Charlie club, owned by Charlie [Mohan Kapoor]. Soon the glitzy-glam world of power, fame and success entices Raunak into the murk of booze, drug and sex.

When a high on life Raunak is about to touch the pinnacle of success, career-killing hearing impairment knocks at his door. Thus, triggering off his downfall. His friends turn into foes and opportunities that once bee-lined take a U-turn and Raunak is left alone to fight his state. Clouds of frustration and desperation to bounce back engulfs him. Only thing that sticks to him now is his own devil - symbolized by Jhonny Joker. He kills this devil by quitting his addictions and gathers himself to start a new journey, leaving behind his life of excess. Now he meets bubbly Gauri [Soha Ali Khan], who teaches him lip-reading. No prizes for guessing that love blooms between the two and how he rises back from his own ashes like a Phoenix with the help of Gauri forms the rest of the story.


Soundtrack belongs to Rajiv Khandelwal, who proves his finesse and acting prowess yet again in yet another offbeat film after Aamir and Shaitan. He is quite convincing as a wild man seduced by vices. But at the same time you adore his changed self nonetheless. Soha Ali Khan has done her homework really well. Without going overboard, she plays the character of a lisping deaf girl with ease and elan. Manu Rishi's character could have developed more. Their soft yet hot chemistry comes to fore as a refreshing breeze as compared to Raunak's sex-addiction in the first half. Mohan Kapoor is fine and Anurag's cameo suggests that he can act well if given a chance.

Though, Soundtrack remains faithful to its inspiration but director Nirav has tried really hard to bring the quintessential Indian drama, especially in depicting the night life of Mumbai and Goa that's glamourised by sex and booze. But why do they shoot it in Pattaya, is something that bogs you down. However, director's up-close-and personal treatment of alcohol, sex, smoking and drugs looks stuffed at some points during the first half. Though the over all flow of events and narrative is swift but you miss details at some points, while at others there's an necessary focus .

For instance, the scene where a deaf Raunak learns the nuances of music once again is an important scene which is not given ample attention and lacks depth, whereas the track of Joker, which could be easily chopped off is given plenty of screen space. The camerawork is good and dialogues towards the second half leave an impact. But with a fine star cast and a direct reference material in two director could have done a better job. Last but not the least, a movie that's rooted in music definitely offers good soundtracks by Medievial Punditz.

All in all, a meaningful, enriching and inspiring story that's well enacted too, Soundtrack makes a definite must-watch!

Rating: 3/5
Directed by: Nirav Ghosh
Starring: Rajeev Khandelwal, Soha Ali Khan

BUZZ RATING

http://www.buzzintown.com/delhi/article-review--movie-review-soundtrack/id--3657.html
http://www.buzzintown.com/delhi/article-review--movie-review-soundtrack/show--2/id--3657.html

----------------------------------

Review: Soundtrack hits some high notes
Published: Friday, Oct 7, 2011, 19:34 IST
By
Aniruddha Guha
| Place: Mumbai | Agency: DNA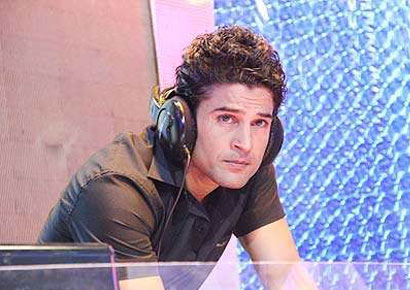 Rajeev Khandelwal in Soundtrack
Film: Soundtrack

Director: Neerav Ghosh
Cast: Rajeev Khandelwal, Soha Ali Khan, Mrinalini Sharma, Mohan Kapur
Rating: ***
He snorts coke, downs tequila shots and smokes like a chimney, all in a day's work. Raunak Kaul (Rajeev) spins at a club called Tango Charlie and, among other things, mixes electronica with Hindi lyrics an instant hit among party-goers.
Getting Midival Punditz and other independent musicians to do Soundtrack's score is a smart call the sound is hatke, and goes well with the mood of the film. Additionally, old film songs like 'Ruk jaana nahi' and 'Khullam khula pyaar karein' bring their own charm (having record label Saregama as producer must help).
Soundtrack has quite a few things going for it: a readymade, effective plot (the film, for a change, is an official remake of the Canadian It's All Gone Pete Tong); the casting is more or less bang-on, and for a film with music at its core, the songs are good if not outstanding.
But the film, eventually, falls short of what it could have achieved. Director Neerav Ghosh keeps many scenes from It's All Gone intact, but fails to replicate the zaniness and audacity of the original. There is an attempt, yes, but that somehow gets lost in a haze of tacky production values and some unconvincing jabs at being 'cool'.
Interspersing the story with interviews of characters from the film, similar to the style adopted in the original, looks out-of-place sometimes, and the transition not very smooth. Kaul's alter ego a joker is ineptly presented, and is jarring.
But even with its lows, Soundtrack manages to hit some spectacularly high notes. The opening sequence for example where Kaul finds music in Mumbai's myriad sounds, sets the tone perfectly.
Rajeev plays Kaul well, even if a tad inconsistently. After Saheb Biwi Aur Gangster last week, where the actors shone, it's good to have a film that comes across as glamorous without conventional stars. Kaul needed flamboyance, as it needed maturity, and Khandelwal manages to bring both to the table. Mohan Kapoor, playing Kaul's loud-mouthed promoter, is a good choice too, aptly over-the-top.
Soundtrack, after a patchy first half, gets into the groove post-interval, where Kaul meets instructor Gauri (Soha) after losing his ability to hear. The camaraderie is sweet, the scenes charming, and Kaul's eventual retribution heartwarming. The finale is well-executed, too.
Incoherent sometimes, but enjoyable eventually, Soundtrack deserved to be a better film. In its present state, it's not-so-bad either. Recommended.
http://www.dnaindia.com/entertainment/review_review-soundtrack-hits-some-high-notes_1596102

--------------------------------------------
Play it loud!
This Rajiv Khandelwal-Soha Ali Khan starrer sways to the rhythm of excess, life and love. We offer you seven reasons as to why you shouldn't give this a miss!

A poster of the movie 'Sound track'
Seven reasons to watch Soundtrack
The soundtrack is the real protagonist of the film. Midival Punditz and Karsh Kale are killing it, Bollywood style. But you won't even need to go through the entire film to figure this one out. Just the title credits with the sound samples from everyday Bombay does it.
The last time we watched a Bollywood musician-related movie, it was a gross rip-off of the classic Amadeus. This one is not-that-gross an adaptation of It's All Gone Pete Tong and unlike the last time, the filmmakers actually give credit!
Talking heads—a new narrative device in a Hindi fiction film used well to blend reality and fiction, trying to bring the character to life. But for that to have actually worked successfully, the movie needed to be more edgy in treatment.
Justified but not OTT quantities of sex and drugs and rock and roll. Not rock and roll per se as a genre but you get the point, right? Although, those random Aronofsky-styled drug use shots were not required.
Rajeev Khandelwal. Hot. Shirtless. And vulnerable. And did we say hot?
Soha Ali Khan pulls off the role of a born-deaf girl with a sense of humour about life and her own disability with grace and excellence and a speech defect. Eat that, Black!
A beautiful love story that unexpectedly blooms with the soundtrack in the second half of the film. The love story was not unexpected but its treatment was definitely a pleasant surprise.
http://www.tehelka.com/story_main50.asp?filename=Ws071011First.asp



Edited by Surya.Ravi - 07 October 2011 at 8:41am