*idea stolen from Janu*
M e e r a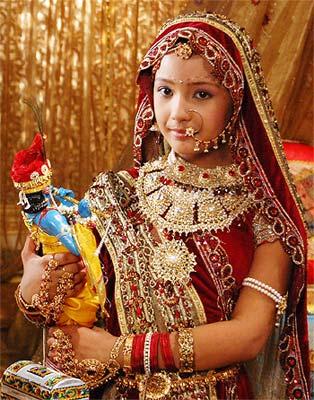 The story of love in its purest form, a story of devotion and dedication, of melody and harmony' NDTV Imagine brings to life one of the most loved classics - the story of Meerabai, and her journey from being an exuberant little princess to becoming the legendary Krishna devotee who renounced the luxuries of royal life and spent her life in the service of her Lord.
TV Channel: NDTV Imagine
Genre: Mythological
Producer: Moti Sagar (Sagar Pictures)
Director: Amrit Sagar
Actors: Ashika Bhatia, Kunal Bakshi, Gauri Harmit Kaur, Paras Arora, Ravi Jankal, Twara Desai
This thread will be dedicated to a discussion of Meera episode by episode. I will normally post my thoughts and questions and anyone is welcome to come in and join my watching. So in short...like a book club but not..more so video club .
I hope everyone enjoys reading and watching upon one of my most favorite serials/mythological story of all time!


Edited by desigrl05 - 22 December 2010 at 4:40pm