Hey guys!!
I've opened this 4 all the BruCas fans out here....to discuss all the various Brucas scenes we love...!! I would also like to request all the ppl who prefer Brucas with diff ppl to not post in this thread coz this is ONLY 4 BruCas fans..!! The Brooke and Lucas, we love soo much together, who according to us can change history: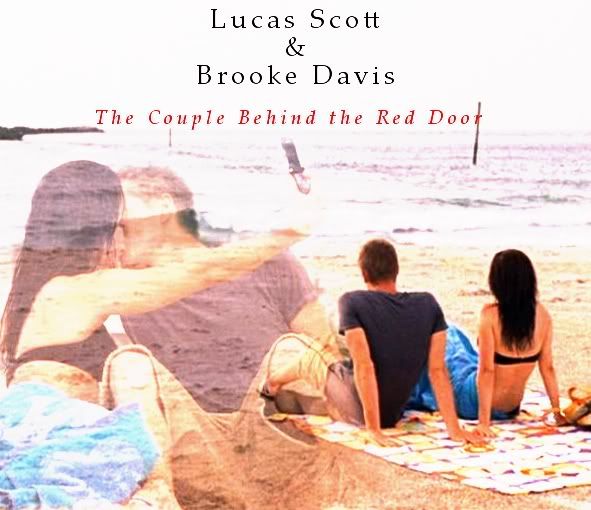 A few qns 1st n my answers to them:
What made you start watchin Tree Hill:
I started watchin OTH because f Chad Michael Murray. I loved him in Freaky Friday and A Cinderella story..so I decided to watch OTH.

When did you start liking BruCas:
I actually did some research before I started shippin any couple. I found out that Chad and Sophia were married and later got an annulment. I also found out that Lucas and Brooke dated for a while in the 1st season until he cheated on her with Peyton and that he finally gets married to Peyton and they have a baby. So, I decided that I should like Leyton. But as soon as I started with season 1 and saw the 1st BruCas scene where Brooke gets in Lucas' car...I was in love with them...Lucas being the Broody guy and Brooke- the cheery gal..it felt like they completed each other..!!
n then came season 2..where Lucas started developin feelings for Brooke for real..the things he did for her and said to her...beautiful!! Then season 3 where they finally get together...n the whole 'I'm the guy for you Brooke Davis'..they seemed soo meant to be...!! That is till where I have watched and after that I've heard tht BruCas break up so I didn't feel like watching the rest of the seasons..although I've read some BruCas scenes from the other seasons where they still seemed meant to be to me...!! Sometimes I hope Chad and Sophia never split or for that matter never even got together, then Mark Schwahn would have never tried so hard to change history and our original end game couple :((
Anyway, Chad and Sophia gave us Lucas Scott and Brooke Davis...who created history..!!
Brooke for you:
The first time I saw Brooke in season 1, I knew that she would become my favourite character in Tree Hill..she was the fun one...!! At first, I doubted if she'd have some grey shades but she turned out to b a hugely positive character..yippee!! She was the character who kept me hooked on to OTH even when BruCas were not together..I love her chemistry with each n every character..!!
Her and Peyton's friendship - Hoes over Bros, Buds over Studs!! - which unfortunately, they found very difficult to stick to!!
, then her and Haley's friendship was really sweet, specially in season three...they really stood by each other...!! Naley also made Brooke, Jamie's Godmother, n from what I've read lil Jamie ships BruCas..!!
Brooke and Nathan's friendship..again I love love love them...I would have always liked to have seen a fling like thing between them...n I've heard that they did have,well, 'something' while Nathan was with Peyton..I was lik yayy!! they're really cute together...I specially love how Nathan sees Brooke in his dream after his accident in season 2...n tells her abt it
then Brooke and Karen- oh wow...i loved them since season 1...season 2, they were awesome...when Brooke stays at Karen's..n she grounds her..!!
Brooke and Keith also..how she runs and hugs Keith when he returns in season three..that scene took me by surprise but it was ultra cute..Brooke and Rachel- they were fun too specially with the whole Rachel and Lucas making Brooke jealous track!! and how can I forget Brooke and Mouth- Brooke has always been soo sweet to Mouth..n I love how Mouth says that if Brooke cnt be with me then she should be with Lucas...soo cute...!!
they always helped each other out...!!
All in all, I thing Brooke Davis' cheerful nature is wat makes OTH fun to watch...she is my favourite character..love love love her n Sophia for giving us a character like Brooke..!!
Lucas for you:
Well, don't be shocked if this para is much shorter than Brooke's coz as I said Brooke is my favourite character in OTH..but Lucas was why I started watchin OTH..actually it was CMM..!! He's seriously hot!! Okay, so Lucas is a character who sort of had a troubled childhood unlike Brooke who was pampered. Obviously, Lucas' mom really took care of him and raised him to be an honest and sincere man. I really love Lucas-Karen scenes, they not only share the relation of mother-son but they are also each others' friend!! I love Karen for how she raised or tried to raise Lucas. Then I love Lucas and Haley's friendship, they cared soo much for each other..they were like each others' support system..that was one thing that was not ruined in tree hill...!! then Lucas and Nathan...I loved them the most in season 1, how they fought n slowly became friends and then finally true brothers + they were eye candy for most girls..i mean Chad and James together..wow right!! Lucas and Keith had a beautiful relationship too..Keith was practically like a father to Lucas..loved how both were always concerned for each other..very well developed relationship!!
So, I do love Lucas alot, but mainly because he is soo hot..all the credit goes to CMM for that!!
BruCas for you:
BruCas for me are simply EPIC. As, I have said, they complete each other. I don't think anyone understands Lucas the way Brooke does or vice-versa. No matter who they get together with at the end, they will always love each other. They are not perfect together, and that is what makes them more believable..Brooke brings the fun element into Lucas' boring life and Lucas makes brooke a more responsible and dedicated person. They both balance each other and the best part is that they believe in each other's potential in a way that no one else does. They have so much more to themselves, and the other always knew that. Lucas Scott is the guy for Brooke Davis, his pretty girl, and he knew it, unfortunately Mark Schwahn forgot it..
But, I still believe that love will find it's way and even after OTH ends, BruCas will go on, until they find each other..that is how I always look at it..that is my happy ending to OTH!!
Your favourite BruCas scene:
"I shouldn't have said that you're not psychotic. I mean a little disturbed maybe'"
"You think this is funny?"
"You know what I think is? I think that you're trying to sabotage us. Find any reason you can to end it. So that you don't have to worry about getting hurt again."
"But the same words Lucas. The exact same words?"
"I never sent that letter to Peyton."
"And i never sent my letters to you either but they still meant something. Just tell me, why me this time? Why not Peyton?"
"I can't say anything bad about Peyton. she's my friend. She's your best friend."
"That's OK you can say bad things about her."
"Brooke, the truth is I care about Peyton."
"Then what is the difference?"
"The difference... the difference is I love you Brooke. I want to be with you, NOT Peyton."
"But why? I need to know, why?
"Because you kink your eyebrow when you're trying to be cute. Because you quote Kamas even tough I've never actually seen you read. And because, you miss your parents but you'll never ever admit that. And because, I've given exactly two of these embarrassing speeches in my entire life and they've both been with you. I mean that's got to mean something right? And because we're both gonna get pneumonia but if you need to hear why I love you, I can go on all night.
"You did pretty good."
So guys, I would like to read your answers also, and also read about your favourite scenes and discuss them. That is the reason I opened this thread and also to measure the amount of BruCas fans on I-F!!
PS: Sorry for the length of my post


Edited by 371768 - 08 September 2010 at 10:57am