Chak De India…the Series continued…
While the age old tussle for supremacy between cricket and other sports in Indian continues, there come a few gems who set themselves apart as sportsmen by their sheer will, grit, determination and passion, irrespective of the form of sport they play.
One such name is Meer Ranjan Negi.
Chak De India revolves around the story of a Hockey coach for a girl's team, Meer Ranjan Negi , a player, who was charged with match fixing allegation in 1982 when India lost to Pakistan in the Asian Games in Delhi. Negi, later went on to coach the Women's Hockey team that made India proud at the Manchester Common Wealth Games in 2002 by winning the Gold.
Shahrukh Khan will be essaying the role of Negi. According to him in a recent interview, he plays a guy who is a little sad in life. He has just one aim - to see the Indian tri-coloured flag hoisted with all the other countries' flags. Before shooting for the movie, Shahrukh spend a lot of time with Negi to understand the character better and in fact, King Khan also insisted Negi to do a cameo in the movie.

This is SRK's second stint as a coach in a movie, the first being that of a football coach in Kabhi Alvida na kehna. However, KANK was not about football, while Chak De India is only about hockey. Shahrukh Khan has developed high regards for Negi and has done his best to emote the serious character. Its all about the grit ,determination and dedication of a player, who faced charges of a crime he never committed ,but never lost his faith and courage in the almighty and his integrity. This is the sign of true Sportsman!!
Take a bow sir!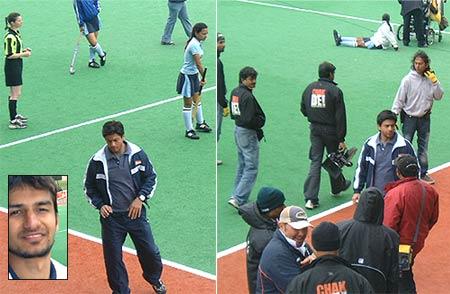 In the movie the way SRK says "yahan par na state ke naam na sunayee deta hai, na dikhayee deta hai. Sirf ek Mulk ka naam sunayee deta hai..India…." - it's enough to fill our heart with Patriotism and love for country. Kudos to SRK for awakening that lost spirit just by the promotion, as it truly sends chill through our spine. But is it enough to awaken the passion for this beautiful game?
Time to discuss some causes and effects. Shifting our focus from the movie to Boxy boyz, guess who has come to Bat next from their side..to face the onslaught of our questions . well, it's the Prince Charming of Pari's heart of Woh Rehne Wali mehlon ki..fame yes we have the very Handsome and a Batsman of Boxy Boyz club..Amir Ali.with us..
What do you prefer watching Cricket or Hockey?
I prefer Cricket, soccer and tennis…But I would love to go and watch hockey for sure..
Name your favourite Hockey Player!
I don't watch hockey, so I don't know any names..


What are your thoughts on Cricket completely overtaking Hockey in our country?
I don't know, I would like to see hockey being competitive. Infact, all games like hockey, tennis and soccer should be played more in our country. Hope the games get its recognition in our country too…
Do u think we will ever get back the Golden Era as regards the game of Hockey? Will this film motivate people towards the game?
Could be!! SRK is in the film, all will surely watch it. But people know about the game of hockey.. This is a film and I don't think a film can really boost up the popularity of a game.. The viewers might like the film, but to generate interest in the game, we need to hype the game and players need to win more for the game to get recognised..
Is Chak de India..our last hope when hockey game is considered?
I don't think so… A film cannot get hope for the country with respect to a game.It is for the sports lovers and the game itself to prove its worth. The players should realise , hype is to be created and above all, we need to win tournaments..
Are u looking forward to seeing this film? If yes, what is the reason?
Yes, I will definitely see the movie.. The promos are shown and I liked them.. There are two reasons why I will see the film. One is SRK in it and the other is that it is about sports
Lastly, what are 'Boxy Boys' upto now?
We plan to start our soccer matches soon. It will be fun to play soccer in the rain. Soccer soon.. in rain… Cricket is out of question now because of the rains. But once we are into sunny weather, we will play cricket too..


He is a true sports lover who wants to see others games apart from Cricket to take the centre stage . But then, again Cricket is topping his chart. Well, a Cricket fanatic will always be a cricket fanatic, and probably nothing can change it..nonetheless he is eager to watch the movie and is attracted by the promos just like us. Hope Chak de India lives up to our expectations .
Hope you all had enjoyed Amir Ali's shots at the Telly Buzz crease. We will be back with another Boxy Boy. Until then , Take care.
Reporter : Srividya Rajesh
Author : nishtha, sree, Minnie