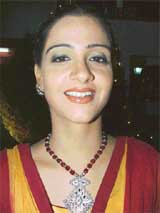 Prabhleen Sandhu, budding actress.

How did you begin acting?
I was always inclined towards acting. It still fascinates me. Somebody saw me at one of the functions, proposed my name to the director of Punjabi movie 'Ik Jind Ik Jaan'. I got selected after the auditions. I play the role of a sister of Aryan Vaid and Raj Babbar.
How do you feel working with such renowned actors?
I was on top of the world. Neither had I joined any acting school nor had somebody trained me. It is just inborn. By the grace of Almighty, I never felt insecure while working with such big names. I have been appreciated by my director and producer. Everybody in the unit is supporting; they do not let you feel that you are a newcomer.
Is acting not going to affect your studies?
Presently I am doing my masters in English. It is not that throughout the year one has to study. I am quite good at studies. My principal and faculty members have been very supportive and my family is encouraging. I think I will be able to manage well both in studies and in acting. Not only this, I will continue with acting in future, too.
— Shivani Bhakoo
http://www.tribuneindia.com/2005/20051009/ldh1.htm