Originally posted by Naughty_n_nice
Today is a very special day, and I'm not going to waste any time on "guess who?" and other things like that.... This post is for one of my best friends in the world, and one of the best people I've had the pleasure of talking to... Nug...
Happy Birthday Partner!!!
You've always been there for me, and I've known you for quite a while now, yet every time I talk to you, it's a new and interesting venture for me! You have no idea how good it feels to have a partner in crime who's COMPLETELY Manchester United crazy, around 10 times more than me actually, and lol, when you actually listen to my bakwaas theories about man U on the phone, whether they make sense or not, i love giving my wierd philosophies, and i know that only you will listen...

Anyway, i could go on about you forever, but there are messages from your friends that I can't keep away too long... So here they are!!!

Sehrish

Hey Nug pops
A very Happy Birthday to You
! Many happpy returns of the day and hope you get's loads of presents!
! Nug I can't believe I have almost known you just about a year now.. time sure does pass by fast! You were a great online dad and a supportive friend to me here on CC! I know we haven't talked in a long time right now.. but you are still a good friend of mine
! Thanks for always making me laugh when i was feeling down.. I know life is tough but always keep smiling and bring smile to other people!
Lots of love,
Sehrish
A gift from me:
Neemo:
Smiles and laughter, joy and cheer
New happiness that stays throughout the year
Hope your birthday brings all these and more
Filling life with surprise and joys galore!
This is gifts from me. hope you like them.
Luv Neemo
Sabrina:


Happy Birthday, Special Treasure
God gave a gift to the world when you were born—
a person who loves, who cares,
who sees a person's need and fills it,
who encourages and lifts people up,
who spends energy on others
rather than yourself,
someone who touches each life she enters,
and makes a difference in the world,
because ripples of kindness flow outward
as each person you have touched, touches others.
Your birthday deserves to be a national holiday,
because you are a special treasure
for all that you've done.
May the love you have shown to others
return to you, multiplied.
I wish you the happiest of birthdays,
and many, many more,
so that others have time to appreciate you
as much as I do.
Birthday Wish
It's your birthday time again;
It's true; there's no denying,
Another year has come and gone;
You know that I'm not lying.
So for you, the birthday person,
Here's what I want to say:
I hope this birthday's the best one yet,
In every delightful way.
So happy birthday to you.
Have lots of birthday fun!
May your birthday wishes all come true,
Even if you have a ton.
Birthday Wishes For My Friend
On your birthday,
I wish for you the fulfillment
of all your fondest dreams.
I hope that for every candle
on your cake
you get a wonderful surprise.
I wish for you that
whatever you want most in life,
it comes to you,
just the way you imagined it,
or better.
I hope you get as much pleasure
from our friendship as I do.
I wish we were sisters,
so I could have known you
from the beginning.
I look forward to
enjoying our friendship
for many more of your birthdays.
I'm so glad you were born,
because you brighten my life
and fill it with joy.
here is your birthday cake..!!
here are some gifts..
.. enjou..
once agen happy birthday and enjou your day..
have a wonderful tym..

Yuvi:
Hi Nugs,
Many Many Happy Returns of the Day !!!
Huzi:
Hi Nug,
On your birthday I wish you much pleasure and joy;
I hope all of your wishes come true.
May each hour and minute be filled with delight,
And your birthday be perfect for you!
HAPPY BIRTHDAY NUG!
Another year is a happy gift,
So cut your cake, and say,
"Instead of counting birthdays,
I count blessings every day!"
Huzi
Garu:



Hope all that you do
Turns out happy for you
And all that you wish
Comes your way,
So each hour will bring
Every wonderful thing
You could ask of a wonderful day

May your birthday bring
You as much happiness
As you give to everyone
Who knows you




Last but not the least..a little surprise 4 u



Saira:
Dear Nug,
Happy Birthday,
Wishing you all the best on this special day,
Regards
Saira.
Simran:
Happy Birthday Nug!
Many Many happy returns of the day.
And Have a blast! :)
Hello Nug jee... Happy B'day mere fav. Dushman
yaar...it has been great being ur dushman... bahut maza aaya hai... I can't wait to start bugging u more
so be ready jee...
I know u r reading this very fast so u get to the cake part... right?? well here is ur cake jee:

Chal...abh cut kar... ek min...ek min...aaram se...no one is stealing ur cake..
Nug's pic cutting the cake: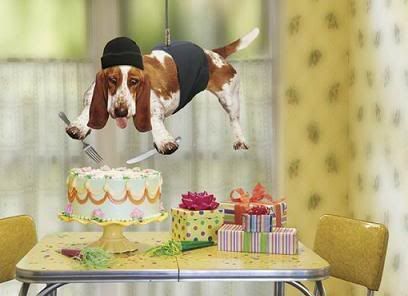 lol...ok now don't kill me for this...enjoy ur B'day...and I hope that all ur wishes (except that one wish of u being able to bug me properly) comes true...
U have been a great friend... and great victim/dushman... I really enjoyed all my fights with u
be as evil as u have been... kyunki agar Duniya mein evil log naho...toh no one would appreciate sweet people like me
Rukhaya:
Happy Birthday Nug!
Lovely msg for a Lovely Person from Lovely Friend 4 a Lovely Reason at a Lovely Time form a Lovely Mind in a Lovely Mood in a Lovely Style Have a Lovely "BirthDay"
In soft gleaming night of stars,May all your dreams come true.May every star of every night,Bring love and joy to you.Happy Birthday to you.
Anisha:
Hey Nug, hope you have a great day
Its been good working with you, happy birthday
From Anisha
Anji:
Hey Nug Papa...guess who?? its me lil ladoo...Happy Happy b-day....hope all ur wishes and dreams come true...U r such a sweet person and i always love how i recieve pms from u on new years, eid and other special occasions like that...
have fun,
Anji
A special thanks to Sumra who helped collect the messages, and Grace who helped a lot in the planning! Sorry if i missed any messages, totally unintentional!
Happy birthday again Nug, love you very very much, and I hope you always continue to be a part of my life!
===Your red devil partner and alllllll your friends!!
dont worry sam i love your theories on man united and will always be there when you need me, thanks for the birthday post its beautiful and colorful like you. and remember no matter what anyone says MAN UNITED ROCK and RULE
Sehrish, thank you for the birthday wishes and the car rocks, your always welcome, am not around as much but when you need me i will always be there.
hi sabrina, thanks for the wishes and wow weee baloons i love balloons (nobody would think i was 28)
thank you.
thanks huzi and yuvi the mere look at the cake is making my teeth tingle its so chocolaty and sugary enough to send me hyper
hi garu, thanks for the cake in the face birthdays are not complete till someone splats you in the face with a cake right
saira and simran thank you for the wishes i appreciate it, and simran love the firwork pic,
and hello ji to sapna madam who says i am her dushman but deep down she loves me deeply
hum aapke dushman nahin jaanoooo par aapke aashiq sadiyon purane
thanks for the wishes ji and purlease you got me once but dont worry it ont happen again at the age of 28 i can safely say i wont fall for it again.
hi rukhy, its been awesome we won the father daughter catergory which was an honor, thank you for the birthday wishes your so sweet, love you all to bits.
anisha, thanks for the wishes my footy enemy, hope man united win all the trophies again (by the way anisha is a closet man united fan
)
Hello lil ladooo thank you so much for your wishes, and dont worry inshallah you will keep on receiving many many more messages from me,
gracy and sum thank you for setting this up for me along with sam you guys are the best and most sweetest.