P: Wow man....Bahot acchi car hai....
S: Waise yeh car Dad bhaiya ke liye layete, lekin unhone mujhe dedi and phir muhje is bandar ko deni padi.....BECAUSE HE IS YOUNGER!!!! Ufff How much I hate him...
L: Uh...excuse me....First of all I am not a bandar because I look nothing like you.....
Sargam's mouth opens wide as she is shocked to hear what he just said.
L: (cutely) And secondly, you already have your new car because I had to use your OLD car all this time until I got this NEW one.....
S: Mai bandar jaisi dekti hu?.....
She hits him hard on his arm and turns away from him, looking to the opposite direction with her hands folded across her chest.
Prem and Krishna were supressing their laughter as much as possible. Prem goes up next to Laksh and slowly whispers into his ear while Krishna stands next to angry Sargam. Prem to Laksh.
P: (whispers) Arre yeh kya kardiya....meri wali ko chedna bhand kar.....Par ek baat toh sahi ki tune.....Dikti toh bilcul bandar jaisi hai.....
Krishna hits Prem on his arm as she had heard everything.
K: Toh aap bhi kisi Prince jaise nahi dikte.....Dono ke dono saand jaise ho....Koi ladki se aise baat karta hai kya?....Bhaiya, show some respect...
P: (mad) Oyy.... Respect!....Aur woh bhi tum ladkiyoo ko....
K: Kyu?....
P: You all should respect us...
K: Respect you....MY FOOT!....
Laksh and Sargam notice them arguing just like they were a minute ago and they both pull them apart to the side and explain to them not to fight.
S: Aab tum dono mat ladho...
L: Haa... verna hum zaroor late ho jayege...
They all laugh and then make up with each other. As you know, both brother and sister love each other dearly and can do anything to each other. They all quickly sit in Laksh's car. Laksh driving, Prem in passenger seat and Krishna+Sargam together in the back. They reach The Heart Institution which is right next to the City Court Offices. Laksh stops in front in the entrance of the hospital and both Sargam and Krishna get out and go inside after saying bye to Prem and Laksh. Laksh and Prem head to the court offices. Laksh parks the car in the parking lot and they come out of the car, both holding their court coat and and some files. They both head towards the office building. While they were heading up the stairs to go into the building, someone from behind hits Laksh's arm slightly with a bag. Laksh, suprised at the sudden attack, turns around to find the one and only ANGAD!
L: (looks at him with a " late again" expression on his face) Phir late...
Prem stand there and looks at this new person. He has a smile on his face and seemed to recognize this person to be one of Laksh's best friend.
A: (answers in a whining way) Sorry man.....stupid traffic.....
L: (with eye-brow up) Traffic or......girlfriend....
A: (smiles) I guess both....both of them are VERY slow.....
L: (happy-mad) Don't call my Kripa slow.....She has more intelligence then you at least....
A: Sure she does....thats why she always gets me late.....man she already has diva demands....pata nahi usse shaadi kaise karunga.....
Both of them laugh. Angad notices Prem who was there enjoying their conversation.
A: (smiles and acts a little more formal) Yeh kaun hai?....
L: (notices Prem) Oh...sorry Prem. Prem yeh Angad hai, my childhood friend. And Angad this is Prem, Bhabhi ka chota bhai....
A: Are you serious....toh yeh mera bhi bhai hua....
P: (suprised) Kaise?
A: Har saal Arpi mujhe bhi rakhi bhadhti hai....
P: (smiles) Arpi?...
L: (smiles) He calls bhabhi Arpi because he thinks Arpita is too old fashion.
Prem laughs at this.
L: Ab chalo verna Bhaiya mujhe mar denge.....
A: Haa haa, and if I get in trouble its going to be all YOUR and YOUR GIRL's( Kripa's) fault....
He runs inside with Laksh and Prem following. They reach their office room in time and they start working on cases which they have to type reports on.
While all this happened, Sargam and Krishna were heading into the hospital. Sargam was assiting her to her cabin/room where she would always qork. Being one of the best doctors, Krishna, was assigned into the top doctor's office. Her office room was on the second floor of the Heart Institute which had over 8 floors. Sargam guided Krishna into the hallway which contained 3 rooms. As they walk down the hall, holding the lab coat, a few files, and a stethoscope around their neck. They come across 3 huge rooms.
S: Krishna, this first room is yours, the middle room is another girl's, and that 3rd room is mine....Aaj tum sirf ek round lagana aur sab patients ka check-up karna....kal se hum individual patients ko sambhalenge.....so just chill today...
K: Okay....
S: Oh and by the way, I want you to go check out that middle room.....When I told her your name, she freaked out in happiness.....Tum jaanti ho kya usse....
K: Kaun hai woh?
S: Tum jaake dekho....Its a suprise!
After saying this, she wishes Krishna good luck and heads to go around to do her rounds.
Krishna takes a deep breath and walks towards the middle office door. She knocks on the door but finds no answer. She slowly opens the door and walks inside. She finds a girl wearing a lab coat and concentrating on reading an x-ray and some other papers from a file. She was standing towards a beautiful window with her back facing Krishna. The girl hears the footsteps come in and she turns around to look at who it as.
Krishna and the girl are both shocked to see each other.
K: ( in excitment) Kri...Kripa!
Girl: (equally excited) Krisu?....
They both are so happy to see each other. It had been 3 years since Kripa had moved to Bombay because of her dad's transfer. The two best friends were beyond excited to see each other. Kripa throws her files on her table and runs to Krishna. They both give each other a tight hug which reflected their sister-like friendship. They pull of from the hug and looked at each other with a huge smile on their faces.
Kp: Where the hell have you been?.....I missed you so much....
K: I know...Mai kal hi aai.....Papa aur bade papa dono saath me yaha ki medicine company chalaa rahe hai....so we moved here now.....
Kp: So you mean you ARE STAYING HERE, right?...
K: Yeah....
Kp: (so happy) Tu jaanti nahi ke mai kitni khush hu.....so where are you staying....
K: Well for now, hum sab didi ke saath reh rahe hai......Next week se humara apna ghar bhi ready ho jaye ga....It under some construction, right across from didi's house....
Kp: Man you are lucky.....
K: I know....So how have you been....
Kp: Absolutely fantastic...
K: And what about my Angad...
Kp: (annoyed) Don't even talk about him....
K: Why?....Don't you dare say anything against my bro....He is the best....
Kp: Ahaha.....Best my foot!.....Itne nakhre karta hai....Natak baaz...
K: But he loves you so much...
Kp: I know....But I don't know how I fell for a crazy lawyer like him.....
K: Does he work around here?...
Kp: That's the sad part.....Woh baju mai hi court offices hai....He works there...
K: Really....Bhaiya bhi wahi kaam karte hai...and so does Jij and Laksh....
Kp: Yep....and guess what....Laksh and Angad are best friends just like us....
K: That's great...
Sargam comes in with a sweet smile on her face. She stands at the door with her arms folded across her chest.
S: ( happily) Toh kaisa laga mera suprise....
Both of turn around to look at her.
K: GREAT....Thanks di....
S: No problem.....
Kp: Sargam didi ne sab kuch bata diya tha ke tum a rahi ho.....
S: And guess what guys.....The senior doctos have given us off for this whole week because they have new students who will be doing practices of operations this week....
Kp: Really.....Thank god.....
S: Aur papa ka phone bhi tha....Unhone kaha ke hum sab Tuesday-Saturday tak Sundarnagar jaa rahe hai.....For a little holiday break.....
K: Yes!!!!
S: We will all go together....All us youngsters can leave tonight and they will be coming after 2-3 days....Just Bhaiya, Bhabhi, Prem, Laksh, Angad, You both, me, and my cutie Ritvik.....
K: Aur Sundernagar me Papa and Bade papa ka bhachpan ka ghar hai.....
S: Haan....Hum sab wahi rehne wale hai...Maine Dr. Singh se keh diya hai.....We can leave in half an hour.....Tab tak Kripa,tum Krishna ko Institute dikha do aur usse uske naye patients se mila do.....Mai Bhaiya ko phone karke bataa deeti hu...Hopefully they will be able to have a break....
K: Theek hai....

Kp: Chal Krishna.....
Sargam calls Raunak and tells him about the plans....He agrees to go with them and agrees to give the three boys a break also( Angad, Laksh, Prem)....But they will have to do some work over the break so they don't fall behind in their case. He tells her that he will pick her up in half an hour but Laksh will come a little later. They both hang up.
Sargam informs Krishna and Kripa that Raunak was going to pick them both up(Sargam and Krishna) and Angad will be dropping Kripa at her house. At 6: 30, they will at meet in Shanti Niketin and head for Sundarganar.
Its was going to be a one and a half hour drive. Raunak, Arpita, Prem, Sargam, Laksh and Krishna are all ready in Shanti Niketan waiting for Angad and Kripa to arrive. They are all sitting in the hall with only Arpita and Laksh in the kitchen. She was scolding Laksh for not eating his lunch. Being a doctor, she does not allow anyone to skip any of their meals.
This is what everyone wore.
Raunak:
Prem:
Angad:
Laksh:
Arpita:
Sargam:
Kripa:
Krishna:
Ar: (angry-standing in front of Laksh in the kitchen) Kaam kya inta zaroori hai ke tune lunch bhi nahi kiya....
L: (sitting on a chair against the little table-drinking coffee-making an innocent face to make Arpita stop yelling at him) So...Sor..Sorry bha-
Ar: (still angry) Haa...tu toh sirf sorry hi kahe ga....har bar yeh hi kehta hai.....
L: Lekin....
Ar: Mujhe time hi nahi mila, yeh hi naa....Matlab yeh sab Raunak ki vaje se....
L: Nahi meri galti thi....Par agli barr mai lunch khakar hi rahunga.....Happy now...(makes a cute, innocent face)
Ar: (calming down) Promise....
L: Pakaa Promise.....
Raunak calls Arpita from the hall. She leaves giving Laksh some water. After she leaves, Krishna walks into the kitchen supressing a smile. Laksh looks at her come in and could see by her face that she had heard her sister scold him. She walks to the fridge and takes out a bottle of water. She goes and sits in a chair across from Laksh on the little table.
L: (feeling a little embarrassed) Tumne sab sun liya....?...
K: (looks into his creamy eyes with a smile) Haa....I'm sorry...
L: Sorry kis liye.....
K: Woh didi ne tumhe inta dataa aur maine sab sun liya....tumhe bura nahi laga naa....
L: (smiles) Woh joh bhi mujhe kehti hai uska mujhe kuch bura nahi lagta....kabhi kabhi aisa lagta hai ke woh meri bhabhi nahi, meri maa hai....aur maa se kya shikayat.....
She looks deep into his eyes which were showing so much respect that he had for everyone; how much he loved and cared for everyone.
L: (continues) Aur yeh toh kuch bhi nahi hai....aggar mai 11:00 tak ghar nahi aaya, toh phir itni daat padti hai...aur mujse zyada bhaiya ko padti hai.....par woh jisse daat ti hai, usse kuch zyada hi pyar karti hai....
Krishna just looks at him with a smile on her face.
K: Tum ek baat jaante hu?....
L: Kya?....
K: Tum kuch zyada hi acche ho?.....you're a really mice guy...
L: (smiles back) I know....par tum mujse bhi zyada acchi ho....
He passionately looks into her eyes making her have a weird feeling inside her. The silence session suddenly breaks when the door bell rings. Krishna comes out of her thoughts and gets up without saying anything. Laksh also comes out of his dream and stands up.
K: (looking at him) Chale....
L: (smiles) Haa...
They both walk together outside with a feeling of closeness building up between them. They liked each other's company more than anything. They reach the hall where Arpita, Raunak, Prem and Sargam were covering their ears so they don't have to hear Kripa and Angad screaming and yelling at each other on top of their lungs. Krishna and Laksh hear them screaming and are not at all suprised at their behavior because they knew how much they fought with each other. They were accusing each other for being the one who is always late.
Kp: (yelling) Tumhari waje se mai phir late phochi...
A: (yelling back) Lo ulta chor kotwar ko datte.....And listen Ms. Jholu, hum sirf 7 din ke liye jaa rahe hai, 7 mahino ke liye nahi.....
Kp: Oy chiile hoye aalu.....
A: Bina makeup wali banderya....
Kp: (screams) SHUT UP!
A: (screams back) YOU SHUT UP!!!
K:(trying to handle the situation) Stop it!
L: (helping out) Tum dono ko sirf jhagda karna hi atta hai...
Ar: Dekho its ok.....Tum dono aa toh gaye.....
A: Lekin yeh....
R: Angad, it ok.....now come on boys, who's taking the cars?
A: I will take my car....And please I don't want HER(indicating to Kripa) to be in MY car.....
Kp: (angry) Haa haa....Jaise mai marii hi jaa rahi hu tumhare saath aane ke liye....
R: Accha theek hai....Tum mere saath aa jaana....Aur Laksh tum bhi apni car lelo....
L: Theek hai bhaiya....
R: Kripa and Prem in my car....
A: Arpi and Sargam in mine....
Ar: Krishna, tu Laksh ke saath chali jaa....
Laksh looks at Krishna who was fine with going with him. He thought he might make her feel uncomfortable, but she had no concern on her face....no fear....She was HAPPY!
R: So everyone knows where they are going and who they are going with right?
Ritvik: (angry) Wrong!!!!!
Everyone turns around to find Ritvik standing on the sofa with his arms folded across his chest and a sad expression on his face. Everyone looks at him with a smile and a lot of affection/love.
Ritvik: No one want Ritvik! Ritvik is mad....
Krishna smiles at his cuteness and goes up to him.
K: (calmly explaining) Don't worry baby....Tum masi ke saath chalna....
A huge smile apprears on his face and he hugs her tight. Laksh finds even more respect for her through the love she gives to everyone.
K: Jij can I take him.....
R: I don't mind...Par isse sula de naa...verna yeh itni baate karega ke tum dono pak jaoge....Woh kya hai na, aisi baato mai bilcul apni maa par gaya hai....
Ar: (who was standing righ next to him elbows his arm hurting him a little) Aap bhi kuch kam nahi hai...
A: Bhaiya...aggar zyada bolne ke baat aayi hai, toh usme meri Kripa bhi kuch kam nahi hai.....Sara din chitar pitar karti rehti hai.....
Kripa, who was standing next to him stomps on his foot making him whine in pain.
A: aaaaaaaaaaa.....
He goes and stands next to Krishna who was holding Ritvik in her arms.
A: (whispers in her ears) Pata nahi mai isse kaise pyar karta hu....Bhootni hai bhootni.....Isse doctor kisne banaya....She should be in a mental asylum....huh how much I hate her..............................and love her.....
Ritvik: (out loud) Masi yeh bhootni kaun hai.....?....
Kr: (angry) Issne mujhe bhootni kaha?......
K: Nahi.....usne mujhe kaha......
R: Now come on guys get your bags and put them in the cars. Everyone puts their luggage in the car. It was 6:45 now and everyone was in the car they were assigned.
They all drove off with a sign of relief and happiness which awaited them all.
In Laksh's Car:
Laksh was driving with a cute smile on his face. Krishna, sitting in the passenger seat, was also very excited and had a smile on his face. But the most excited of all was our little Ritvik, sitting in a small car seat playing with his little toys. He kept asking questions and kept talking. It didn't annoy Laksh and Krishna at all. They loved him more than anything. After about 3 hours, he fell asleep. Krishna looked behind to find him sleeping soundly.
K: (whispers looking at Laksh) Soo gaya....
L: (relieved) Thank god.....Bichara thak gaya hoga.....
K: Haa....
L: Waise, tum kabhi Sundarnagar gayi ho?....
K: Of course gayi hu.....tum bhool gaye kya? Jab hum chote the tab har saal picnic manaane jaate the.....
L: (suprised to know that she still remembers their childood) Tumhe abhi bhi yaad hai.....
K: Mai woh kaise bhool sakti hu....you were my best friend.
Laksh felt a feeing inside him which told him she was the same simple, beautiful girl who was his best friend.
L: (smiles) Pata hai waha par ek bahot hi khubsoorat madir tha jisme hum khelne jaate the.....
K: Haa.....waha Radha-Krishna ki bahot acchi murti hai....
L: (suprised) Wow you really haven't forgotten anything....
K: Of course not....How can I forget all this?
They kept telling each other about how they fought when they were little, how they played with each other, and how much they miss Sundarnagar. After about 45 minutes, they reach the villa in Sundarnager where they were going to stay. This is the villa.
They were the first ones to reach because they knew that the other two would reach later as they got stuck in the huge traffic. Laksh parked the car over the side of the villa. They both got out of the car. Krishna opened the back seat door to take Ritvik. He was in deep sleep so she gently and quietly picked him up and carried him. While she took Ritvik inside the villa which Laksh got open for her, Laksh took the luggage inside, locked his car, took his files and Laptop, and went inside. It was about 11:00 at this time. Laksh came inside and closed the door shut. He went to look for Krishna into the rooms that were there. There were 5 rooms in the villa. Laksh didn't find her in the first room. But then he decided to go into the room where he knew Krishna would be. He went to the 4th room in which he used to always play with Krishna when he was little, his bedroom when he was little. He walked up to the room and stood against the door. He saw Krishna putting Ritvik to sleep on the bed. Here's the bed.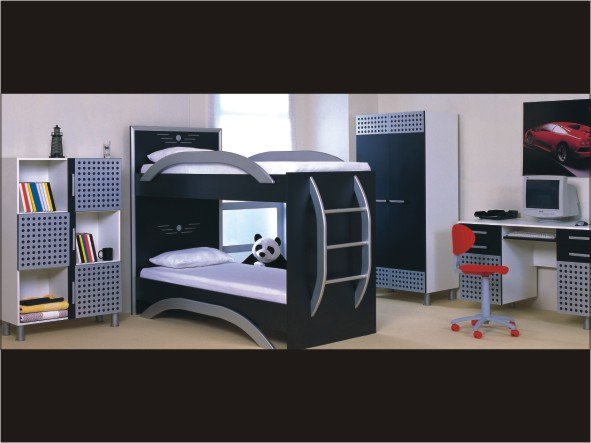 Laksh and Raunak always slept in this bed: Laksh on the top, Raunak on the bottom, when they were little. Sargam always slept with Sahil and Ganga as she was scared to sleep alone.
Ritvik was shivering in cold so Krishna covered him with her dupatta. Laksh saw this and went to another room to get a small blanket for him. He got the blanket and came inside the room slowly. Krishna didn't notice him come. Laksh slowly creeped up behind her and gently said in her ear.
L: (whispers in her ear) BOOO!
Krishna turns around quickly to find herself only inches away from Laksh. Laksh started laughing at her which made Krishna get annoyed. She softly hits his on his arm.
K: Dara diya mujhe.....
L: Sorry sorry.....
He took the blanket and covered Ritvik. He took her dupatta and was about to give it to her.
L: Yeh lo....
Krishna took the dupatta and covered herself with it as it was quiet chilly but she liked it that way. Laksh looked at her beautiful face which made his heart lose control but his mind didn't. She gently traced her hand on Ritvik's cheek as he was in deep sleep. Laksh stood there with a smile on his face. Krishna then got up and they both walked outside the room so that they don't distrub Ritvik's sleep. Krishna walked out first with Laksh following behind closing the door gently. They went into the family room and this is what it looks like.
They both went to the family room and sat on the comfy, soft couch. She was a little tired but she loved this villa. It was quiet comforting and extremely beautiful. Laksh saw her face light up in happiness. Her smile made him want to smile. She looked out of the huge glass door and saw the beautiful night sky with twinkling stars and a fair moon giving of his bright light.
L: (softly asks) You want some coffee.....
K: (looks at him with a suprised smile) Tumhe banaani aati hai?....
L: (smiles) Of course...I make the best coffee....After choti ma(Purvi)....
K: Ok...Do you want help....?...
L: (smiles) No....You sit here.....I'll make it for you.....
After saying this he heads towards the kitchen. While he is in the kitchen, Krishna looks around the family room. She spots a huge photo album on ths side shelf where there were a few books. She picks out the album and finds her childhood picture with Laksh and Sargam on the cover. The title was "Friends are Family." Since Sahil and Purvish were childhoods friends their kids were also childhoo friends. She sees her parents with Sahil and Ganga on the first few pages. Then she sees old pictures of Raunak and Arpita leading to the pictures from their wedding. Then he sees childhood pictures of Prem and Sargam playing on the swings and another of them eating ice cream together. She goes flipping through the pages and them find a few pictures of herself wth tiny Lakshu. They both were the cutiest thing you would ever see in the world. The first picture was when they both played the role on Radha+Krishna in a play( like Hum saath saath hain song of maiya yashoda where Karishma and Saif dance-in younger version). A smiles comes on to her face seeing the picture. She turns the page and sees little Laksh and Krishna trying to get cotton candy from each other. She smiles again. On the naxt page she finds the two of them in a little boat smiling and paddling together. And on the last page she sees little Krishna crying as she lost her doll and Laksh giving her a kiss on her cheek to console her.
Krishna just looked at te last picture. How Laksh kissed her gently on her cheek? She remembers how bad she felt for losing her favorite doll. She remembers how Laksh had been consoling her and trying to make her feel better. She remember how he searched the whole house for the doll just to make little Krishna feel better. Krishna kept looking at the picture. She traced her fingers over Laksh's little picture. She now for sure knew that she was in love....with her best childhood friend. Her heart kept repeating his name very second. HOWEVER, her thoughts were interrupted when she finds a tap on her shoulder. Krishna comes out of her thoughts and closng the album turns around. She finds Laksh standing there with a mug of warm, sweet coffee in his hands. He spots the album and gives hera smile. Krishna gives a smile back.
L: Yeh lo....
Krishna takes the mug and they both sits on the sofa. Krishna put the album aside on the sofa and they both drank their coffee. Krishna was amazed by how good his coffee tasted.
K: Acchi coffe banaalete ho....impressive....
L: Thanks....
K: ( thinks about the album) Yeh album kisne banaaya...
L: Actually yeh Baa ne banaaya tha...hum sab ke liye.....accha laga....
K: Bahot accha laga....
They both look through the pictures together especially the ones which had them both. They come across the picture where Laksh is kissing Krishna on her cheek.
L: (smiling) Pata hai tum kitna roo rahi thi jab tumhari favorite doll kho gayi thi.....
K: Haa.....I was so sad.....(feeling a closeness towards Laksh)
L: (grinning) Tumhe pata hai woh kisne li thi.......
K: (looks at him puzzled) Nahi....Kisne li thi....
She looks into his eyes which were avoiding much contact. Now she knew who the thief was.
K: (suprised) Tumne li thi!!!!....How mean....!
L: (embarrassed) I'm sorry but it was so funny to see you sad expression.....
They both look at the picture once again and then smile. They both finish their coffee and go to the kitchen to wash their mug. They enter the kitchen.
Krishna puts her mug into the sink and Laksh puts his.
K: I'll wash them.....
L: No I will.....
K: You made it.....now I have to wash.....
L: Lekin,...
K: Just stand here.......
Krishna washed the mugs while Laksh stands there leaning against the fridge, looking at her. Suddenly they hear the door bell ring.
L: Finally they are here.....
He goes to the door while Krishna finishes off, bried her hands, and follows. Laksh reached the door and opens it. He finds them all there holding their luggage. The girls come in first while the guys follow. Arpita walks in first holding her bag.
Ar: (smiling) Arre tu kab poocha......
L: Half-and hour ago.....
He takes the bag from her hands while she walks in and sits on the couch. Sargam comes in next with her bag. She throws her bag to Laksh.
L: (annoyed) Do I look like a coolie to you....
S: (smiling) Of course you do......A really ungly one......
L: Mom was right.....YOU DO NEED GLASSES....and by the way, have you looked into the mirrow lately.......
Raunaks comes in splitting their fight.
R: Stop fighting now......
They both stop and head inside, putting the luggage in the respected rooms. Krishna stands at the door now while Prem comes in. He was really exhausted and very sleepy. Krishna takes his bag but Prem, being the cutiest bro, doesn't make her hold the bag. He kisses her on her forehead and walks in to sit and relax on the sofa.
Finally she waits for the two who were left and figured by now that they must be arguing again. After waiting for a second she sees them come, with Angad holding two bags and was dragging his body as he walked while Kripa walked in ront of him. Kripa comes inside and hugs Krishna tightly. She then heads to join the rest who were now watching tv all cuddled up in the sofa together. Lastly Angad walks in. Krishna quickly takes one of the bags from him which was sooooooooooo heavy that it almost slipped out of her hands.
K: (trying to hold onto it) What's in here....stones.....
A: Ask you BFF......Its her's.....
Krishna places it inside her room while Angad follows and put his bag in another room. They both meet in the kitchen where Krishna gives Angad some water.
A: Accha hua woh chudel mere saath nahi thi...verna mai toh khalaas ho jaata....
K: Come on....be nice to her for once.....you know you love her a lot......
A: I know and I can't resist that.....but I love annoying her.....
K: You are impossibel to beat.....
Prem from outside..."Krishna".....
Krishna and Angad to and join the rest of the people who were sitting in the family room watching a movie. It was Hum Aapke Hai Kaun. Arpita and sitting next to Raunak who had his arm around her and his another arm around Sargam who was sitting on his other side. Prem was on Arpita's side, laying his head on his sister's shoulder. Kripa was sitting on the floor and Laksh had his head in her lap. Laksh to Kripa.
L: Angad kaha hai.....
Kr: (caring less) Hoga kahi.....I don't care.....
L: Come on, he loves you....
Kr: Loves me MY FOOT!
Just then Angad comes and sits next to Kripa which annoyed her, but she still liked him being close to her. Krishna sits next to Laksh who was now sitting up with his back against the sofa. Prem kept playing with Krishna's hair. He loved her hair and couldn't resist touching it. He kept putting his fingers through her hair in a way of massaging her head. They watched the movie peacefully all together. After the movie was over, they all headed to go to their room to sleep. Arpita and Sargam were in the same room. Prem and Laksh in the next room. Krishna and Kripa in the room after that. Ritvik in the next room. And Raunak and Angad in the last room.
The next morning is bright and fresh. Its about 7:30. Ritvik was the first one to wake up. He goes into each room to see if anyone is awake. First he goes to his dad's room. He slowly opens the door, walks up to the bed, and sees his dad and his Angad uncle. He goes near Raunak, traces his small finger on Raunak's face and kisses him on his forehead. Then he goes to Angad on the other side and kisses him on his cheek. He slowly walks out of the room without disturbing anyone. Then he goes into his mom's room. He goes up to his mom and softly kisses her on her cheek. Then he goes to Sargam and kisses her hand. Next he goes to Laksh's room. He walks up to Laksh on his bed and kisses him on his cheek. He does the same to Prem and then goes out of the room. Lastly he goes into Krishna's room and walks up to Kripa and softly gives her a kiss on her hand. And at last he goes up to Krishna. He looks at her for a second. He takes his tiny finger and traces them on her cheek. He got onto the bed and sat the playing with Krishna's hair. After about a minute, Krishna woke up to find her little nephew patting her silky, soft, straight hair. A smile appeared on her face. Ritvik gave her a smile back and quickly laid down next to her. He cuddled into a hug and Krishna kept him close to her. She kisses him on his forehead.
Ritvik: (whispering) Sab soo kyu rahe hai.....
K: (tired but awake by now) Because we all slept late.....
R: (whining) I am hungre......
K: (smiles) Ok.....go into the kitchen....I will be there in a second....
R: Ok.....
He runs out of the room all happy. Krishna wakes up slowly without disturbing Kripa's sleep.
That's all for this part guys....I hope you like it!....I tried very hard to make it interesting, funny, and also lovable. Hope all you AK fans also read my fanfic and comment to how it is. Love you all and sorry for the huge delay but I have to concentrate on my school. PLEASE LEAVE YOU COMMENT!!!!!
Palchin