Salaaam Namaste Friends

Welcome, Welcome, Welcome!

Today is another very very special
day for all of us Heaven Divas to celebrate!
Today is the birthday of yet another special and dear member to all of us
The Divas


Even though she has joined us just a few months back, it feels like we have all known her for ages!
now it's time to reveal who this special person and AR/KaSh fanatic is!!!





It is none other than our very own darling…Natasha a.k. a tash,taz, tazzy, tashu etc etc


A very very very…

HAPPY BIRTHDAY!!!
TASHU
Together, all of us AR/KaSH Fans wish you the best ever birthday!

We hope that all your wishes come true today and you get what you want.

Hope this coming year brings you lots of success in everything you attempt and it's a fruitful, fun-filled forthcoming year.

Once again- HAPPY BIRTHDAY and have a BLAST!
Much love, hugs and kisses
-Heaven Divas
Here's a little something to start off this day nice and bright for you!


Fary
Happy birthday tash
i never really realized how early we became friends it was in split of sec it's just wonderful having u as my friend yaar love u lods hope u enjoy ur day loads and all ur dreams and wishes come true love u so much and whenever u feel sad just remember am here for u and am always gonna be on ur side
to be very Honest am blessed to have u as my friend love u love u love u
here's a little gift for u from me
love fary
Becky:

Dearest dearest Tashu,
First and foremost- a VERY VERY Happy Birthday! Many many happy returns of the day! Have a blast sweetheart!
I haven't known you for too long but in this short span of time I can confidently say that you are one mature, loyal, friendly and a good natured human- who is a pleasure to know and share a friendship with.
I have and I will cherish some fantastic memories that I have spent with you, especially those crazy Peshu times and ofcourse every single KaSh memory till date.
To name just a few of your gifted talents, I would say that you are someone who can be trusted blind-foldedly and to me, a very very gifted and creative writer. Your emotions, feelings, love, excitment and appreciation for someone or something can be seen through your writings- they are beautiful and great fun to read!
I don't know what you want to wish for this birthday, but I shall pray that whatever that it is- it comes true very soon.
The KaSh journey with you so far has been more than just that- and is growing into a wonderful friendship, that I wish and look forward to carrying on with you in the future.
May you stay the same and may your God bless you.
- Becks.
Ramsha:
Here is mine!!

Happy Birthday To You
Happy Birthday To You
Happy Birthday To Tasha
Happy Birthday To You!!!

Happy Birthday My Sweet Tashu!!
Hope you have a great day jaan and all your wishes and dreams come true!! I want to tell you that you were one of the sweetest people i met on IF who i thought i knowed for ages!! Hehe i forgot how we became friends though but it is all because of KaSh we all are in Heaven together!! Love u for being a wonderful friend and an awesome VM maker!! You are awesome and you don't decline it!!!
Loved your first mix yaar! it was crazy and hope you make more soon!!

Love u lots
From Ramshu
Priyanka/Pri:
Wish u a very happy bdae tashu
">
">....
hope u have a great one.....
Well u have been a awesome friend in the very little tym that i have known you through the kash heaven....and hope u remain lyk this forever
Wish u all the best for your future....welll for all ur exams for the mean tym...may all ur dreams and wishes come true....
happy bdae once again...
loads of love
">
">
pri
Roz -
Tazzzzzyyyyyy!!!! Happy Birthday Yaar!! I hope you have a splendid time and that your day is nothing but magical :) Dude, you're 24!!! That makes you more of a grownup - lol - but dont go around telling us to call you Di - cause I'm not gonna. hehehe... But seriously, you are one of the coolest people I have met online and I truly hope your birthday is everything that you want it to be.

Lots of love,
Rozlina ;)
Janki:
HAPPYYY BIRTHDAYYY TASHAA!!!

I'm so happy that because of the heaven I got to know you, because you are truly amazing and I wish you the best in life and the best in all that you do. You have always been so supportive and encouraging to everyone at the heaven, and it just goes to show how great of a person you are. I hope you have lots of fun on your birthday, get lots of presents, and of course eat lotss of cakeee...yummmmyyyy..choco cakee..it'll remind you of Karan on your birthdayy..hehe...havee a blastt...Happyy Birthdayy once againn...Love youu soo muchhh!!<33333

~Janki~
Shamila
hey tashu!!!
I love you soooooooooo much!!!!
your such a great friend and always help others out
and i love your poems!!!!! ur one natural poet
you have so many great talents in you. i just love the way you are so simple but elegant
i feel God has granted my a lovely gift of having you as my friend.May God grant your wishes that you wish to fulfil and may you have a longggggggggggggggggg life (you have to show your grandchildrens about KaSh to
)
in one word
your baller
Mehvish
chocolate cake yummy lolz
Your birthday reminds me
That I really want to say
I'm very glad I know you;
I hope you enjoy your birthday,
All the pleasures it has in store,
And because I appreciate you,
I hope you have many more!
i am lucky to have a friend/sis like you
God bless
Sanniya
HAPPY BIRTHDAY DEAR TASHU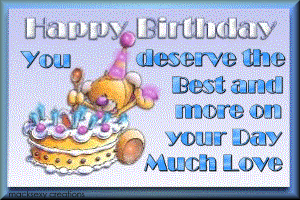 SPEACIALY 4 U DARLING..

God gave a gift to the world when you were born
a person who loves, who cares,
who sees a person's need and fills it,
who encourages and lifts people up,
who spends energy on others
rather than herself,
someone who touches each life she enters,
and makes a difference in the world,
because ripples of kindness flow outward
as each person you have touched, touches others.
Your birthday deserves to be a national holiday,
because you are a special treasure
for all that you've done.
May the love you have shown to others
return to you, multiplied.
I wish you the happiest of birthdays,
and many, many more,
so that others have time to appreciate you
as much as I do.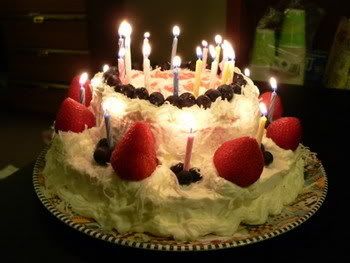 your cake hop u lyk it
NOw ur Gift
as i jus knwabt ya birthday so din hav much time 2 make spe. gift 4 U but hop u lyk it also...
will make u a birthday sigi soonn...
Sara
Tashuuu !! Happy Birthday meri Jaan !! Just Want to let you know,that your really special to me and the heaven...You make the heaven complete.& You deserve the best Birthday ever ! Cus Your Our Star ! Hope whatever you ask for,comes true & this day repeats for many many years
Wish i could really give you something,but unfortunatly i cant ! Enjoy this day to the fullest,and have a blast ! luv You Loads
From Sara x
Shifa


Happy Birthday tash!!!
Paarrrtyyyyyyyy timeee!!!

Wuhooooooooooo!!!!

Many many happy returns of d day babe!
Hope all ur dreams n ambitions cum tru
Enjoy ur day 2 d fullest n eat sum cake on me


Mwahhhhhhhhhhhhh!!
luv u loaaads!
That's all for now once again a very very happy birthday we love u
Thnx jenny,becky, rhea, me in putting this all toghether without u guyz it wouldn't be possible