Hey guys this is Zahra here...I'm starting an FF on Armaan and Ridz... inspired by all the great FF writers...it's my first time ever writing an FF so please tell me how it is...whether you like it or not and if I should continue or not!!!
Any kind of comments would be nice!!! Thank You!! Enjoy!!
*In His Arms*
Character Sketch
Gupta Family
Dr. Ridhima Gupta-A 24 year old medical student who is graduating from Med School. She was born in Bombay but has lived her entire life in the US. Currently she lives in Houston, TX and goes to UTMB(University of Texas Medical Branch). She usually a very happy person and loves her friends to death. She lives in an apartment with her best friend Sapna. She has a fear of being left alone and being lonely.
Dr. Anjali Gupta: Anjali is 26 years old and is Ridhima's first cousin but they are more like sisters. Anjali is a Doctor in Sanjeevani and lived with Ridhima in US for her medical studies.
Dr. Shashank Gupta: Dr. Shashank is Anjali's father and Ridhima's Bade Papa. He is the Dean of Sanjeevani
Amar and Padma Gupta: Ridhima's parents who live in the US but away from their daughter. They care alot about their daughter and want her to get married as soon as she graduates from Med School. Amar left India to do business in the US when Ridhima was three years old.
Dr.Shubankar and Dr. Kirti Gupta: Shubhankar and Kirti are senior doctors in Sanjeevani and Dr. Shubankar is the youngest brother of Shashank and Amar.
Malik Family
Dr. Armaan Malik: A 25 year old handsome young doctor who is graduating from Baylor College of Medicine in the US. He was born Indian but raised in the US. All girls are nuts about him and he likes all the attention. But from the inside he is still looking for that true love who will take his breath away.
Dr. Atul Malik: Atul is a 27 year old doctor and is Armaan's older brother. Atul is a resident in Sanjeevani along with Dr. Anjali. Atul is madly in love with Anjali. Atul went to India to do research and fell in love with the country. He decided to do his residency at Sanjeevani.
Atul and Armaan's parents live in the US, but are not extremely important in the story.
Other Important Characters
Dr. Sapna Shah: Sapna is 24 and also attends UTMB with Ridhima and is her roomate and best friend. Sapna and Ridhima have been best friends since they can remember. Sapna is very cute and a sweetheart. She is engaged to Amit who is a Lawyer by profession.
Dr. Prachi Desai: Prachi is 25 years old and is also the best friend of Ridhima and Sapna. The three have been best friends since grade school. Prachi used to attend Med School in California but decided to transfer her last year to UTMB and graduate with her best friends. Prachi is very outgoing, nice, but serious when it comes to business.
Yash Malhotra: Yash is 26 years old and a Financial Consultant at a Law Firm in Houston. Yash is in the process of becoming a full fledged lawyer. Yash is the love of Ridhima's life, atleast thats what she thinks.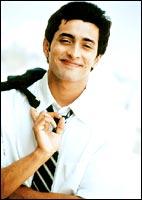 Dr. Rahul Grewal and Dr. Muskaan Chadda: Rahul is from Austrailia and Muskaan is from London. Both of them are in India to do a research program at Sanjeevani...and other things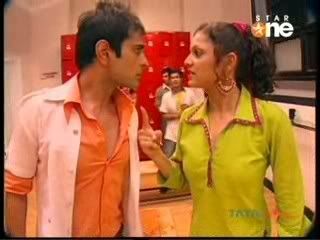 *Part One*
"No Ridhima, just leave me! ITS OVER!" he yelled as the anger in his voice increased.
"What do you mean its over? I love you!" she said as shock and amazement was plastered on her face.
"Well I don't, I never have and I never will!"
"What do you mean Yash?" "What has been going on between us for the last year?" she asked.
He was silent and did not know what to say.
"Bolo Yash, you never loved me? All those moments all those times we spent together, you never felt love for me? Never?" she tugged on his sleeve begging him to tell her that this is all a joke, as tears were falling out of her eyes.
"Look Ridhima," he put his hands on her face and looked straight into her eyes, "I never felt like I was in love with you, it was just like an infatuation. To me you are more of a friend than a lover. But anyways what we had was never going to work out. I'm not ready to settle down until I can start practicing law by myself. I know you want to get married after you graduate-"
She interrupted him "then I'll wait for you, as long as I have to" she said taking his hands in hers and reassuring him.
He turned his back towards her unable to look at her sweet innocent face as he jerked his hands out of hers, "no Ridhima, I'm sorry, I'm not ready for life long commitment and I won't be ready any time soon."
She was heartbroken and words were not forming in her mouth even though she had so many questions.
Slowly words came to her mouth and she said, "S-s-so a-all those promises you made me, all those things you told me, they were just lies? Everytime you told me you loved me, it wasn't love but infatuation?"
He turned around angrily hating himself for doing this to her and hating himself for what he was about to say, "Look Ridhima I never felt anything deep for you okay! Whatever I said was my brain telling me to do it, not my heart! I never meant it from the bottom of my heart!
Now Ridhima was angry as she yelled, "how can you say that, woh pal joh humne saath beetayen teh woh sab ek jhoot tha? Joh pyaar mere liye tumhari aankon meinn diktha hai, woh saab ek jhoot hai?"
"Bas Ridhima! Ab aur nahi, humara saath yahi tak tha, that's it, it's over Ridhima!"
Saying that he turned around and left a heartbroken and confused Ridhima crying and breaking down in the middle of Herman Park.
As he walked away, he could not help but have tears in his eyes. He knew he had to do this, and hates himself for breaking Ridhima's heart like this. He knew this was the best way to end it, and if he told her the entire truth, things could have gotten much worse. He knew what he was doing and why he was doing it, but on the inside, his heart was breaking as he did this to her. He really does love Ridhima...
She could not believe he just broke her hear like that. She could not stop crying, she was so angry at him at herself for letting him do this to her.
Yash had called her this morning and told her he needed to talk to her about something important. He asked her to meet him at Herman Park at 8 p.m. Ridhima least expected this, she was expecting something good, something like a proposal, and not anything close to what had just happend.
As she opened the door to her apartment, she saw someone get up from the sofa and look at her with big worried eyes...
Please leave your comments and tell me how this was or press the thank you button!
I know it was short and really sad, but don't worry it gets better and happier.
-Zahra