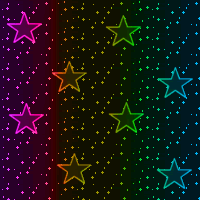 Recap: Angad has left the hose to go to recording ...
Part Three:
Angad is driving in his car thinking about Kripa on how will he react when he sees her finally angad has arrived to the studio where there are recording the song and filming it too! ( you should know what I am going to say) He walks in and sees a huge group of people around a girl who he cant see clearly all he can see is the top of her head and thinks to himslef she is probaly the heroine and he shakes is head and in the knick of the time the directors spot him and come to explain what he has to do:
Dirc: Angad finally tum aigay ithna time kyun liya?? one of the directors looked very upset after all she was an old lady she had s serious face and looked like she was about to blow off her head ( meaning screem at everyone)
Angad: vo actully traffic bahoth thi he made it up so he wouldnt get yelled it he did such good acting that no one could tell if he was lieing or saying the truth ( just to let you know Angad is looking veeeeerrry dashing at this moment)
Just then Kripa spots him and she walks towards him in her pink flip flops she keeps walking but right about when she was about to tap his shoulder and intoduce herself the make up artists came and said that she needs to change for the dance scene. She turns around and walks to the make up room
Kripa finally comes out she is wearing a red with gold workings sari with a light golden necklace and small golden earings. She has powder on, dark black eyeliner, and some pink blush on her cheeks, glittery eye shadow, and a light pink lipstick. She is looking beautiful! She goes up on stage as the directors come to tell Kripa what to do:
Kripa : I dont think i can do this dance its very complicated Ritu Ji ( the old lady director)
Ritu : come on Kripa you can do it this is not so hard here Angad will show you
Angad was talking the lyric writer at the moment when Ritu comes and says

Ritu : Angad tumme tho yeh dance karne athi ha na tum to pahla kar chukay ho so why dont you show the herione ( forgetting to mention Kripa's name)
Angad : umm lakin may yahaan par
Ritu: Lakin vakin kuch nahe pahlay say tum late aiyaa ho
Angad: ticka hai ticka gusa nahe ho ( he puts his hands to his ears and says sorry)
Ritu and Angad walk over to Kripa she is standing there looking at the moves she is suppose to do but is very confused! Angad looks at her in astonishment and he thinks oh wow she is so pretty! He is thinking about her and spacing off until
Ritu waves her arm in the air and says: Angad? helllloooo ANNNGAAD??
Angad gets out from thinking about this beautiful girl and says : Huh?
Ritu: aacha yeh hai heroine abb yahaan say ye dikya ga ticka?
Kripa: Tick hai Ritu Aunti
Angad just smiles
Kripa starts the convo: Hi
Angad : Hi
they both smile at each other shyly and blush ( hehe) Just then the music starts playing and Angad touches Kripas hands and gets the most weridist feeling that he has never felt
TO BE CONTINUED!
Do you like it please reply back soon!!!


Edited by jjknlvr91 - 28 September 2005 at 8:00pm