On Father's Day, we reflect on the many ways that fathers
contribute to the lives of their children with spoken words and
unspoken kindness.
Fathers are one of the most important influences in the lives of
children, and their unconditional love is an indispensable anchor
of certainty and strength. By placing their family's well-being
above their own, fathers provide children with an example of
what it means to be a responsible person. Through unwavering
devotion and daily sacrifice, fathers work to create an
environment where children are protected and encouraged.
Fathers instill in their children an understanding of right and
wrong and help them to grow in confidence and character.
These dedicated men strive to give their sons and daughters the
necessary foundation to make good choices and lead lives of
purpose.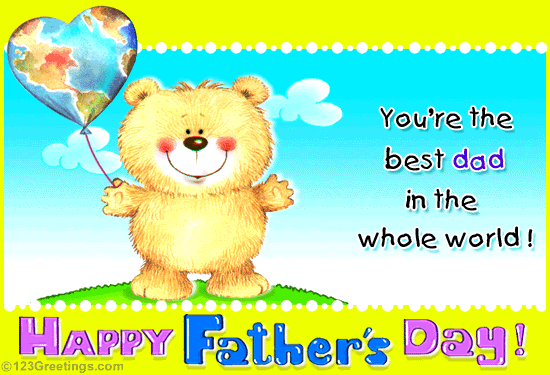 Gifts that you can give to your Dad
The best gift of all is to tell him that
You love him so much
F.A.T.H.E.R.S.
"F" aithful.
"A" lways there.
"T" rustworthy.
"H" onoring.
"E" ver-loving.
"R" ighteous.
"S" upportive.
Father's Day
Over the years
As we grow old,
We remember our father
So brave and bold.

In the garden,
Leaning on the plow,
He would listen to me;
I see him now.

He would give advice
And understand;
He was always there
To lend a hand.

God made fathers
Strong and firm,
For he knew our lives
Would have great concerns.

So he gave us fathers
To teach us to pray,
And guide our lives,
And show us the way.

So on his day
Let's take the time
To say "Thanks, dad.
I'm glad you're mine."

Author: Mary Frances Bogle

Love,
Shruti