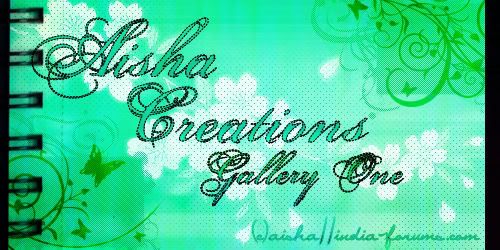 Hey I-Fians! I'm Aisha. I've been making siggies for a very long time now... and have finally decided to open my very first Gallery.
I'm sorry but I don't take requests. So please don't request here as it is a gallery, not a shop.
[If I'm not busy then I may take PM requests, but you will be notified if I'm unable to fulfill your request.]
I can only make non-animated creations, so please don't request for animated stuff. I mostly create siggies and have tried avi's too, but I'm more interested in making siggies.
All my creations are free to use, unless stated otherwise.
These copyright tags will be found on my creations:
aisha//india-forums.com [frequently used]

d_b07//india-forums.com [I will rarely use this one]
Updates
DMG pg.3
Mixed Update pg.3
DMG + Amrita Rao pg.5
Amrita Rao pg.5
Aditya Narayan [IFFA] + DMG pg.6
DMG Avis pg.6
DMG Avi's + Siggies pg.8
DMG/Waaris/Birthday Siggies pg.10
DMG>KaSh + Mayur Siggies pg.12
Mixxed Update [DMG.KaSu.KSG. PriyankaC.KatrinaK] pg.14
Mixxed Update [Sonam Kapoor & DMG] pg.15
Aamir Khan in Ghajini pg.16
DMG>KaSh pg.17

DMG Avi's pg.18
Aditya Narayan pg.20
Robbie&Kasturi Avis [suggested by meyis] pg.22
DMG Avi's + 3 siggies pg.22
DMG Avi's pg.26
DMG KaSh Avi's [suggested by Jenny] pg.29
Note pg.30
Mixxed Update [DMG.YRKKH.VVR] pg.32
Mixxed Update [YRKKH.VVR.Birthday Sigs] pg.35
DMG Avi's pg.37
Mixxed Update [YRKKH, Birthday Sig, Req for aisha_1992] pg.41
Mayank Anand [Rahul] + MEET [Meher&Preet] pg.44
NaKsh + MayUr pg.46
TEXTURES pg.47
Mixxed Update [DMG Avi's.YRKKH.Birthday SIgs] pg.53
HUGE YRKKH + MEET pg.56
Mixxed Update [DMG, YRKKH, Birthdays] pg.59
Mixxed Update [KDMHMD, NaKsh, AmritaRao, MJ, etc] pg.62
Mixxed Update [ZND2, Old Creations] pg.67
TEXTURES pg.71
Mixxed Update [Sangini.Geet.MJHT.Birthdays] pg.75
Mixxed Update [JDJ4.Sushant&Ankita.MadhuriDixit.AdditiGupta] pg.77

*//My Creations//*
DMG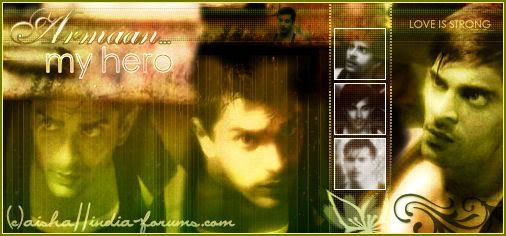 ***
More creations will be posted in the next post.
Thank You for Visiting
-aisha-


Edited by desi_baby07 - 29 December 2010 at 8:52pm