Charismatic Personality
Charming Looks
Extra-ordinary acting talents
A smile to die for
And...
A Heart of Gold
Nahi lagtha tera bina dil hamara,
Nahi lagtha tera bina dil hamara,
sajna aa bhi ja,
sajna aa bhi ja.
About Rajeev khandelwal
Rajeev was born on 16th October in Rajasthan. His journey to the film city Mumbai from a small town in Rajasthan was not a very easy one.

Rajeev's parents were not very supportive of him pursuing a career in acting. The main reasons being his family was from an Army background and also Rajeev was a good student. He had joined Engineering but he quit within two months and joined Xaviers in Ahmedabad to do his degree in Chemistry. He found Engineering too boring and also he wanted to do something where he could get time to take part in co-curricular activities. He wanted to stay in something where he could do something creative.

Rajeev later also tried to join the army but his form was rejected. As said by Rajeev in an interview "This was the time I decided to give acting a shot because at least I could make an effort to join the field of my dreams."


With this dream in his eyes Rajeev landed at Delhi. The first year went in just survival. He started writing and directing some documentaries, on social subjects like old age, women labour and a few on the Indian army. He also directed a fiction series for DD, called Samarpan on the guys in the para-military forces that won the highest award. It was shot in Kasmir.
And then commercials started happening, one led to the other, like the ones for LML Bike, Green Label whiskey, Kodak express, to name a few.
Subsequently, on one of his trips to Delhi, Rajeev learnt that Balaji Telefilms was looking for a new face and had come for audition. He auditioned and got selected. For him it was a good opportunity to find out whether he could stand out as more than a face in the crowd. The rest, as they say, is history.
He featured in the first story of Kya Hadsa Kya Haqeeqat.It was a negative role. He was the main protagonist, but it came and went so quickly. Then for the next six to seven months he waited it out till Kahiin to Hoga was launched.
In 2002 he joined Kahiin to Hoga. This was his first main role in a serial as Sujal Garewal. It was said Rajeev Khandelwal was born to play the role of Sujal. His ambitious, egoistic, hotshot dude act in Kahiin To Hoga made him the new teenage sensation of the small screen.
A star was born on STAR. Then unceremoniously stripped of his crown because he allegedly grew bigger than the serial. By May 2005 he left Kahiin to Hoga. But by then he had already become the heartthrob of the TV-viewing nation and he soon got to hold the Time Bomb on Zee. Here he played the main protagonist Varun Awasthi. He superbly portrayed the action-oriented RAW agent who is rather stingy with words, but explodes into action at a frenetic pace. On the one hand he's fighting the charge of having a hand in the assassination attempt on the PM, and on the other he's trying to save his marriage that's already hit the rocks. He remains steadfastly patriotic. This serial was a 24 episode one and ended in November 2005.
After Time Bomb Rajeev did a small cameo role in C.I.D in Sony. Sony picked Rajeev to replace Shivaji Satyam as the new boos of the most popular crime drama C.I.D. He played different character altogether, that of a young and dashing ACP. He was there for just four episodes but made his mark even there. Then happened Deal Ya No Deal where he was the host. His last appearance on television as an actor was in the SAB Channel serial Left Right Left where again he did a role of Army Officer.
Rajeev loves horse riding and adventurous life. He is an outdoor person who loves adventure sports. He does not mind trying his hand at action. He loves cooking and loves making his own food.
filimography of Rajeev Khandelwal:
Kya Hadsa Kya Hakeekat
2002
Role: Raj
Cast: Rohini Hatangini, Smriti Irani
Director: Anurag Basu
The character Raj here was a negative character. This was Rajeev's first assignment. This serial was of few episodes one for each story
Kahiin to Hoga
2003
Role: Sujal Garewal
Cast: Aamna Shariff, Shabbir Alhuwalia, Deepak Parashar, Rohit Bakshi
Director: Rajeev Bhatia

The Character
Rajeev plays the role of Sujal Garewal here.He is always crossed, never happy and loves Kashish a lot.An emotional person, who acts like and insensitive person!! Rajeev did full justice to the role of strong headed and stubborn Sujal Garewal.
Time Bomb
2004
Role: Field Officer ACP RAW Varun Awasthi
Cast: Kay Kay Menon, Rajat Kapoor, Akashdeep Sehgal
Director: Ketan Mehta

The Character
Varun Awasthi, the field officer in ACT RAW a perfect example of a true National soldier. He gets the news that there's going to be a nuclear blast in New Delhi. He has to stop it. He is having some problems with his wife whom he loves a lot. But above all this due to some misconceptions the Police,CBI and CID thinks it's Varun who is hand in glove with the terrorists. Now Varun has to find the Bomb, diffuse it and also keep himself hidden so that he does not get caught.
Sun Le Na
2005
Role : Business man, Sharim
Cast : Rajeev Khandelwal, Aamna Shariff.
Director : Humayun Saeed

The Character
A love story between Sharim and Vishal
CID
2005
Role: ACP Prithviraj
Cast: Shivaji Satyam.
Director: B P Singh

The Character
This role was of just four episode. As ACP Prithviraj he was the young head of the CID. His junior officers were much senior to him in experience. And he had to win their heart so as to get their respect and make them work for him.
Music Video Jhoom
2006
Rajeev Khandelwal's first Music Video, Saru Maini's Khoom.
Deal Ya No Deal
2006

A unique reality show where Rajeev launched himself as the host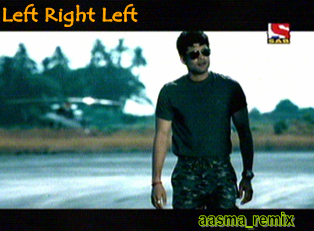 Left Right Left
2006
Role: Captain Rajveer
Cast: Rajeev Khandelwal, Priyanka Bassi, Vikas Manaktala, Harshad Chopra, Kunal Kapoor, Arjun Bijlani, Gazal Rai, Sweta Salve.


The Character
Left Right Left is the story of six youngsters, with varied interests, dreams and goals, who come together at the pre NDA Academy. Captain Rajveer being one of the trainer there posted with a mission, to find the true story behind his friend Naveen and prove that he was not a spy
After givin big telly hitz showz finally Rajeev haz given hiz entry or rather than tat made hiz first bollywood debut
which haz hit the theatres all over the world,
on june 6th,
in the name of Aamir,
running very successfully around the world wit houz full tickets in al the important parts of the world,
I wuld like to share a few reviews abt the movie by few of our popular critics:
THOUGH SMALL 'AAMIR' HAS PLENTY TO OFFER

By Pankaj Shukla
Critic's I-view
click for larger view
'Aamir' is a small movie but has plenty to offer to its audience. Its director Raj Kumar Gupta is new, but has proved his worth in his debut. The protagonist played by Rajiv Khandelwal attracts wide applause from the viewers as well as the critics though he doesn't belong to the big star category. The movie is different in many respects: It has no heroine kind of a character nor does it contain regular formula of a romance, song and dance track or an item number. The movie is without much-hyped foreign or domestic locales shooting. The director has justly shot the Mumbai city's dingy lanes and bye-lanes that are too crowded to move about; small and cheap eating houses and hotels, besides all the dirt the city has
After all, Aamir goes through it in the few hours of a day! The credit for all this goes to the proper handling of the subject by Raj Kumar Gupta. Yes, he wouldn't have been successful without the support from his other departments like the cinematography by Alphonse Roy and background score by Amit Trivedi, apart from tight editing and just screenplay. Among its anonymous cast, Rajeev lends full support to the director by his excellent performance inasmuch in emoting like a troubled common man. Gajrao Rao performs equally well as the vicious villain.
click for larger view
According to the story, 'Aamir' meaning leader takes off as a thriller about a common man forced into criminal exploitation in the course of a day. This is about Aamir Ali who lands on the Mumbai airport coming back home from London and when he finds his family missing to receive at the airport; he goes to the nearby PCO and makes a call back home. Two men on a bicycle throw a cell phone at him and the phone starts ringing and Aamir is forced to do follow instructions given on the cell phone because his family has been kidnapped by the caller, a terrorist group.
click for larger view
Rajeev Khandelwal who plays the lead character of Aamir has been turned a scapegoat by an extremist group to indulge in the worst crime. So, he has to move in the lanes and by-lanes of Mumbai city as instructed by the terrorist group with no clue about their mission. Before he comes to know about his assignment, he has already been involved in a bombing conspiracy. Though the basic premise of the film is the same as in 'Black and White', 'Shaurya', 'Hope and a Little Sugar' the movie doesn't attempt to give a lesson to its viewers. The director presumes that his predecessors have already dealt on the subject through their ventures.
click for larger view
On the whole, 'Aamir' has indeed succeeded unlike other contemporary movies. As said earlier, the movie is meant for appealing to the minds rather than the hearts of the audience. The movie is worth a watch. After all, it shows how a common man from London can help a big city like Mumbai from the clutches of terrorist-the enemies of the humanity.
Rajeevz Achievements

Fresh new face ~ ITA (2004)
Favorite Jodi (with Aamna) ~ ITA (2004)
Favorite Jodi (with Aamna) ~ SPA (2004)
Best TV Personality ~ ITA (2005)
Most stylish actor ~ MTV style awards (2005)
Most stylish Anchor for Deal Ya NoDeal ~ MTV style awards (2006)
Best Actor in a Cameo role for CID ~ ITA (2006)
Best Actor ~ Sansui awards (2007)
Best Actor ~ Golden awards (2007)

Rajeevians :

1- farislove (Zee)

2- nram
3- basanti_diya
4- cute_rabi
5- starbellz_21
6- ruksaar_khan
7- nailaqureshi
8- angelic eyes
9- angeliclooks_me
10- ANKESH --> (bravehearted)
11- cuttiepie_81
12- kiran_sherry
13- S a r a h

14- rajeevthegr88
15- lrl rocks
16- sanaa_firoz
17- shareen
18- mahek-e-gulab
19- neetaldesai
20- emms

21-birds

22- nyle

23- vivacious virgo

24- anum-mehrun
25- pinka_anshu
26- anitathebest

27- ambrinaltaf

28- sujalkideewani
29- nazrinkhan
30- togepe30 (Vandana)

31- maroon

32- janubaba253

33- ums5

34- *mansibhatia*

35- varallika

36- rajeev_crazy

37- minnee

38- Naina_lrl

39- yyyy

40- CINDRELLA(Preeti)

41- Paru_M

42- amail1601

43- a_b

44- riya_03

45- nidhi2013

46- Rajeev Aamna<33

47- surbhi 01

48- soniya_1010

49- 4ever urs

50- Ritika2025

51- sunaina02

52.divyalrl

53.riya_03

54.rajeev-bigfan

55.Binky

56.sriti

57.bhaktikaushal

58.**maham**
59.NaVy1985

60.ranjitha

61.violence_peace

62.Souma.N

63.sun_423

64.Asha_36

65.iqjaz

66.Uudee

67.dramaholic

68.rajeev_deewani

69.Barnali di
70.Trups di

71.me2kool

72.captain_ranveer

73.SAHELIGSWM

74.cool_subha2006

75.komalsirwani

76. salluranifan

77. violence_peace

78. Sweet_sujal

79. rakshi_sweety

80. cutykoo20
81.gktrina

82.Ritika

83. Kanak

84. *sowmya*

85.mz.jess

86. Voldemort (Ajay)

87.sweety_rajveer

88.Naina
89.Sarah khan
90.rajnaina
91.Nadia
92-Thaakur Saab
93.moreremix
94.Sai-licious

95.lrllover

96.advil

97. KMP14

98 SarraCOMB

99. Stargold

100. Eyescandy

101.Nez-wek.

102. Gorgeouss(rajeev)

103. Sim38

104. Zermina

105. Master_blaster

106.crazyfanar

107. soulfry

108- friend forever

109 - kiruti

110- maithali
111-cherishlove

112- xxp2xx

113- maria_srk

114-rani2310

115-Cool_Dipti

116-pihu

117-RAdabest

118-angel16

119-royal prince

120-MURALIDHARAN99

121-aarsow

122-Rajeev_ki_deewa

123-*A*(Amina)

Links to previous Fc of Rajeev

kashish-rox :- http://www.india-forums.com/forum_posts.asp?TID=261375

jenny1000:- http://www.india-forums.com/forum_posts.asp?TID=261986

nram(nigelene) :- http://www.india-forums.com/forum_posts.asp?TID=318448

deeja :- http://www.india-forums.com/forum_posts.asp?TID=407885

nram :- http://www.india-forums.com/forum_posts.asp?TID=552897

nram :- http://www.india-forums.com/forum_posts.asp?TID=563973

nailaqureshi:- http://www.india-forums.com/forum_posts.asp?TID=569856

nailaqureshi:- http://www.india-forums.com/forum_posts.asp?TID=578710

nailaqureshi:- http://www.india-forums.com/forum_posts.asp?TID=587624

nailaqureshi:- http://www.india-forums.com/forum_posts.asp?TID=597943

nailaqureshi:- http://www.india-forums.com/forum_posts.asp?TID=602568

nailaqureshi:- http://www.india-forums.com/forum_posts.asp?TID=612201

nailaqureshi:- http://www.india-forums.com/forum_posts.asp?TID=625856

farislove(zee di) :- http://www.india-forums.com/forum_posts.asp?TID=645969

togepe 30(vandana) :- http://www.india-forums.com/forum_posts.asp?TID=667961

togepe 30(vandana):- http://www.india-forums.com/forum_posts.asp?TID=673815

rajeev-bigfan( neha) :- http://www.india-forums.com/forum_posts.asp?TID=681782

amail1601(ammu) :- http://www.india-forums.com/forum_posts.asp?TID=689398

SujalkiDeewani ( kinza) :- http://india-forums.com/forum_posts.asp?TID=700630

Souma N. :- http://india-forums.com/forum_posts.asp?TID=713971

Nidhi :- http://india-forums.com/forum_posts.asp?TID=717261

Kanak: http://www.india-forums.com/forum_posts.asp?TID=729731

Suri: http://www.india-forums.com/forum_posts.asp?TID=743718

Naz : http://www.india-forums.com/forum_posts.asp?TID=750205

Nida : http://www.india-forums.com/forum_posts.asp?TID=761049

Preeti : http://www.india-forums.com/forum_posts.asp?TID=776078&T PN=1

Minnee: http://www.india-forums.com/forum_posts.asp?TID=792909

Ranju :-http://www.india-forums.com/forum_posts.asp?TID=809675


Kiran di: http://www.india-forums.com/forum_posts.asp?TID=830504

moreremix (Sam): http://www.india-forums.com/forum_posts.asp?TID=847968

Farislove:http://www.india-forums.com/forum_posts.asp?TID=854216

Nadia_mt : http://www.india-forums.com/forum_posts.asp?TID=859327&T PN=1

Trups dii : http://www.india-forums.com/forum_posts.asp?TID=862419




sunaina dii: http://www.india-forums.com/forum_posts.asp?TID=869863&T PN=1

Mehrun: http://www.india-forums.com/forum_posts.asp?TID=875877

Farheen:http://www.india-forums.com/forum_posts.asp?TID=885589

Nida: http://www.india-forums.com/forum_posts.asp?TID=894131

Ruksaar: http://www.india-forums.com/forum_posts.asp?TID=903016

Vaishu: http://www.india-forums.com/forum_posts.asp?TID=916263

yazh: http://www.india-forums.com/forum_posts.asp?TID=935935

Varu: http://www.india-forums.com/forum_posts.asp?TID=943196

Rabi: http://www.india-forums.com/forum_posts.asp?TID=953298

neha: http://www.india-forums.com/forum_posts.asp?TID=954648

nidhi: http://www.india-forums.com/forum_posts.asp?TID=956442

Pihu sis: http://www.india-forums.com/forum_posts.asp?TID=959359

Rani :http://www.india-forums.com/forum_posts.asp?TID=957043

Rajeev sbs video:

rajeev on sbs part 1 .wmv - 6.14MB

rajeev on sbs part 2 .wmv - 23.85MB

rajeev on sbs part 3 .wmv - 20.99MB

rajeev on sbs part 4.wmv - 13.07MB

rajeev on sbs last part .wmv - 21.42MB

siggy by our sweet pihu sis,






Edited by aarsow - 14 June 2008 at 2:51am